Madden 18 vs Madden 17: 11 Exciting New Madden 18 Features
Madden 18 Play Styles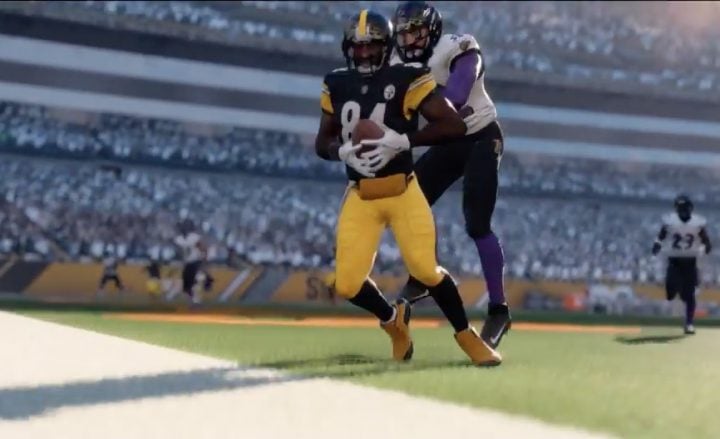 EA continues to focus on making Madden more accessible. In Madden 17 we saw EA focus on helping gamers know when to use certain features and with better explanations of how parts of the game work.
With Madden 18 EA takes things a step further. There are three distinct play styles you can choose from to match your skill and the type of football game you want to play.
ARCADE
-- User-controlled pass rushers frequently beat their blocks
-- User Hit Sticks and Strip-ball attempts will be highly successful
-- Spectacular catches occur frequently, especially by elite players
-- Broken tackles and ball carrier fake-outs are commonplace
-- Chance of throwing interceptions as a user is lower
-- Can kick longer field goals and there's higher chance to block kicks when on defense.
SIMULATION
-- Expect the unexpected – even highly-rated players have a slim chance of failure on occasion
-- Injuries and penalties occur at a rate on par with real-world NFL statistics and data
-- Players with elite ratings will be successful far more often than those with ratings below the elite level
-- New pass inaccuracy system allows more realistic performances from lower-rated quarterbacks
-- Fatigue and stamina have bigger impacts on gameplay.
COMPETITIVE
-- Going for an interception with a wide open defensive player who has a good catch rating leads to a significantly-lower chance of them dropping the ball
-- Throwing from a clean pocket with the QB's feet set reduces the chance of an inaccurate pass, providing they have a good pass accuracy rating based on the throw type and that you're not using any passing mechanics
-- There's a significantly lower chance of a dropped catch when a receiver is considered wide open and has a good catch rating
-- There's a decreased chance of offensive wins in multiplayer catch outcomes, such as throwing to covered receiver
-- Only AI players with the big hitter trait can hit stick.
With these new play options, you will be able to invite more people in your house to play Madden 18 and you can get more enjoyment based on how you want to play Madden. We're waiting to find out how Madden 18 will handle this in online matches, but we expect that you will only play against similar players.
No confirmation that the Madden 18 Arcade play style will include NFL Blitz style effects and gameplay.