Outer Rim Star Wars Battlefront DLC Release Date Tips
The Outer Rim Star Wars Battlefront DLC release date is almost here for everyone. With the DLC set to unlock at midnight tonight we want to help get ready to install the Battlefront Outer Rim DLC on Xbox One, PS4 or PC.
Last year, EA DICE promised to release a ton of Star Wars Battlefront content in 2016. It promised to release free updates for all gamers and it promised four DLC expansion packs with unique items and more.
In 2016 we've seen free updates add new maps, enhancements and bug fixes and today, the first Star Wars Battlefront DLC is out bringing new heroes, Star Cards, and more to those who picked up a copy of the $50 Season Pass.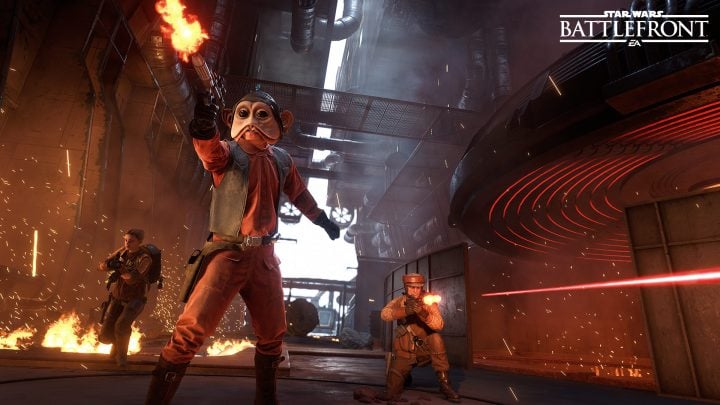 The Outer Rim DLC rolled out to Season Pass holders on March 22nd, two weeks ahead of the release date for everyone else.
Tonight, EA DICE will release the Star Wars Battlefront Outer Rim DLC content to anyone and everyone that wants access to it.
The release is a little confusing and today we want to help make it as easy as possible for you to understand. These Outer Rim DLC release date tips will benefit Season Pass owners and they will help those that want to buy it as a standalone add-on.
Outer Rim Release Time PS4, Xbox One & PC
Outer Rim will become available at different times depending on your location.
The DLC content will unlock at Midnight Eastern time on April 5th. What this means is that Outer Rim will become available at 9PM Pacific on April 4th.
Just remember that before you can play, you must download a massive Outer Rim update to your Xbox One, PS4 or PC.
The Outer Rim General Patch is a free, mandatory, 8GB update for all gamers. Not just Season Pass holders. We've outlined it in detail here.
Clean Up Your Hard Drive
The Outer Rim content comes in the form of a small 10MB file (for Xbox One) but you'll need the 8GB patch in order to play the DLC.
For some of you, this won't be a problem. For others, you'll need to do a little bit of cleaning before you try and fire up the new content.
If you are getting close to your hard drive's threshold, now would be a good time to start clearing out game files you no longer need.
This way, you'll be able to download and install this 8GB patch, and the smaller Outer Rim file (it's about 10MB for Xbox One), without any trouble.
Use a Wired Connection
8GB is a massive file so you'll want to start downloading it as soon as possible to get into Outer Rim and the rest of the free content.
If you're using a slow internet connection, or if your system is far away from your router, we recommend plugging an ethernet cable into your PS4, Xbox One or PC.
How to Download Outer Rim Battlefront DLC
First, you'll need that 8GB patch. This patch is necessary for all gamers because:
For all other players, downloading this content will allow you to enjoy all of the free content we are making available for all players, while also making sure that your experience playing with Season Pass owners remains smooth.
Once you get that downloaded "the Outer Rim-exclusive content will be activated and accessible as soon as players grab a small unlock file from the PlayStation Store, Xbox One Store or through Origin." Again, it's about 10MB.
If you opted to buy Outer Rim from Amazon or GameStop, you will receive a digital code that will allow you to unlock and download the content once it arrives on April 5th.
Outer Rim Battlefront DLC Problems
If your download is moving slow, again, try using a wired connection. This could help speed up your Outer Rim download process.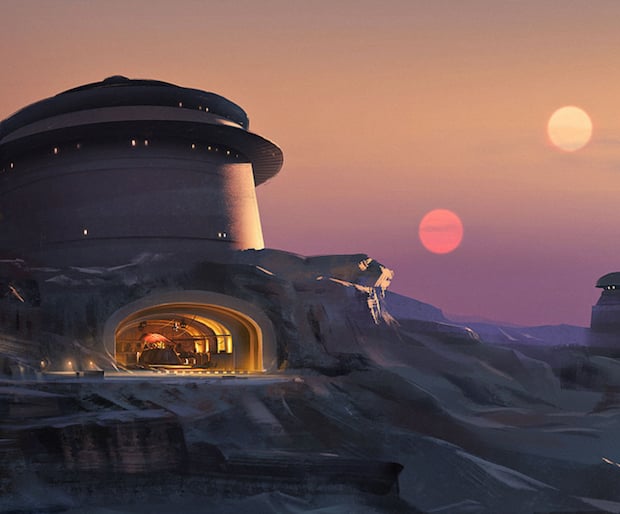 We're also starting to hear about problems with the Outer Rim content. EA's forums are starting to fill up with complaints about various issues including a problem with credits.
EA DICE recently outlined a list of Outer Rim bugs it's currently trying to fix and you'll want to be aware of them before you jump into the game. Here's the full list:
Credits Not Being Rewarded: https://bit.ly/1WGb1SS
(You're still getting the credits, but this is a UX issue causing the score to show 0)
Rank 59-60 Crashing: https://bit.ly/1PE6FGa
Our team is looking into these misc reports post the hotfix and 3/19 server update, please post your game tag in the thread linked if you;re still having this issue.
Kicked from servers when looking at friends profile: https://bit.ly/1Rxs1qO
Invincibility Bug: https://bit.ly/1MzhoqA
Hutt Contract end game screen shows the same progress and never updates: https://bit.ly/1ULPlWq
Deluxe Edition Content Locked: https://bit.ly/1UiJaKV
Hutt Contract Challenge Progression Freezing or Resetting: https://bit.ly/1RxeYVp
Hutt Contracts Completed and Weapons Are Not Unlocking: https://bit.ly/1XKBgYH
Auto Balancing: https://bit.ly/1WVi7Tw | https://bit.ly/1UT4ypP
Online friend avatars not displaying correctly: https://bit.ly/1PDSm4s
Unable to use Jump packs while shields are active: https://bit.ly/1ZJ2PmI
Leia Squad Shield (Trooper Bane not able to shot through the shield): https://bit.ly/22YEyuN
Hero Hunt – Dual Heroes on the same team
Can't swap weapons when shield active: https://bit.ly/1ZJ2PmI
When 900 years old you reach… Achievement: https://bit.ly/1okrrED
Greedo Diorama Bug 7/9 unlocked
Trait Cards Not Selectable: https://bit.ly/25uEchG
Aerial Combat no damage in strafing runs against enemy fighters: https://bit.ly/1Y04iUg
Selecting Heroes on X1 Sometimes Leads to the Game Picking the Hero for the Player: https://bit.ly/1VCg0ph
Can only rank up from Combat score: https://bit.ly/1UrDkGZ
Kills not being recorded: https://bit.ly/25uIC8k
Playlists not dropping players into matches: https://bit.ly/1RIPvsi
Focus Fire Not Registering For Scattergun Contract: https://bit.ly/1UiI5D0
UI Spelling Errors (Hutt Contracts): https://bit.ly/1Rxp2yQ
The Collect Section Tab Shows Three: https://bit.ly/1qfgNk2
Can't choose a hero on the UI by moving the mouse over anymore (PC): https://bit.ly/1ZJ2PmI
While we wait for a new patch and/or hotfix, you'll want to do two things. First, report bugs as you see them so that EA DICE's engineers can get to work on fixes.
And second, consult our list of bug fixes for common Battlefront problems. They could help you get situated ahead of the next update.
10 Things to Know About the Star Wars Battlefront Outer Rim DLC
Free Outer Rim Trial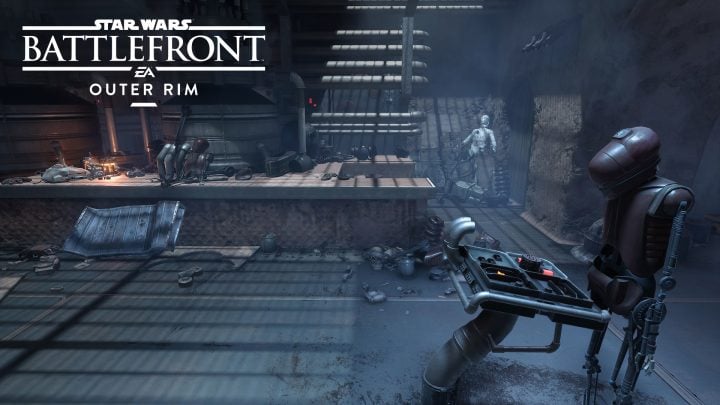 Now that Star Wars Battlefront has been out for several weeks, EA DICE is promoting it with a free trial.
The developer recently confirmed an Outer Rim free trial that will kick off on May 12th and last through May 15th. During those three days, all Battlefront players will have access to Outer Rim DLC content. Once May 16th strikes, you'll need to buy Outer Rim to enjoy the goods.
The company also notes that "while you will be able to access the free Hutt Contract weapons the Outer Rim specific weapons and Star Cards will only be accessible to our Season Pass and Star Wars Battlefront Outer Rim Digital Standalone Pass holders during the free trial event."
If you've been thinking about picking up Outer Rim, you'll definitely want to give the free trial a go to see if it's worth your time and money.

As an Amazon Associate I earn from qualifying purchases.