PS4 Trade-In Deal Offers Big Cash for Xbox 360, PS3
If you are looking for the perfect opportunity to trade-in your old Xbox 360 or PS3 GameStop is offering an incredible PS4 trade-in deal that will help you save up to $150 off the price of buying a new PS3.
This is similar to a deal we saw in August, but this is one of the first real PS4 trade-in deals of Fall 2014 and as we come up on a year after the PS4 release date it may be one of the last deals we see paying extra for your old PS3 or Xbox 360.
You can only get the added value when you buy a PS4 and accessories as part of this PS4 upgrade deal at GameStop. The deal runs through September 14th, so you'll need to act fast if you want to upgrade to the PS4 for as low as $250 out of pocket.
Here's the scoop on what you can get. If you trade in a PS3 with a 120GB or greater hard drive or an Xbox 360 with a 250GB or greater hard drive GameStop promises $150 in trade in credit, that's at least $40 higher than Best Buy offers.
The real added value in bonus trade-in value is if you are trading a PS3 80GB or lower or a Xbox 360 Original or 4GB. GameStop promises at least $75 for these consoles with a PS4 upgrade. You're lucky to get $20 to $30 on a trade in without this type of bonus.
This PS4 trade-in deal is only valid for a few more days and you cannot use this to get credit for games or as an option for cash. You'll need to buy a new PS4 and or PS4 accessories as part of the deal.
This is a great time to upgrade to the latest console generation and get a new PS4 deal thanks to an inflated trade-in price. The PS4 starts at $399, but you can also get a PS4 Destiny Bundle or $449, and save $10 off the price of Destiny. After the trade of a higher-end PS3 or Xbox 360 you would only spend $300.
You can also trade-in old games towards all the new PS4 games that are available for a bonus and help soften the cost of upgrading to the PS4.
We just learned the PS4 GTA 5 release date and a ton of exciting PS4 games coming out this fall. If you want to switch to a new console in 2014 it is a great idea to do this before you buy any more games for the PS3 or Xbox 360. If you upgrade from the PS3 to PS4 and purchased Destiny digitally you can get a free upgrade as well.
Check out the rest of the PS4 games worth buying in 2014 in the slides below.
Top PS4 Games to Buy in 2014
Call of Duty Advanced Warfare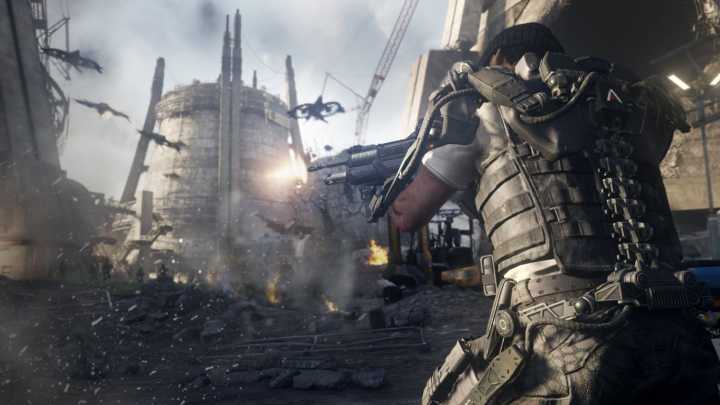 PS4 Call of Duty Advanced Warfare Details:

Call of Duty Advanced Warfare Release Date: 11/4/14
Pre-Order Bonus: Brass exoskeleton, EMP Weapon
Special Editions: Yes
Exclusive: No

Call of Duty Advanced Warfare is one of the top PS4 games to buy in 2014 not only becuase it is a new Call of Duty game, but because it is ready for a PS4 lacking fun shooters.

Yest it arrives into a fall filled with Destiny, but Killzone didn't live up to the excitement and there is no Titanfall for PS4.

Instead gamers get this Kevin Spacey filled Call of Duty Advanced Warfare release that delivers a super soldier with smart weapons and access to technology like never before including drones and hoverbikes.

Call of Duty Advanced Warfare Gameplay Video

As an Amazon Associate I earn from qualifying purchases.