2 Reasons to Pre-Order Sea of Thieves & 3 Reasons Not To
The Sea of Thieves pre-orders are available ahead of its March 20th release date, but that doesn't mean you should spend your money on the game today. Yes, there are solid reasons to pre-order Sea of Thieves right now. There are also reasons you shouldn't pre-order the Xbox exclusive game. Use this breakdown to decide what to do.
Sea of Thieves is this year's first Xbox exclusive game. You join a crew of pirates as they snatch treasure from rival crews made up of other players. Sea of Thieves is an online role-playing game that Rare, the studio developing the game, plans to upgrade and enhance over time. Really, it's like Destiny 2but with a Caribbean setting and pirate theme.
Read: Sea of Thieves Release date, Details & Features
If all that sounds exciting to you, you can buy the game today and count on a few pre-order bonuses for your character. Amazon and GameStop are already offering big discounts and Microsoft is launching a special Xbox One S bundle that includes the game.
Read: Best New Xbox Games Coming in 2018
Still, there are also reasons to not buy the game right now. There's a chance the game's launch on Windows will be a disaster. It's also possible the game's servers will spend the first couple of days overrun by new players. Also, you may get access to Sea of Thieves at launch without spending any more money if you have Xbox Game Pass.
Here are the reasons to pre-order Sea of Thieves today and reasons not.
2 Reasons to Pre-Order Sea of Thieves & 3 Reasons Not To
Pre-Order for Free DLC
Pre-Order for Sea of Thieves Deals
Don't Pre-Order If You Don't Have Xbox Live Gold
Don't Pre-Order If You Have Xbox Game Pass
Don't Pre-Order on PC If You Want to Play Day One
Pre-Order for Sea of Thieves DLC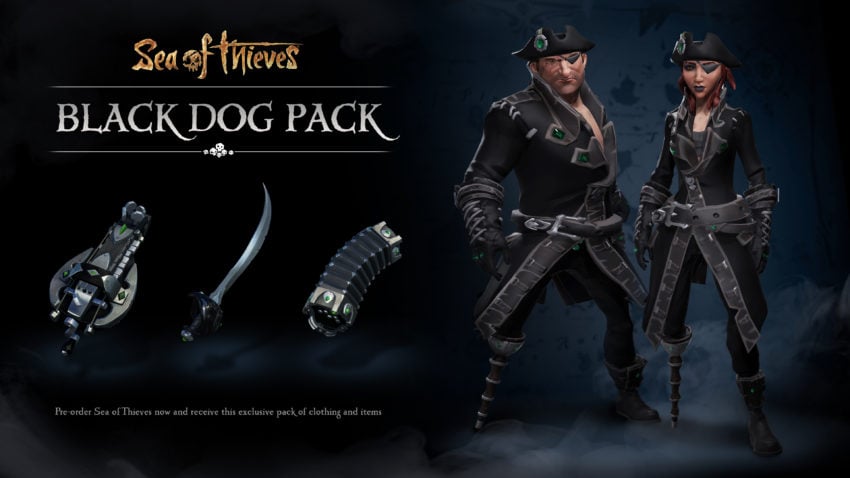 If you genuinely like to claim all the downloadable content you can for a new game, place your Sea of Thieves pre-order right now. That way you can lock down the Black Dog DLC Pack.
The Sea of Thieves Black Dog DLC Pack gets you exclusive items to dress your character in. You get a black hat and matching coat. You also get two musical instruments and a cutlass sword to arm your character with. The pack included access to a Sea of Thieves beta but Rare held that test on Xbox and PC this past January.
There are three ways to get the Black Dog Pack today. Buy a digital copy of the game through the Microsoft Store on Xbox One or Windows 10 and you get the DLC as part of your game bundle. The pack comes as a prepaid code on the bottom of your receipt if you buy the game on disc at Best Buy or GameStop. Amazon sends the code for the Black Dog Pack in an email.

As an Amazon Associate I earn from qualifying purchases.