Sea of Thieves Release Date, Details & Features
If you've ever wanted to be a pirate, the Sea of Thieves release date is very important.
Rare, Microsoft's European game studio, first revealed Sea of Thieves at the Electronic Entertainment Expo in June 2015. Even then, the company was up-front about its creation. Sea of Thieves isn't a casual, shallow Pirate game. It's an entire pirate experience, complete with crews, captains, lost treasure and no shortage of other pirates just waiting to plunder your ship.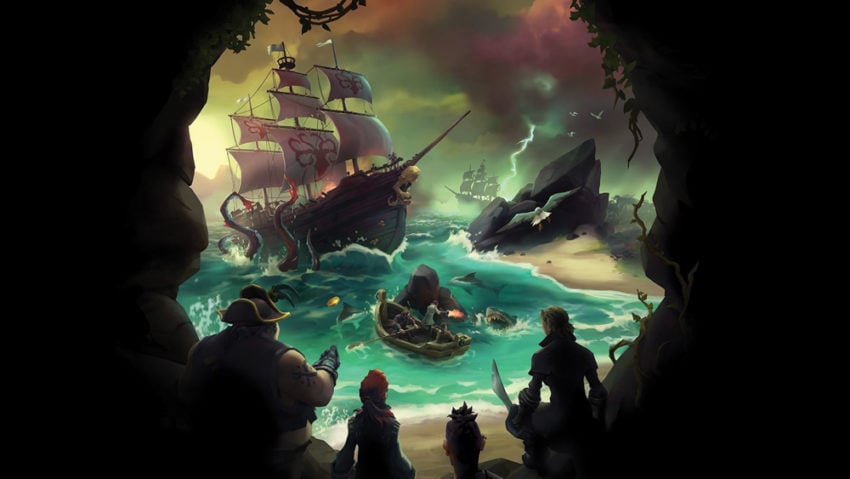 The Sea of Thieves release date is coming fast and it's never too early to prepare for it. Here's everything you need to know about the Sea of Thieves release date, features, multiplayer experience and why you might want to buy the game through the Microsoft Store instead of at a retailer.
Sea of Thieves Release Date
The Sea of Thieves release date is March 20th, 2018. If Rare keeps that release date, Sea of Thieves is the Xbox's first exclusive video game launch of 2018. Like every game released on Xbox One, this release date isn't region specific. Xbox One owners around the world get to play on the same day.
Sea of Thieves Story Experience
What if you could be a pirate? What if your friends could be your crew? What if you could make those friends walk the plank and follow your orders. You can do all that in Sea of Thieves.
At its core, Sea of Thieves is an online role-playing game. Using in-game tools, you create a pirate that looks exactly the way you want them to look. Then, you join a crew of other pirates or set sail on your own.
There are loads of activities to do with your crew, including using your ship to harass other players and steal their treasure. Explore islands in the game's tropical setting and fend off the walking skeletons of cursed pirates protecting what they couldn't take with them in death. If you like gameplay with more structure, outposts offer missions to boost your crew's reputation and earn gear.
Read: 8 Best Free Xbox Games
You're not stuck on the deck of your ship. You can explore the game's world on foot or dive into the sea and explore wrecks. You also choose the best combat for the situation you find your crew in. Either use canons and mortars to blow up ships from afar, or board them and take on their crews with your pistols and hand-to-hand combat.
Sea of Thieves Xbox Play Anywhere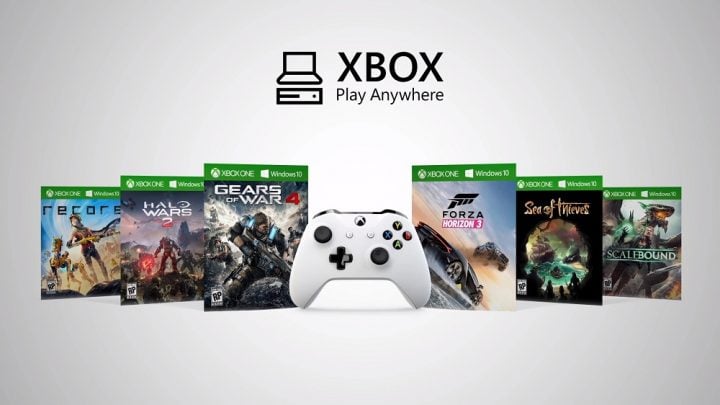 Buying a digital copy of Sea of Thieves doesn't just save you from inserting a disc when you want to play. It also gets you two copies of the game for the same price.
Sea of Thieves is an Xbox Play Anywhere title. If you buy a digital copy of a game in this program on Xbox One, you get a PC copy too. There's no second code to claim or rebate to send off for. It happens automatically.
To make moving between two copies of the game easier, Xbox Live will sync any in-game purchases, your game saves and your progress from Xbox to PC and back. Imagine playing the game from your laptop on vacation, then picking up where you left off once you arrive at home.
Sea of Thieves On Xbox One X
For the best Sea of Thieves experience, buy a digital copy of the game and play on the Xbox One X.
The Xbox One X is Microsoft's latest console, and Sea of Thieves is enhanced for it. If you have an Xbox One X and a 4K television, you get 4K visuals. Environments have more detail and movements are more fluid. The entire game will look more realistic than on the same 4K television with an original Xbox One or the Xbox One S.
Read: Xbox One X vs Xbox One S: 5 Reasons to Upgrade
An Xbox One X costs $499, so don't buy one just to get enhanced visuals in Sea of Thieves. However, if you already have a 4K TV and plenty of other Xbox One X enhanced games in your library, the console is a solid upgrade.
Sea of Thieves also supports enhanced HDR color contrast on the Xbox One S and Xbox One X. If your television also has HDR, expect deeper blacks and more colors as you play.
Sea of Thieves Pre-Orders & Pre-Order Extras
Sea of Thieves pre-orders are available right now. You can buy a physical or digital copy of the game from Amazon or GameStop for $60. There aren't any enhanced versions of the game with a season pass or extra missions.
That being said, everyone that buys a copy of the game early in the Microsoft Store gets the Black Dog Pack. This pack is a collection of in-game items with a black dog theme. An outfit, a cutlass and a musical instrument are included in the free content pack.
9 Best Xbox One X Accessories You Need In Your Life
Xbox One Media Remote - $24.99
Covered in soft-touch plastic, the Xbox One Media Remote is a must-buy for anyone that does more than just play games on their console.
The Xbox One X comes with access to dozens of media apps and it supports 4K video streaming from Microsoft Movies & TV, Netflix and Amazon Prime Video. If you buy the Xbox One Media Remote you, or a family member, can navigate these entertainment apps without the Xbox One Controller. The remote's buttons are large and a directional pad allows for easy app navigation. An accelerometer turns on lights inside the media remote so that you can see the button you need before you press the wrong one.
Target sells the Xbox One Media Remote for $24.99.