Rise Up App: 5 Things to Know
The Rise Up app is a fun time wasting game that is easy to play, but incredibly challenging as you go further. Rise Up is addicting and you can play for free with ads in between games.
This is what you need to know about Rise Up, if Rise Up is safe for kids to play and other important information. Here are more of the best iPhone apps and the best Android apps if you need to keep looking for the best time wasting game to play.
What is Rise Up?
Rise Up is an endless platformer style of game where you need to protect a balloon as it rises up the sky. There are a wide array of obstacles and challenges that you'll need to protect the balloons from.
It's a simple game, but incredibly challenging as you get farther. The game teases only 1% get more than 1,000 in the game.
Rise Up features ads in between turns. You cannot watch an ad to continue and you cannot turn ads off.
You can download Rise Up for the iPhone from the App Store or for Android from Google Play.
How to Play Rise Up
To play Rise Up you need to prevent the objects from touching the balloon. You cannot move the balloon. You can only move a small circle that can push obstacles out of the way.
You can place your finger anywhere on the screen and the circle will move up, down and side to side as you slide your finger around.
Some of the time it helps to keep the circle near the top of the screen to give plenty of time to move obstacles out of the way, but in more challenging levels you will want to keep it close to your balloon so that you can knock moving obstacles away easier.
Is Rise Up Safe For Kids?
The Rise Up app is safe for kids. It is a cartoon style game with the only challenge being the blocks and other geometric objects.
There are ads in the game that players will see every few turns, but these are all for other games based on what I've seen while playing many games.
Apple rates Rise Up as 4+ and Google Play rates it E for Everyone.
Rise Up in App Purchases
There are no in-app purchases in Rise Up, which is great considering that many games try to convince gamers to spend money for in game items. Harry Potter Hogwarts Mystery is one of the latest that abuses this process.
It would be nice to see an in-app purchase that disables ads for gamers that want to play a lot of games back to back.
Rise Up Tips & Tricks
You can get further in the game with practice and a few Rise Up tips and tricks. Here are the Rise Up tricks that you need to get a higher score.
Don't Put Your Finger on the Ball – Keep your finger away from the ball so you can see every angle where something may be coming at the balloon.
Swipe to the Side or Down – It's tempting to throw obstacles up and away, but it is safer to push them to the sides or down and away. What comes up, must come down.
Combo Block When You Can – Don't try to knock out all obstacles with the blocker ball. Use one big obstacle to clear out a whole path.
Play Challenges – If you want to prep for new obstacle types, play the challenges so you aren't as surprised when they arrive and you are on a streak.
Watch out for any sites that promise unlimited Rise Up lives, or to make you invincible. Most of the time sites like this will ask you to sign up for a service to verify that you are human. This is just so they can make money on you, and will not result in any kind of Rise Up hack or cheat that works.
20 Best Apps to Make Money in 2020
Google Opinion Rewards - Make Money By Answering Questions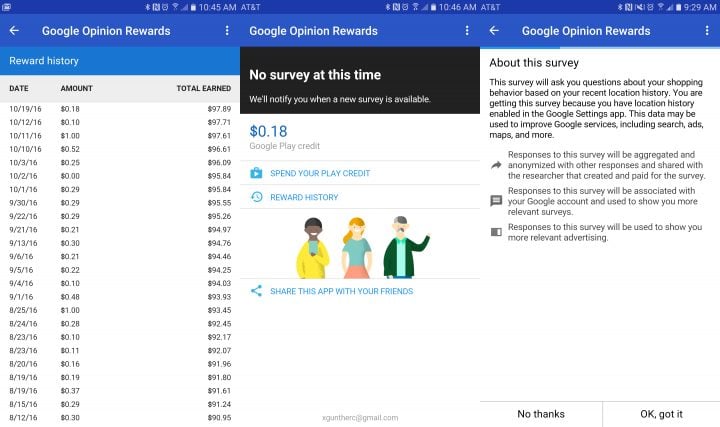 You can make money answering survey questions on your smartphone with Google Opinion Rewards. Also known as Google Surveys by many users, this free app rewards you for sharing your opinion. This works on iPhone and Android, but the best way to make money is on iPhone.
A member of the Gotta Be Mobile team earned over $100 with Google Opinion Rewards. All you need to do is answer questions and you'll earn anywhere from a 10 cents to a dollar. You can also answer Google Opinion Rewards surveys in stores to really earn more money.
The money that you make works for Google Play Credits on Android that you can use to buy apps, movies, books, and even spend on in app purchases for games like Clash of Clans without spending your cash.
iPhone users get the credit sent to PayPal when they have a balance of $2, which can happen every two or three weeks depending on how many surveys you qualify for. It's easy to earn when you start, but surveys may become less frequent as you go.
Download Google Opinion Rewards for Android and Google Opinion Rewards for iPhone.

As an Amazon Associate I earn from qualifying purchases.