Save $80 to $100 With This Epic iPad Deal at Amazon & Best Buy
You can save $80 to $100 on the newest 9.7-inch iPad at Best Buy and Amazon just in time for Mother's Day and graduation. This is the best iPad for many users with a beautiful 9.7-inch display, Apple Pencil support and a wide array of cases and accessories.
Normally $329, the base iPad is now $249.99 and the model with 128GB of storage is now $329.99. Here's more on how much iPad storage you need. This is a stellar deal, and the best we've seen in a while for what is already the cheapest iPad you can buy.

This iPad deal is available on the WiFi only model as well as the cellular model, so you can save even if you want to get a model that you add to your cellular plan. Though, if you are going that route, you should check into iPad deals at Verizon, AT&T, Sprint and T-Mobile if you plan to buy a phone or get service immediately. At carriers you can get payment plans, sometimes get contracts and there are often deals available.
The 9.7-inch iPad features a Retina display, the A10 Fusion Chip, Touch ID, an 8MP back camera and a 1.2MP front facing camera. This iPad offers a lot of value and for many users it is a better buy than the new iPad Air.
We recently bought this iPad for my Grandma to replace her aging iPad 2. She loves the the faster iPad, better screen and camera. We went with the WiFi model and she uses it to text us through iMessage and another app to send messages to family members on Android phones.
This is the best iPad deal you'll find on the 9.7-inch iPad through Mother's Day, and you can still get it delivered in time for Mother's Day and graduations.
Best 9.7-inch iPad Cases (2017 & 2018 iPad)
STM Dux iPad Case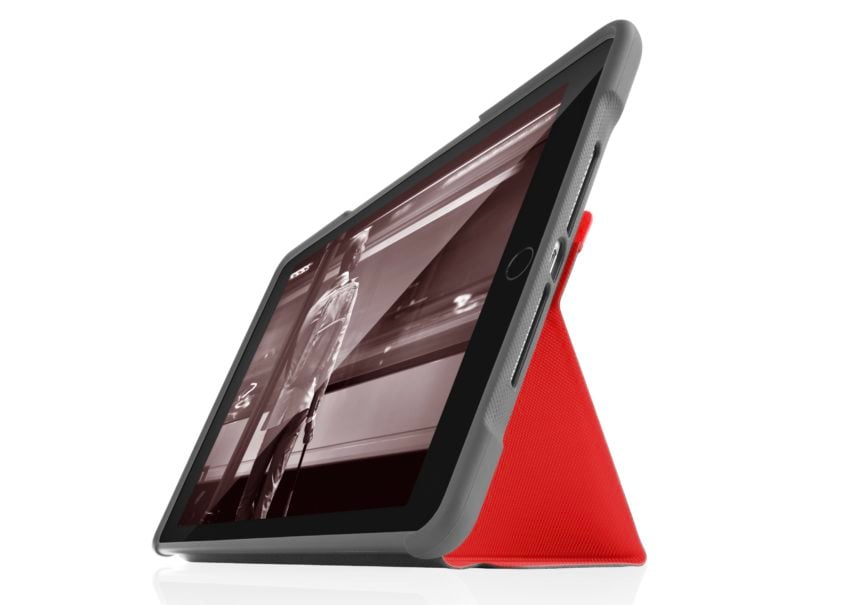 The STM Dux iPad case is an excellent option if you need a 9.7-inch iPad case that wraps up the iPad completely and can stand up to being used by a kid.
I handed this case off to a young tester to put through the paces and after about a month of use his iPad looks like new, despite it going almost everywhere and taking a drop or two during the test.
There is a front flap that protects the screen when carrying the iPad, and it folds up to allow you to use it as a kickstand that is pretty sturdy thanks to slots that lock it into place in kickstand mode.
This is an excellent iPad case, and one of the best options you will find if you are handing a kid a new 9.7-inch iPad.
$59.99 at Amazon