Best 9.7-inch iPad Cases (2017 & 2018 iPad)
The new 9.7-inch iPad is affordable at $329, and it's an iPad that you'll want to take with you or hand off to your kids from time to time. This is why you need one of the best 9.7-inch iPad cases available.
The 9.7-inch iPad is a new design that is different from the iPad Pro. That means most 9.7-inch iPad Pro cases will not fit this $329 iPad. This 2018 iPad is slightly thicker than the iPad Pro, so you can't use any iPad Pro cases or iPad Air 2 cases with it. You can use this on the
I'll walk you through my favorite 9.7-inch iPad cases and I will add to the list as I test more cases out. Here are the best 9.7-inch iPad cases;
STM Dux iPad Case
Apple Smart Cover for 9.7-inch iPad
Catalyst Waterproof 9.7-inch iPad Case
Speck Balance Folio for 9.7-inch iPad
ZAGG Rugged Messenger Case with Bluetooth Keyboard
SF Bags Dash Sleeve
Amazon Basics 9.7-inch iPad Sleeve
Logitech Slim Folio Keyboard
Apple only offers one official 9.7-inch iPad case, and it doesn't cover the back of the new iPad in any way. The iPad is not waterproof, so if you plan to use it in the bathtub, hot tub or at the beach you may want to invest in a waterproof case.
Expect to spend $20 or more on the best 9.7-inch iPad cases, especially if you want to keep it long term. Cheaper cases don't last as long, offer as much protection or hold up to use as nicely as slightly more expensive cases. The exception is the $7 iPad sleeve from Amazon that is super-affordable and comes with great reviews.
STM Dux iPad Case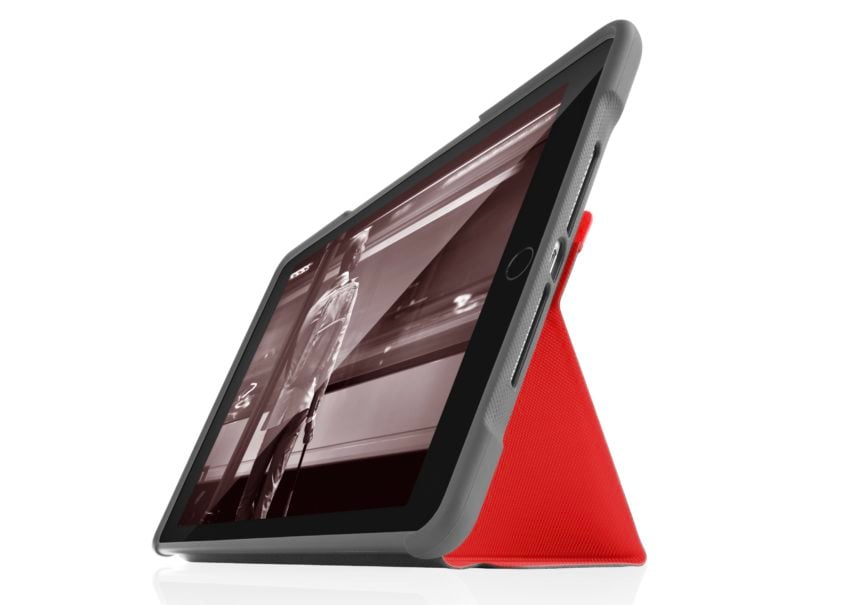 The STM Dux iPad case is an excellent option if you need a 9.7-inch iPad case that wraps up the iPad completely and can stand up to being used by a kid.
I handed this case off to a young tester to put through the paces and after about a month of use his iPad looks like new, despite it going almost everywhere and taking a drop or two during the test.
There is a front flap that protects the screen when carrying the iPad, and it folds up to allow you to use it as a kickstand that is pretty sturdy thanks to slots that lock it into place in kickstand mode.
This is an excellent iPad case, and one of the best options you will find if you are handing a kid a new 9.7-inch iPad.
$59.99 at Amazon