Snapchat Adds 16 Person Video Calls With Snapchat Filters
Snapchat now supports video calls for up to 16 people and voice calls for up to 32 people. Allowing you to annoy everyone on the bus or in the office when you forget your headphones and jump into a video call with 15 of your closest friends.
The big sell of the video chat feature is that it supports Snapchat filters so you can use all the hilarious filters that spice up your snaps while on a live call. If you aren't ready to face the camera, you can also go voice only in the call.
To use Snapchat Video Chat with up to 16 people you go to a group message and tap on the video camera icon. This will open up the video portion of the app and you can start your call with everyone in the group. If you have any issues check out our Snapchat problems and fixes.
This is an upgrade to the Snapchat Chat 2.0 video chat features that rolled out in 2016 with support for audio and video calls. That upgrade established Snapchat as a bigger player in live video chat, and now you can pull in many more users.
The new feature comes as Snapchat looks to take advantage of users who are frustrated with the Facebook platform. In addition to the new 16 person video chat, Snapchat now supports @ mentions like Twitter does. You can tag people in your storey or in snaps. Type an @ and then their username and they will be tagged in the story and get a notification.
How to Use New Snapchat Lenses
Scream Snapchat Lens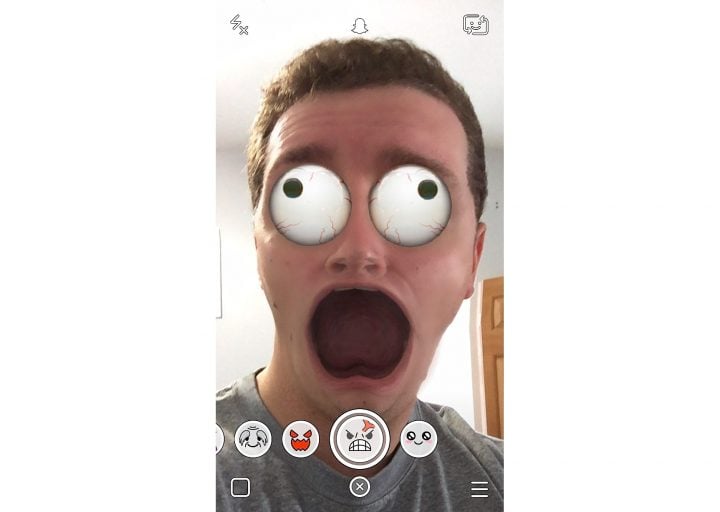 Use the Scream Snapchat Lenses option to make your eyes pop and your mouth go wide. Activate by opening your mouth. Move your head slightly to exxagerate the effect.
When you open your mouth the phone will make a scream, so keep that in mind while recording.