Surface Laptop vs MacBook Air: Which Should You Buy?
There was a time when almost no one seriously competed with Apple's MacBook line of laptops. The machines were too well designed for cheaper Windows laptops to compete against. Even those that matched its price and offered improved hardware couldn't match its sales. The Surface Laptop, Microsoft's newly announced Windows 10 PC, will take the battle to Apple this summer.
The Surface Laptop hopes to become the college status symbol that the MacBook Air has been by offering long battery life and a thin profile that's easy to stuff into a bag. Microsoft is also hoping that its compatibility with some Surface accessories and Microsoft software will make it the obvious choice for students.
Read: Surface Laptop Release Date, Pre-Orders & Features
How does the Surface Laptop compare to the MacBook Air? Which should students buy when the summer arrives and they're looking for their university laptop? You'll be surprised how easy this decision is.
Surface Laptop vs MacBook Air: Internals
The Surface Laptop is made of up Aluminum. That's the same material that previous devices in the Surface line-up have used. Microsoft mixed its Surface Book design with the way a Surface Pro 4 looks when paired with a cover. The lid and body are made of metal, but the keyboard deck is covered in the Alcantara fabric that is also used for the Surface Signature Type Cover. The device comes in Platinum, Burgundy, Cobalt and Gold, depending on which model you order.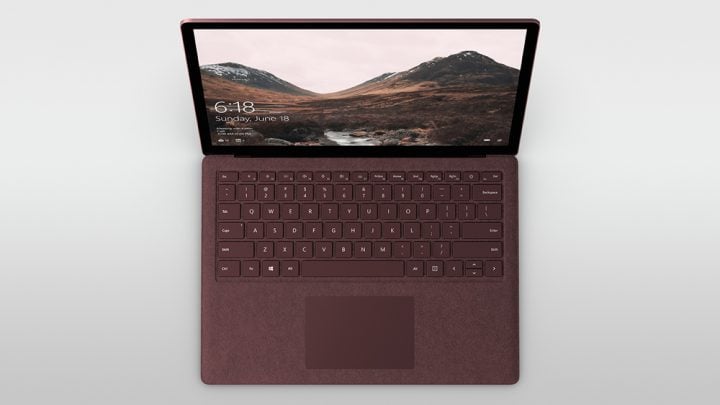 Read: 6 Best Surface Pro 4 Keyboards
They each weigh 2.76 pounds. They are only.57-inches thick from top to bottom. Its 13.5-inch display has a resolution of 2256 x 1504 pixels. It also uses the Intel HD 620 graphics in its least expensive model. Upgraded versions use Intel Iris Plus 640 technology.
It was the MacBook Air that ushered in the era of ultra-thin laptops. Which is why it's ironic that it measures 0.68 inches from top to bottom. It's thicker than Surface Laptop. It has the same all Aluminum design that it started out with. It weighs 2.96 pounds, which is slightly more than the new Surface Laptop.
The MacBook Air's 13.3-inch display has a resolution of 1440 by 900 pixels. Videos will be less crisp on the Air than the Surface Laptop. There's no touch experience because it'd be wasted on the Air if there was a touchscreen. MacOS isn't made for anything but a mouse and keyboard. The entry-level models come with a 1.6GHz Dual-Core processor and 8GB of RAM DDR3 RAM. An option lets you add Intel's 2.2GHz Core i7 processor but no additional RAM.
Read: 2015 MacBook Air Release Retina vs MacBook Air: 5 Exciting Details
The MacBook Air and Surface Laptop both cost a minimum of $999, and if the MacBook Air sounds underpowered compared to the Surface Laptop is because it is. Microsoft is attempting to go after a huge weak spot in Apple's line-up. Rather than refresh the MacBook Air, Apple has focused on dropping ports and slimming down the mainline New MacBook. The only thing that makes Microsoft's comparisons to the MacBook Air fair is Apple's refusal to drop the price of the slimmer MacBook and its continual sale for $999 on the company's website and in stores.
Surface Laptop vs MacBook Air: Features
The MacBook Air is the last Apple mobile computer to offer a MagSafe 2 power plug. It's one of the few that offers two USB 3.0 ports, a Thunderbolt 2 port and a headset jack too. The current mainstream New MacBook dumps all that for a single USB Type-C port instead.
The SDXC card slot allows the MacBook to pull video and photos off cameras without attaching a cable or hub. The trackpad uses Apple's multi-touch technology to emulate some of the same gestures you'd use on an iPad to navigate and browser.
The Surface Laptop features a full multi-touch display, meaning it can detect 10 different points of input. The company has also gone and added support for its other Surface accessories. Surface Dial lets you manipulate apps and programs naturally. Surface Pen lets you write in your apps, and the Surface Connect port is for docking and charging. There's a Mini DisplayPort, a headset jack, and a full-size USB 3.0 port. You can sign into the laptop using the front-facing Windows Hello camera that the Surface Pro 4 pioneered.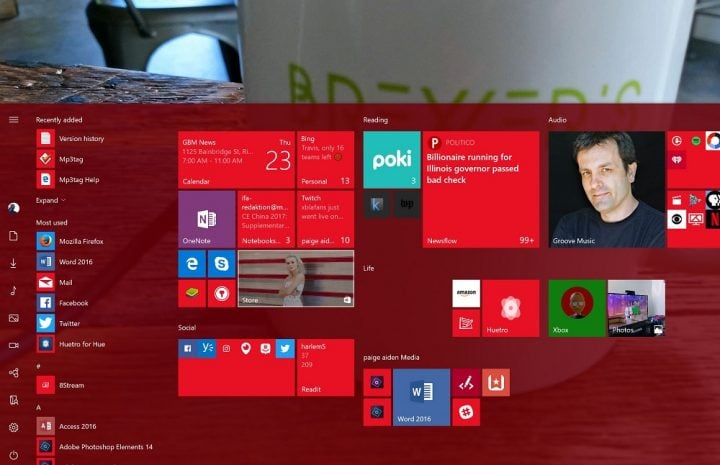 The MacBook Air runs the latest version of MacOS, while the Surface Laptop will run a new version of Windows 10 called Windows 10 S. Windows 10 S is just like the regular version of Windows 10 except that you have to get all your apps and programs from the Windows Store. That means no Chrome and no iTunes unless the companies that make those programs decides to bring them to the Windows Store or you upgrade the operating system.
For the first year, Microsoft will upgrade Surface Laptop buyers to a version of Windows 10 without this limitation for free. The company will throw in a subscription to Office 365 until October 2017. After the free period, upgrading to Windows 10 Pro will cost Surface Laptop buyers $50. It's worth noting that Apple gives away its iWork suite of apps to all buyers. That offer doesn't expire and neither do the apps.
The MacBook Air lasts 12 hours between charges. The Surface Laptop lasts 14 hours.
There's something that Microsoft can't best with hardware alone that the MacBook Air has to its credit: the iPhone and iPad. Both are so successful that you may have one already. The services and iTunes content that's available on your iPhone can be loaded into Windows 10 with iTunes. However, Surface Laptop can't replicate how easy it is to switch tasks or reply to messages on your iPhone with a MacBook Air.
Surface Laptop vs MacBook Air: Which Should You Buy?
The MacBook Air is the original thin-and-light notebook. It arrived even before the original Surface devices did. Steve Jobs revealed the notebook by pulling it out of an inter-office envelope. Its days are numbered though, and even Microsoft knows it.
For the same price as the MacBook Air you can get a Surface Laptop with a modern processor, modern design and modern integrated graphics, thinner profile, lighter chassis and more battery life. The 4GB of RAM in the entry Surface Laptop is clearly a misstep that users will have to decide if they're okay with. So is the use of Windows 10 S instead of Windows 10 Home. After 2017, users won't be happy that they have to pay Microsoft to do something that has been free in existing versions of Windows that they've used.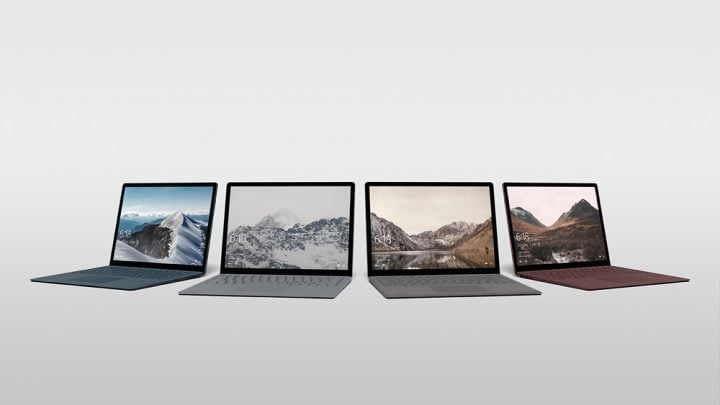 Look into the Surface Laptop, if you'd planned for an upcoming MacBook Air purchase to be your first foray into Apple's hardware. The Surface Laptop may have enough advantages to keep you from leaving. If you love MacOS already, you should consider the New MacBook. It's a bit more expensive, but you'll all the latest features Apple's offers. At this point, the MacBook Air is a bit old.
The Surface Laptop arrives on store shelves June 15th. You can place a pre-order now from the Microsoft Store.