10 Best Surface Pro 4 Keyboards & Why You Need One
These are the best Surface Pro 4 keyboards available in 2018. Plus, they're the only way you will get the most out of your new Windows 2-in-1.
Surface Pro 4 keyboards are the best way to protect your investment. Your Surface Pro 4's vibrant 12.3-inch display easily scratches if keys or other sharp objects run across it. A keyboard cover keeps your trade-in value high by shielding the tablet from whatever else is in your bag.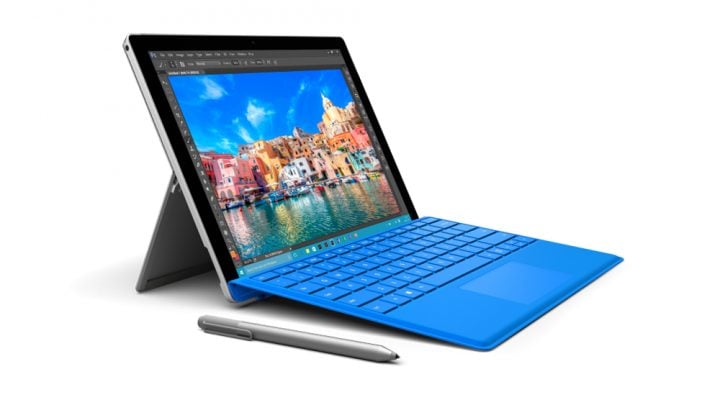 Even if you already have one of the best Surface Pro 4 cases protecting your investment, you should still buy one of the best Surface Pro 4 keyboards. You purchased a Surface Pro 4 because you wanted the ultimate productivity experience everywhere you go. You need a Surface keyboard's trackpad to navigate the parts of Windows 10 that aren't very touch-friendly. The multi-touch support on official Surface keyboards makes switching between apps as simple as a three-finger swipe. Also, typing a paper in Office 365 on Windows 10's touch keyboard will take a long time, even if you are comfortable with on-screen keyboards.
The Surface Pro 4 keyboards that don't act as covers are also worth investing in. Thanks to a built-in fingerprint reader, one keyboard makes it incredibly easy to log into Windows 10 without a password. Another has a knob that lets you change settings like the Surface Dial does. Desktop Surface Pro 4 keyboards have number pads and dedicated arrows for easier data entry in.
Read: 11 Essential Surface Pro Accessories
Here are the best 10 Surface Pro 4 keyboards.
10 Best Surface Pro 4 Keyboards
Surface Keyboard
Surface Pro 4 Type Cover
Surface Pro 4 Type Cover with Fingerprint Reader
Brydge 12.3 Surface Pro 4 Keyboard
MoKo Surface Pro 4 Keyboard
Surface Pro Signature Type Cover
Surface Special Edition NFL Type Cover
Logitech Craft Keyboard
Microsoft Universal Folding Keyboard
Surface Ergonomic Keyboard
Surface Keyboard

The $99 Surface Keyboard is a great way to get the sensation and feedback of a Surface Type Cover at your desk.
Microsoft designed Surface Keyboard for the Surface Studio, but its Bluetooth radios allow it to talk to any Windows 10 PC. It doesn't lock into the port on the bottom of your Surface Pro 4 and it doesn't feed off your device's internal battery. This keyboad has the same silver finish as your Surface Pro and its key caps match the soft keys of the Surface Type Cover. A number pad and full-size directional buttons let you skip the keyboard shortcuts that the Surface Type Cover forces you to use.
Amazon sells the Surface Keyboard for $79. Buy it if you are building out a desktop setup with the Surface Dock and an extra display.
If you prefer signing into Windows 10 without a password, consider buying the Modern Keyboard with Fingerprint ID. It's the standard Surface Keyboard with a fingerprint reader embedded into one of its keys. The Microsoft Store sells it for $129.99.

As an Amazon Associate I earn from qualifying purchases.