Surface Pro 4 vs Samsung Galaxy Book 12-Inch
Don't commit to buying a Surface Pro 4, the Samsung Galaxy Book is an even better Windows 2-in-1 on paper. Windows device makers have released their own versions of the Surface Pro 4 for two years now. The Samsung Galaxy Book 12-Inch improves on the design and adds new features.
Both the Galaxy Book 12-Inch and Surface Pro 4 are for the person that needs a laptop and a tablet. They blend the two form factors together by offering add-on keyboards with touchpads for getting things done. The same productivity programs that make laptops indispensable are available on the Galaxy Book and Surface Pro 4. Users can remove their keyboards to get a tablet-like experience and touch-friendly apps.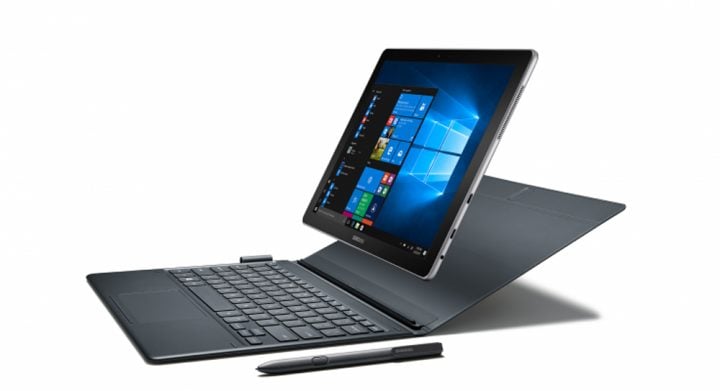 Read: Surface Pro 4 Review: The Best There Is
Before you buy a Surface Pro 4, you should consider buying the Samsung Galaxy Book. Look at how the two compare.
Surface Pro 4 vs Samsung Galaxy Book: Design & Durability
The Samsung Galaxy Book 12-inch's edges taper so it is more comfortable to hold. This curved edge also makes the tablet look thinner than it is. The Galaxy Book 12-inch is 0.29-inches thick. It weighs 1.58 pounds. You'll barely notice it in a bag. The only physical buttons on it are the power button and volume controls.
Surface Pro 4's edges don't curve at all, which makes it feel a bit thick when you pick it up. Surface Pro 4 can weigh as little as 1.73 pounds. That more than the Galaxy Book 12-inch. The lightest and least powerful Surface Pro 4 still weighs 1.69 pounds and is 0.33-inches thick.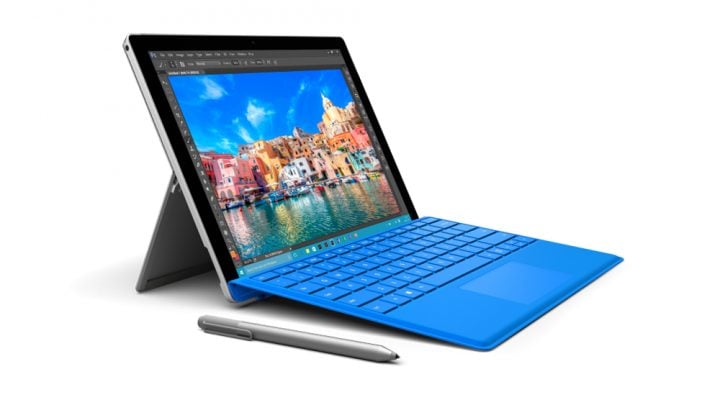 Surface Pro 4 includes a built-in kickstand directly into it. There are times that you don't want a keyboard but do want to see your device's display from afar. On the other hand, that kickstand contributes to the heft of the device. The Galaxy Book uses a kickstand on its keyboard cover to hold itself up. You lose access to that kickstand when you remove the keyboard, but you end up with something that's thinner and feels like a tablet when you're reading, watching videos or playing games.
Surface Pro 4 vs Samsung Galaxy Book: Screen, Processors & Storage Space
Microsoft uses its PixelSense technology for the 12.3-inch 2736 x 1824 display inside the Surface Pro 4. The screen supports pressure sensitive digital pens and gestures. It's more detailed than a high-definition television set. The Galaxy Book 12-inch's 2160 x 1440 display isn't as sharp.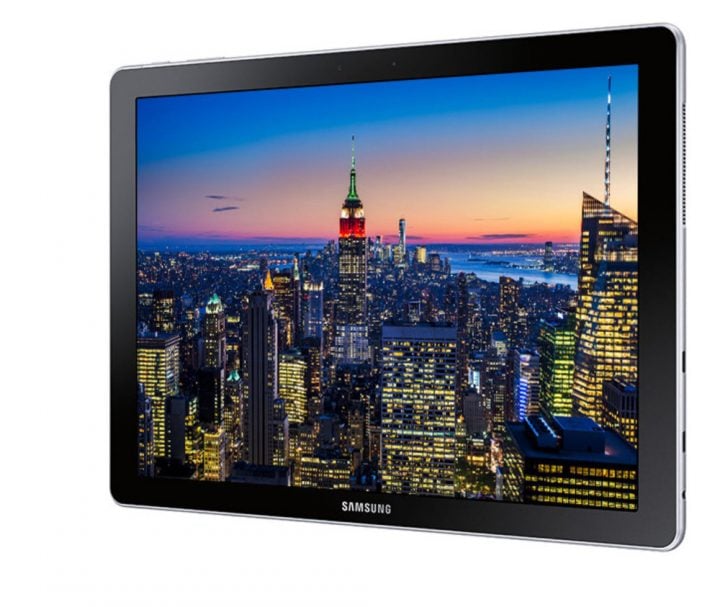 Samsung is reusing its Super AMOLED screen technology from the Galaxy smartphones for the Galaxy Book 12-inch. Colors are brighter and blacks are very dark. There's also HDR or High-Dynamic Range color contrast technology at work here, Samsung says. You should find the Galaxy Book's display more vibrant. The Galaxy Book works with the S-Pen and can sense pressure when users are writing with it.
Processors, RAM & Storage
Surface Pro 4 tablets were the first to come with 6th Generation Intel processors. The cheapest Intel Core M3 model has 4GB of RAM to back up its entry-level processor. Intel Core M3 allowed Microsoft to make a Surface Pro 4 without a fan. Unfortunately, this model doesn't perform all that well outside of word processing, browsing the web and watching videos. The Intel Core i5 and Intel Core i7 models have 8GB and 16GB RAM options. 128GB, 256GB, 512GB and 1TB storage options are available directly from Microsoft Store.
The Galaxy Book 12-inch has 7th Generation Intel Core i5 processors inside. Intel says that these latest processors handle high-resolution video and 4K video more efficiently than their older chips. They're also slightly faster than the processors in Surface Pro 4. The Galaxy Book 12-inch devices have 8GB of RAM or 4GB of RAM. Samsung is keeping storage simple with 256GB and 128GB options.
Surface Pro 4 vs Samsung Galaxy Book: Ports & Extras
The Galaxy Book 12-inch comes with USB Type-C. It's a new port that you may have seen on new Android phones as well. USB Type-C allows you to create workstations that require just a single cable to get going. They also offer fast transfer speeds. The Galaxy Book uses USB Type-C to connect to other devices and fully charge in less than three hours. That's really fast. There's also a headset jack and MicroSD storage slot.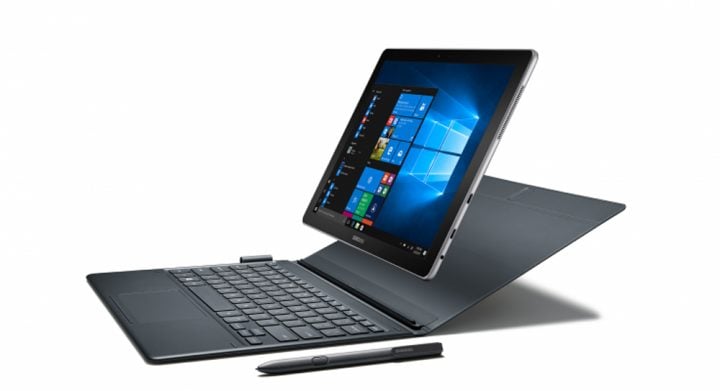 Microsoft uses a full-size USB 3.0 port on Surface Pro 4. You can avoid carrying around dongles and adapters to connect to your favorite accessories because of this. There's a MicroSD card slot for more storage and a headset jack too. Surface Connect, a port of Microsoft's own design, handles charging and connecting to docking stations.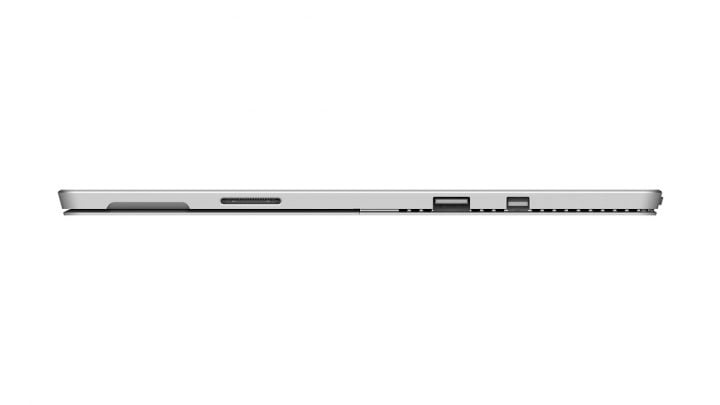 Samsung's decision to use USB Type-C is more forward thinking. Soon all our devices will use a single cable to charge and connect to each other. That future's far off though. Today, a full-size USB 3.0 port makes life easier for most buyers.
Accessories
Samsung is the world's biggest Android smartphone maker, so chances are that you have a Samsung Galaxy phone. The Galaxy Book's Flow software allows you to transfer files to and from your Samsung smartphone with ease. The notifications that you get on your phone sync between the two. You can use the Galaxy Book as a GPS navigation device thanks to an internal GPS sensor.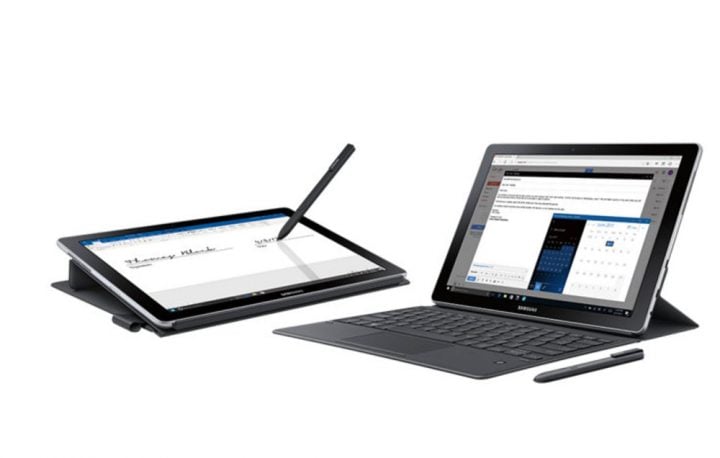 The Galaxy Book is compatible with Samsung S-Pen and a keyboard cover, just like the Surface Pro 4. This keyboard's kickstand props the device up for better viewing angles. There's a touchpad built into it for easy navigation. You may want to take photos with Samsung's tablet. The Galaxy Book's 13-megapixel rear-facing camera has nearly twice the picture quality of the Surface Pro 4's 8-megapixel camera.
Read: 6 Best Surface Pro 4 Keyboards
The Surface Pro 4 does come equipped with a Windows Hello camera sensor that lets you sign in to Windows without typing in your password. The Galaxy Book 12-inch doesn't. Its 5-megapixel front-facing camera is strictly for taking self-portraits.
The Galaxy Book scores against the Surface Pro 4 in another major way. With the Surface Pro 4, you'll need to find an internet connection or tether to your phone to browse the web. The Galaxy Book 12-inch will have a Verizon model that gives it access to websites on its own.
Surface Pro 4 vs Samsung Galaxy Book: Battery Life
We expect all our devices to get us through a long day. The Samsung Galaxy Book can last an impressive 11 hours during video playback. That's a stark contrast from the 9 hours of video playback that Microsoft promises for Surface Pro 4. It's certainly enough for another movie on a long flight. The Galaxy Book should last longer when browsing the web or working in productivity apps too.
Surface Pro 4 vs Samsung Galaxy Book: Price
The Surface Pro 4 with Intel Core M3 processor, 128GB of storage and 4GB of RAM now costs $799. An Intel Core i5 model with 256GB of storage and 8GB of RAM is $1,199. $1,499 gets you an Intel Core i7 Surface Pro 4 with 16GB of RAM and 256GB of storage. These prices include the Surface Pen and exclude the $129.99 Surface Type Cover. A keyboard and the cheapest Surface Pro 4 will cost you $928.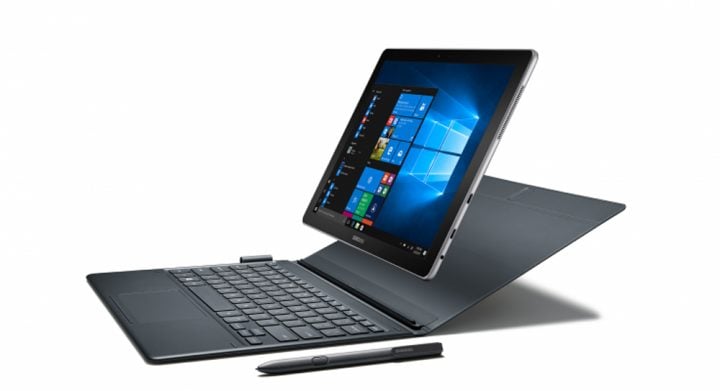 Read: Best Surface Pro 4 Deals
Samsung gives shoppers the tools they need with the tablet. Both the Galaxy Book keyboard and S-Pen come with each device on Samsung.com. $1,329.99 gets buyers a device with 8GB of RAM, 256GB of storage and an Intel Core i5 processor. The $1,129.99 Galaxy Book 12-inch with 4GB of RAM and Intel Core i5 processor is $1,129.99. The Galaxy Book that includes Verizon mobile data, 4GB of RAM and 8GB of storage is $1,299.99.
Surface Pro 4 vs Samsung Galaxy Book: Which to Buy?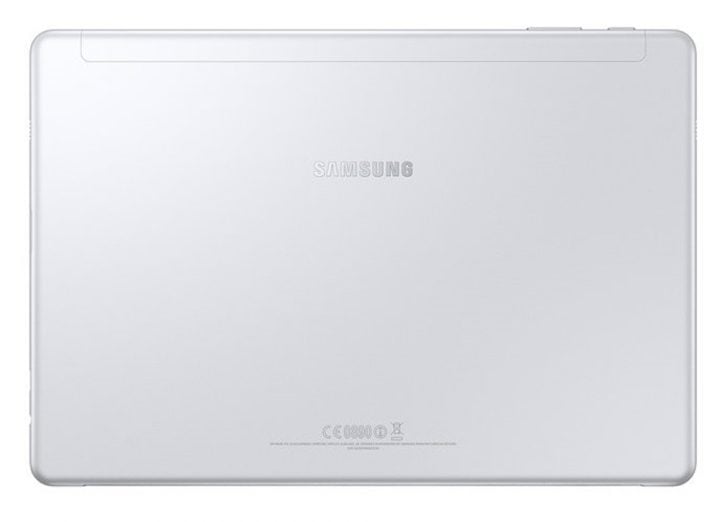 The Surface Pro 4 inspired lots of companies to make a tablet that could replace the notebook. It's still a good option. Buy the cheapest Surface Pro 4, if you're looking to save some money. Buy the more expensive versions, if you want a Core i7 processor and 1TB of storage.
The Samsung Galaxy Book Is the better buy today. It offers more battery life so that users can stay productive or entertained longer. It's thinner and lighter than Surface Pro 4. Its cameras are better, and built-in mobile data and GPS allow users to stay connected without the help of Wi-Fi or their phone's data plan. The Galaxy Book 12-inch also more likely to work with the phone that's in your pocket. You get everything that you need in the box.
Those with their eye on the future should check out the Samsung Galaxy Book. Samsung.com is already taking pre-orders.

As an Amazon Associate I earn from qualifying purchases.