Which iPhone XR Storage Size Should You Buy?
If you're thinking about buying the iPhone XR, make sure you pick the correct model. This process can be tricky and today we want to help you decide on the best iPhone XR storage option for your needs and your budget.
You might be tempted to go with the cheapest iPhone XR or the model with the most storage, but many of you should skip those and go with the 128GB model.
Before you commit to one model or another, there are some things you'll want to consider and we'll break everything down for you in this guide.
iPhone XR Storage Options
The iPhone XR comes in a variety of colors with three storage options.
(Refurbished) Apple iPhone XR, US Version, 64GB, Black - Unlocked
This phone is unlocked and compatible with any carrier of choice on GSM and CDMA networks (e.g. AT&T, T-Mobile, Sprint, Verizon, US Cellular, Cricket, Metro, Tracfone, Mint Mobile, etc.).
Tested for battery health and guaranteed to have a minimum battery capacity of 80%.
Successfully passed a full diagnostic test which ensures like-new functionality and removal of any prior-user personal information.
The device does not come with headphones or a SIM card. It does include a generic (Mfi certified) charger and charging cable.
Inspected and guaranteed to have minimal cosmetic damage, which is not noticeable when the device is held at arm's length.
Instead of 64GB, 256GB, and 512GB configurations like the iPhone XS and iPhone XS Max, the iPhone XR comes in 64GB, 128GB, and 256GB formats. The 64GB model is the cheapest while the 256GB model is the most expensive.
The iPhone XR, like all iPhone models, doesn't come with expandable storage via a microSD card. If you decide you need additional storage you'll need to add it through Apple's iCloud service or via Lightning drive.
Apple won't announce additional storage options down the road so you're stuck with these three options.
Pay for Storage Now or Pay Later
64GB's of storage isn't enough space for a lot of people. If you plan to shoot 4K video, download content for travel, or play games, you'll probably need additional storage space.
We've been using a 256GB iPhone X for several years now and we've managed to use 130GB of storage. That's nowhere close to 256GB, but it's well beyond the 64GB you get from the cheapest iPhone XR option.
That space is taken up by our applications, photos, 1080p videos (not 4K), podcasts, and other miscellaneous files. We went over the 64GB threshold within a month.
Some of you might not come close to 64GB, but many others are going to go over that mark soon after you switch to your new device.
If that happens, you'll either need to delete files to free up space or pay for additional storage via iCloud or an external drive. In the United States, iCloud pricing starts at $0.99/mo for 50GB and goes up to $9.99/mo for 2TB of space.
If you run out of space you might have to resort to streaming movies and music and that could lead to data overage charges if you aren't careful.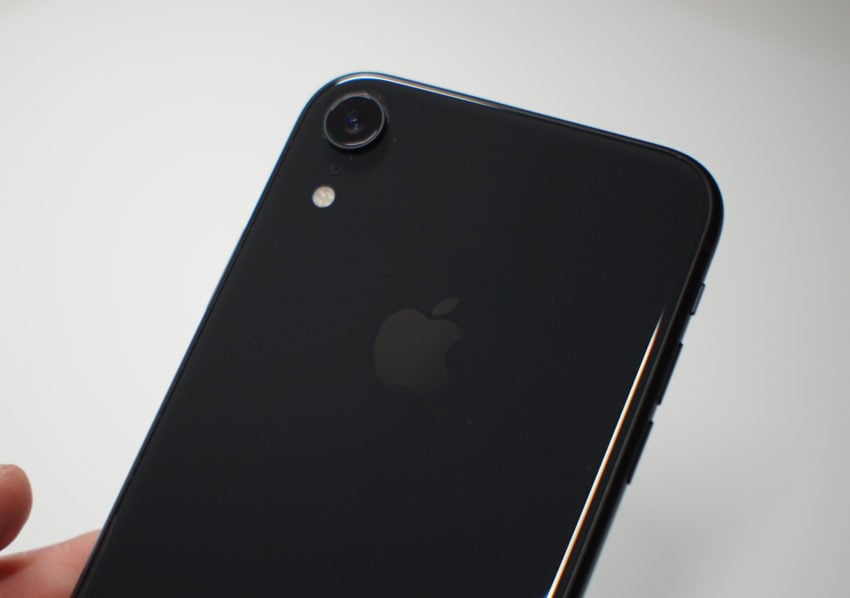 Who Should Buy the 64GB iPhone XR
Again, the 64GB iPhone XR is the cheapest option available. You're going to save on the upfront cost of the phone and many of you will be perfectly fine with 64GB of space. You should buy the 64GB iPhone XR if you:
Stream most of your movies and music.
Don't plan to record a lot of 4K videos.
Plan to store your photos in iCloud Photo Library or locally on a computer.
Don't come anywhere close to using 64GB of storage on your current iPhone.
Who Should Buy the 128GB iPhone XR
The 64GB option is worth considering, but you might want the peace of mind that comes with the larger 128GB iPhone XR.
Again, we've been using the iPhone X for more than two years now and we've barely reached 128GB. And it's nice knowing that we can shoot a ton of video and download an app we want without having to worry about hitting the threshold.
You should buy the 128GB iPhone XR if you:
Store some of your movies and music locally.
Prefer to keep your photos stored locally.
Plan to shoot some 4K video.
Don't come close to using 64GB of space on your current iPhone.
Can't stand having to constantly manage the data on your phone.
Who Should Buy the 256GB iPhone XR
Most of you should be fine with 64GB or 128GB, but power users will want to spend the extra money and go with the largest storage size. You should buy the 256GB iPhone XR if you:
Plan to shoot a ton of 4K video.
Are a photo buff who don't want to use iCloud.
Someone who travels often and wants to store everything locally.
How to Check Your Storage
If you're currently using an iPhone and are struggling with this decision, do yourself a favor and check out how you're currently utilizing your device's storage.
Here's how to do this:
Tap on your Settings app.
Tap on General.
Tap on iPhone Storage.
Once you're on this screen you can see how much storage you're currently using on your iPhone. You can also see what's taking up the most storage on your device.
If you're already over 64GB or coming close, you'll probably want to go with the 128GB or 256GB option. If you're barely using your storage, you probably don't need to spend the extra cash.
If you plan to use the iPhone XR for a year before upgrading to a new device, there's less pressure to go with a bigger storage size. You can make do and upgrade to a device with a larger storage capacity in twelve months.
If you don't plan to upgrade for two years or more, the 128GB model is probably the safest bet for most people. If you go with this option you should be able to avoid spending additional money on storage.
4 Reasons Not to Install iOS 14.7 & 11 Reasons You Should
Install iOS 14.7 for Better Security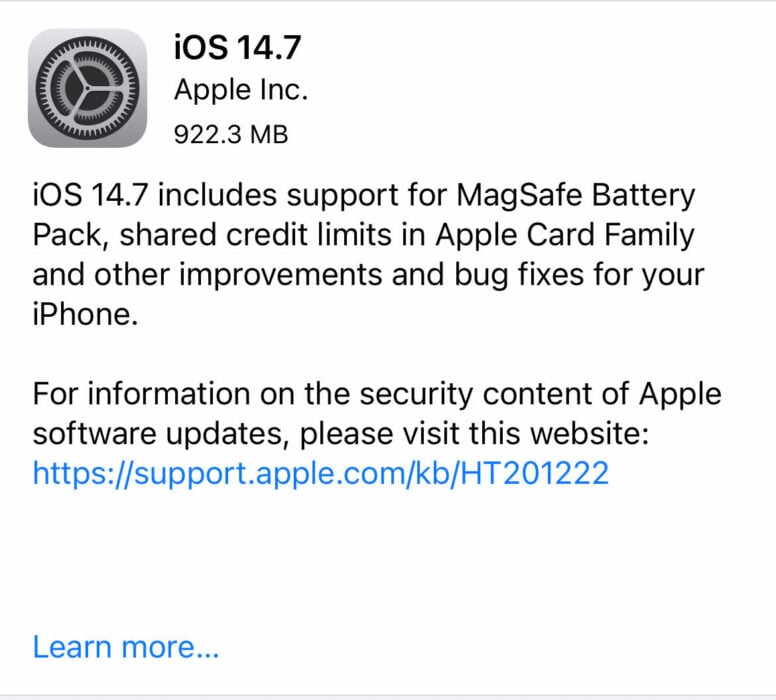 If security is important to you, think about installing iOS 14.7 right away.
Apple says iOS 14.7 includes 31 security patches and you can about them on Apple's website. If you want to better protect your iPhone and its data, you'll want to install iOS 14.7 in the near future.
If you skipped iOS 14.6, you'll get the update's 38 security patches with your iOS 14.7 update. If you're curious about the particulars, you can read about them right here.
If you skipped iOS 14.5.1, you get the update's two security patches on board. You can read about them over on Apple's website. Both are related to WebKit.
If you missed iOS 14.5 you'll get its patches with your upgrade. You can read more about those changes over on Apple's website.
iOS 14.5 also brought Apple's new App Tracking Transparency which lets you control which apps are allowed to track your activity across other companies' apps and websites for ads or sharing with data brokers.
If you skipped iOS 14.4.2, you get its security patch with iOS 14.7. You can learn more about that patch over on Apple's website as well.
If you missed iOS 14.4.1, you get its patch with your upgrade to iOS 14.7. You can read about that patch right here.
If you skipped iOS 14.4, you get the update's patches with your upgrade. You can learn more about iOS 14.4's security patches right here.
If you skipped iOS 14.3 you'll get its nine security updates with your upgrade. You can read more about them on its security site.
iOS 14.3 also included a new privacy information section on App Store pages that includes a developer-reported summary of the app's privacy practices.
If you skipped iOS 14.2, your iOS 14.7 update includes 24 additional security patches. You can learn more about the patches on Apple's security website.
If you're still running iOS 13, iOS 14.7 includes iOS 14.0's security updates.
iOS 14.0 brought 11 new security patches to the iPhone. If you're interested in the exact nature of these improvements, you can read about them over on Apple's website.
In addition to those patches, iOS 14 comes with some security and privacy upgrades including improvements to Home/HomeKit and Safari.
For instance in Safari, you can now tap the Privacy Report button to better understand how websites handle your privacy.
With iOS 14 on board you can now get information on the App Store that will help you understand the privacy practices of apps before you download them.
There is also a new recording indicator that will appear at the top of your screen whenever an app is using your microphone or camera. You can see if an app has used them recently in Control Center.
Researchers also discovered that Apple brought a new "BlastDoor" sandbox security system to iOS 14. The system is meant to prevent attacks from occurring via the Messages app.
You can read more about "BlastDoor" right here.
Last update on 2020-12-15. This post may contain affiliate links. Click here to read our disclosure policy for more details. Images via Amazon API

This article may contain affiliate links. Click here for more details.