Why I Bought the Verizon iPhone 6s
The iPhone 6s is available on many carriers in a variety of colors and storage options. This weekend I bought the Verizon iPhone 6s with 64GB of storage in space gray to replace my iPhone 6 and be my new primary smartphone. Here's why I chose the Verizon iPhone 6s over AT&T, T-Mobile or Sprint.
The single most important factor of which carrier I choose for my primary phone is the coverage it delivers, and while Verizon and AT&T are very close, there are still some places where one has an edge on the other. I carry Verizon and AT&T iPhones currently and while I also ordered a Rose Gold iPhone 6s Plus to carry as a review device and for comparisons, the smaller iPhone 6s will still be my main iPhone.
[contextly_sidebar id="pShITKE6Ik4jiIpCELI81OR1AZr1XvRC"]In addition to the iPhone 6s Plus I own several flagship Android smartphones that all do some things well, but with Mac computers and most family members on iPhones and iPads there is a logical reason to use an iPhone.
The Verizon coverage is stellar in Ohio where I live and during travels through the country I have more reliable coverage on Verizon than I do on AT&T. T-Mobile coverage is improving and the iPhone 6s makes use of new technology that will allow T-Mobile towers to double the coverage, but even with a test drive option on T-Mobile my primary phone remains on Verizon where I know I can get great coverage. Sprint's coverage still shows way too many 3G and off-network roaming areas in Ohio to even be a candidate for my next smartphone.
Verizon supports Voice Over LTE on the iPhone 6 and iPhone 6 Plus, and this is also available on the iPhone 6s and iPhone 6s Plus. I love the ability to use voice and data at the same time. Other carriers support this, but this is a reason I am able to stay with Verizon. I am upgrading my wife's iPhone 5s to the iPhone 6s so that she will get iMessages while she is on a call, amongst other reasons.
There is no support for Verizon WiFi calling on the iPhone 6s, which is something that  AT&T and T-Mobile both offer. I did consider switching to AT&T for this option, but the people I need to call in a situation where I have WiFi and poor service are all on an iPhone and I can use FaceTime Audio.
Another reason I chose the Verizon iPhone 6s over AT&T, Sprint or T-Mobile is because calls from one Verizon device that supports Advanced Calling to another sound way better than a normal call. When I make a call from my Verizon iPhone to my family members with new Verizon devices the calls sound much better than on an older phone or to a normal voice call on another carrier.
Another great reason for me to choose the Verizon iPhone 6s is that it is unlocked right out of the box so I can use it with T-Mobile or AT&T to test out other networks and I can use another SIM card while traveling internationally. I don't normally go out of the U.S., but this is a great option to have.
Although it did not factor into my decision, one reason we are buying my wife the Verizon iPhone 6s is that she can get $300 in trade-in credit for her iPhone 5s.
[contextly_sidebar id="5m7BPJXESzKUmhXrc9dmu5EyvZGu87D8″]
As for the exact model I chose, I decided to go away from Silver to Space Gray since it matches my Apple Watch Sport and I miss the black front faceplate that is only available on Space Gray.
I debated ordering the iPhone 6s 128GB model, but 64GB is the sweet spot for me now, especially with iCloud Photo Library. Considering how much space 4K video takes up on the iPhone I will need to keep those video files in the cloud or on other devices.
iPhone 6s vs iPhone 6: What's New
3D Touch Display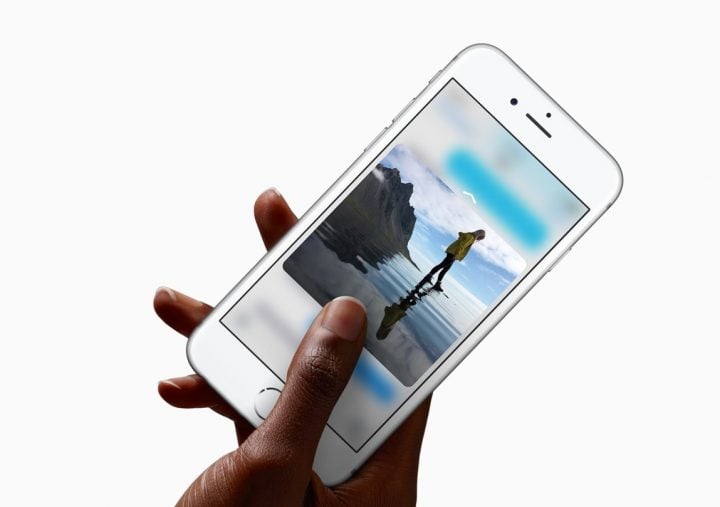 The new 3D Touch display on the iPhone 6s and iPhone 6s Plus makes a plethora of features possible, some of which we will break out into sections.
In short the new iPhone 6s display is the same size and resolution as the iPhone 6 display, but it can now tell the difference between a tap, a press and a deeper press. This allows users to call up secondary actions in many apps and on the home screen as well as in games.
The video above shows the new 3D Touch display on the iPhone 6s and iPhone 6s Plus. Even though the iPhone 6s display looks very similar to the iPhone 6 and both phones run iOS 9, you cannot use these new features on the old iPhone because the technology is not there.
3D Touch display actions work on the home screen, in Apple apps and in third-party apps.

This article may contain affiliate links. Click here for more details.