Why You Shouldn't Buy the 16GB iPhone 6s
Apple's new iPhone 6s goes on sale tonight ahead of a release date on September 25th. If you're planning to buy one of the new iPhones tonight, know that it might be in your best interest to avoid the 16GB iPhone 6s or iPhone 6s Plus.
On Wednesday, Apple took the stage and announced two brand new iPhone models. The iPhone 6s and iPhone 6s Plus come with a number of big changes including new cameras, an improved A9 processor, a stronger design, a new rose gold color and an enhanced display. One feature is staying the same though.
Instead of offering a 32GB iPhone 6s base model, the company has stuck with three familiar storage options. Both the iPhone 6s and iPhone 6s Plus will come in 16GB, 64GB, or 128GB of internal storage.
The 16GB iPhone is once again the cheapest model and thus, it's going to be extremely tempting. You shouldn't buy it though, not if you can help it. Here are a few reasons to avoid buying the 16GB iPhone 6s or iPhone 6s Plus.
You Will Run Out of Space
Take it from me, I've fallen into this trap.
A few years ago, I bought the 16GB iPad Air. Within a few weeks, I was creeping very close to the threshold. Even now, I have to delete applications to make room for new files and other applications. It's a frustrating process and one that I've repeated an unbelievable amount of times.
I cannot even imagine having to perform this procedure on the iPhone, a device I use far more than the iPad Air.
Last year, I bought the iPhone 6. And before pre-orders began, I decided that the 64GB model was perfect for me. The 16GB iPhone 6 wasn't even an option. Why? Because I would've run out of space in a matter of weeks.
In the past year, I've filled up my iPhone 6 with new apps, new music, new photos, and new videos. I take tons of photos and videos and I have over 100 apps on my phone. And guess what? I still have 16GB of free space on my iPhone 6.
Not once have I had to worry about my storage. It's a glorious freedom to have, especially if you're glued to your phone like I am.
I don't know how you use your iPhone but my guess is that you will download apps and you will take photos and you will shoot videos. And if you plan to do any of that on the iPhone 6s, you will run out of storage.
New iPhone 6s Features Don't Make It Easier
The device's features won't help make things easier.
The iPhone 6s camera is able to shoot beautiful 4K video. Thing is, you'll only be able to shoot a few minutes of it before your 16GB is completely full.
Early iPhone 6s users have discovered that one minute of 4K video on the iPhone 6s will take up 375MB of space on the device.
What this means, you'll be able to film about 30 minutes of 4K video before the phone is completely full. And that's not even counting the other apps and files that you have on board. So, it's going to actually be far less than that.
Even if you don't plan to film a ton of 4K content, it would be nice to have the option to film more than a few songs at a music festival without completely filling up the device. There's more.
Apple's new Live Photos reportedly take up two times the amount of space as regular photos. If you're not familiar with Live Photos, it's one of the coolest features on board the iPhone 6s. Here's how Apple describes it:
A still photo captures an instant frozen in time. With Live Photos, you can turn those instants into unforgettable living memories. At the heart of a Live Photo is a beautiful 12‑megapixel photo. But together with that photo are the moments just before and after it was taken, captured with movement and sound.
Good luck to you if you plan on using Live Photos and shooting 4K video on the 16GB iPhone 6s or iPhone 6s Plus.
Buy the 64GB iPhone 6s Or…
The 16GB iPhone 6s, to me, doesn't make sense. It doesn't make cents either. Not when the 64GB iPhone 6s is only $100 more expensive on-contract and a few dollars cheaper on monthly installment plans.
I've been a 64GB iPhone 6 user for a year now and I can say, without hesitation, that the the extra money was absolutely worth it. Not just for the extra space itself but for the peace of mind that comes with it. 16GB is going to fill up a whole lot faster than you think.
If money is an issue for you, do yourself a favor and look into the 64GB version of the iPhone 6 or iPhone 6 Plus. They're cheaper, they're still excellent smartphones and they're only going to get better when the iOS 9 update comes out.
iPhone 6s vs iPhone 6: What's New
3D Touch Display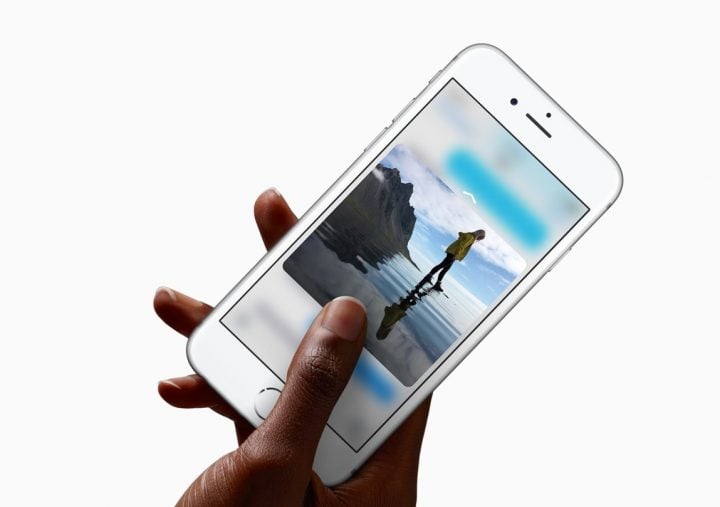 The new 3D Touch display on the iPhone 6s and iPhone 6s Plus makes a plethora of features possible, some of which we will break out into sections.
In short the new iPhone 6s display is the same size and resolution as the iPhone 6 display, but it can now tell the difference between a tap, a press and a deeper press. This allows users to call up secondary actions in many apps and on the home screen as well as in games.
The video above shows the new 3D Touch display on the iPhone 6s and iPhone 6s Plus. Even though the iPhone 6s display looks very similar to the iPhone 6 and both phones run iOS 9, you cannot use these new features on the old iPhone because the technology is not there.
3D Touch display actions work on the home screen, in Apple apps and in third-party apps.

As an Amazon Associate I earn from qualifying purchases.