Zagg Mobile Charging Station: Charge Apple Watch & iPhone On the Go
The Zagg Mobile Charging Station is a portable battery pack that can charge your Apple Watch and iPhone on the go and double as a convenient charging dock in your office or hotel so you are never without power.
A flip-up slot holds your Apple Watch charger and a built-in Lightning cable charges your iPhone without the need to use a case.
When you are on the go, a built-in 5,000 mAh battery charges your iPhone and Apple Watch. When you get to your destination plug one cable into the wall and you can use the Zagg Mobile Charging Station to charge your Apple Watch and your iPhone.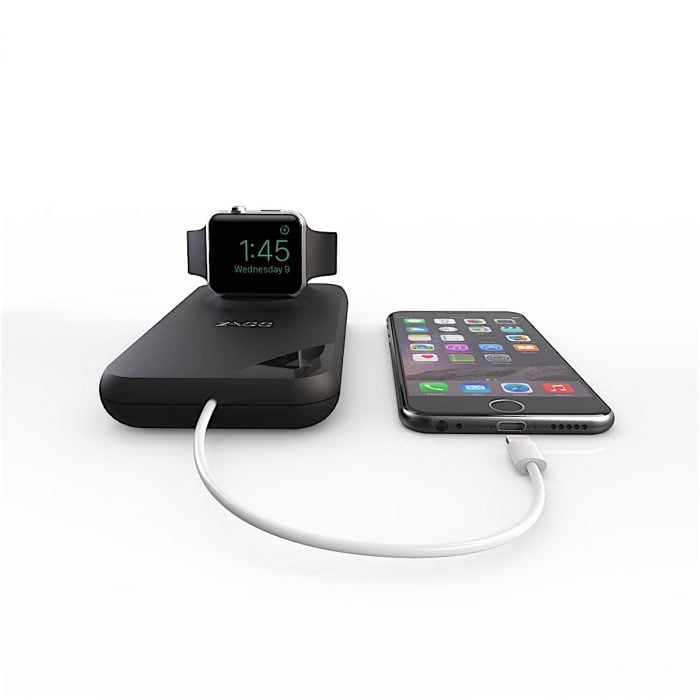 Zagg announced this mobile charger at CES 2016 in addition to wearable wireless earbuds and a social camera.
This portable battery pack charges with Micro USB, and will charge your devices before charging the internal battery so that your gear is ready to go even with short charging times at an outlet.
When at work or a hotel the small base station keeps your devices charged in a stylish manner. When you need to go carry the case and battery with you. Flip up the Appel Watch charger on the go if you need extra juice or grab the Lightning cable for your iPhone.
The Zagg Mobile Charger is $79.99 and available later this year. You will need your own Apple Watch charger, but it includes a built-in Lightning cable to charge the iPhone or iPad.
Check out the rest of our CES 2016 coverage to see the latest gadgets, accessories, smartphones and other cool tech for 2016.
17 Things You Didn't Know the Apple Watch Could Do
Set Your Apple Watch Ahead 5-10 Minutes
If you are always running behind and you are used to setting clocks ahead so that you leave early enough to get there you'll love the Apple Watch.
There is a setting on the Watch that lets you set the Apple Watch time ahead up to 59 minutes fast. Most people will set the watch a few minutes early or 15 minutes early if they are always late.
Alarms and timers should stick to the real-time, but when you look at the time on your Apple Watch you will see the time you want, instead of the real-time.
Here's how to set your Apple Watch ahead so you're always on time.

As an Amazon Associate I earn from qualifying purchases.