10 Best Galaxy S7 Edge Screen Protectors
The Samsung Galaxy S7 Edge is still an excellent phone, even if it is two years old. And with the update to Android 8.0 Oreo maybe you decided to use it for a little longer. If so, you'll want to keep that big 5.5-inch curved screen safe. With that in mind, these are the best Galaxy S7 Edge screen protectors.
So, whether you found a good deal or are holding out for the Galaxy S10, the hardest part of making a phone last is keeping the screen safe.
Read: 7 Quick Chargers for the Galaxy S7 Edge
One question we get asked often is if you can use a screen protector on the curved glass. More importantly, tempered glass screen protectors and not a cheap film that won't last. The answer is yes, we've found several Galaxy S7 Edge screen protectors that work great.
We've detailed some excellent official accessories for the Galaxy S7 and Galaxy S7 Edge for buyers, as well as some of the best cases, and now you'll want to protect the screen.
Out of the box, the Galaxy S7 Edge is plenty durable. Samsung added a scratch-resistant and strong Gorilla Glass 4 technology to both the front and the back glass, but that also means a drop could crack the glass on either side. It's also IP68 dust and water-resistant, so you won't need a waterproof case.
Read: 100 Best Android Apps
While we've found Galaxy S7 Edge screen protectors for as low as $6, they're cheap films. Instead, we recommend spending a little more on a durable tempered glass screen protector from a reputable brand. This glass is chemically strengthened for durability and scratch-resistant and is usually your best bet. Get one today and keep your phone safe from life's daily hazards.
Popular brands like Spigen and ZAGG have durable real glass screen protectors too. One thing to keep in mind is the curved glass makes installs difficult to get right. It takes patience or you can buy a regular film from our list below.
Skinomi Galaxy S7 Edge TechSkin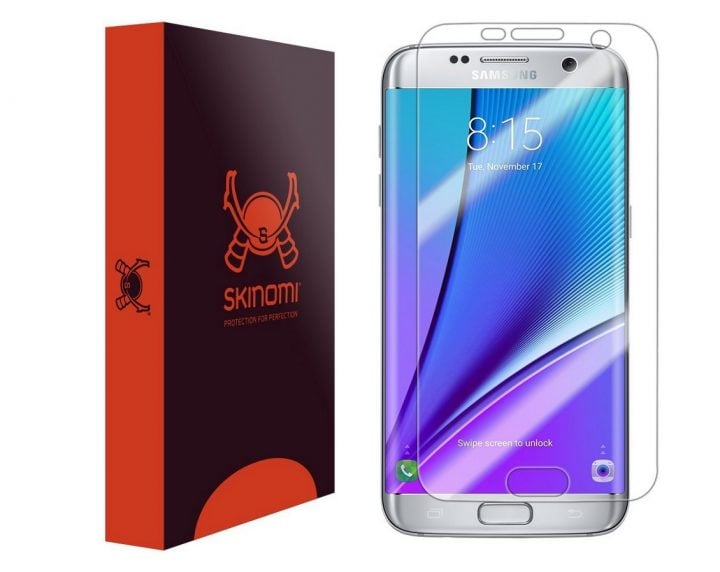 When it comes to protecting the Galaxy S7 Edge, don't cheap out when it comes to screen coverage. It's more prone to damage because of the curved glass.
Skinomi is a trusted brand who's made some of the best screen protectors for years. This is curved plastic, not glass, just so you know.
The Skinomi TechSkin perfectly covers the entire screen. You can still install a case without it pulling up the protector, too. This accessory has precision cutouts for the fingerprint scanner, earpiece, and sensors. Skinomi also has a Matte finish (fingerprint resistant) option that's worth trying out.

As an Amazon Associate I earn from qualifying purchases.