1TB PS4 Release Date Confirmed
Forget a cheaper PS4, Sony is delivering more storage to users with a new PS4 model an updates to the older PS4 console to address user complaints. Sony announced the 1TB PS4 release date in an official blog posting today and small, but needed updates to the current 500GB PS4.
The new PS4 for 2015 isn't cheaper or slimmer, but it does address one major complaint from gamers who are running out of space on new consoles far too fast now that it's no surprise to see a game take up 50GB or more of space on a console.
Read: PS4 Tips and Tricks
Sony's new PS4 comes with a 1TB hard drive and it carries the name PS4 Ultimate Player edition. This updated version of the console includes double the hard drive space.
This upgrade comes just after the end of E3 2015 and weeks after Microsoft announced a new 1TB Xbox One model for $399. The current 500GB PS4 is $399 at retailers in the U.S. and the new 1TB PS4 will likely come at a premium.
For now the 1TB PS4 Ultimate Player Edition is only available in Europe and PAL countries. The 1TB PS4 release date arrives on July 15th in these areas, with no official word on a U.S. 1TB PS4 release date or price at this time.
Sony suggests gamers connect with retailers in their countries to determine the 1TB PS4 price. Tradition suggests a $50 USD premium for a capacity bump like this is reasonable, especially considering the ease of upgrading the PS4 hard drive.
As far as a U.S. 1TB PS4 release date goes, gamers may not need to wait very long for this new console to arrive. We saw an updated PS4 with a 1TB hard drive pass through the FCC last month, suggesting a speedy release is on the way.
Buyers who are waiting for a 1TB PS4 release date in the United States and other countries don't need to wait if they are comfortable upgrading at a later date. It is possible to buy a 1TB hard drive for $49.99 that a user can install in the PS4 on their own. The owner can then re-use the hard drive from inside the PS4.
Users can already remove the cover of the PS4 and replace the 500GB hard drive with a larger or faster model. Users can easily install a 2TB hard drive in the current PS4 and there are options to connect up to a 6TB hard drive to the PS4 with a cable and placing a larger drive outside the PS4. Another popular option is to play a hybrid drive or solid state drive in the PS4 to speed up game loads.
The 500GB PS4 that is on store shelves now is 10% lighter, 8% more power efficient and there is no longer a glossy top cover that scratches easily. In place of the glossy cover is a matte finish. The new PS4 releases in Japan in June and then throughout the world, but there is no specific U.S. release date listed.
Added storage is a welcome addition to the PS4, but comments on the official announcement call out Sony for the lack of upgrades to the Cloud Storage space. With PlayStation Plus gamers get 1GB of cloud storage for the PS4, but that is not enough for a vocal group of users.
Commenter link1983 writes, "With the save files on PS4 being about 10mb that 1GB cloud save space fills up stupidly quickly. Any chance of an increase on that?" Topov81 replies that the issue is even bigger
"10mb is the typical minimum size, but many are 20mb+ eg. Walking Dead (67mb). With multiple save files per game (some mandatory, eg profile/squads/backup), it's easy to rack up 100mb per game so we really could do with an increase, or at least allow us to use our spare PS3/Vita capacity."
No word from Sony on added PS4 Cloud Save storage sizes at this time. There is also no word about a PS4 price drop. In the run up to E3 2015 we heard that Sony would cut the price of the PS4 to $349 to take on the Xbox One that is officially at $349 with a game and with a second game as part of select promotions.
15 Exciting 2015 PS4 Games
MLB 15 The Show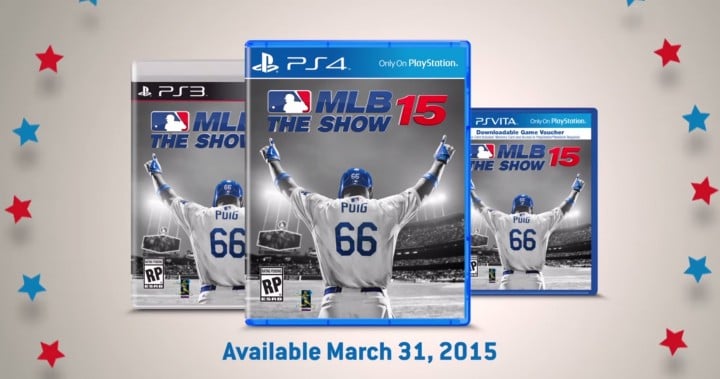 MLB 15 The Show Release Date - March 31st Confirmed
Sony is the undisputed king of baseball games with MLB The Show and we know that MLB 15 The Show is coming in early 2015. Sony just shared five key details about MLB 15 the Show and gamers are excited.
MLB 15 The Show is a PlayStation Exclusive, that is coming to the PS4, PS3 and PS Vita. There is a chance that this will be one of the first big hits among the 2015 PS4 game releases. I
Watch the MLB 15 The Show teaser video above for a glimpse at what's new.