2017 Ford Raptor Review: Yes, It's Worth Every Penny
The 2017 Ford Raptor needs little introduction. The bold grill and dominating looks tell you that this is no ordinary Ford F-150. Ford took the 2017 F-150 and engineered a plethora of upgrades for off-roading. That includes an insane Baja mode that lets you feel like a master while off-roading, even if it's your first time getting a truck down and dirty.
While the 2017 Ford Raptor is an incredible off-road beast, it's also an incredibly capable on-road truck. Despite massive tires, the 2017 F-150 Raptor drives incredibly smoothly on the road and delivers decent fuel economy for a truck. Creature comforts like vented and heated seats make the Raptor a road-ready companion. Once you add in 360-degree cameras, CarPlay, Android Auto and a host of driver convenience features, you'll wonder how you get all of this starting at $49,265.
We took the 2017 Raptor across Ohio and Michigan on highways and side-roads, as well as off-roading through Mud, bumpy sand and tight corners. We also cut a pine tree down, filled up the bed and loaded up a trailer to put the Trailer Pro Backup Assist to the test. We did it all to help you decide if the 2017 Ford F-150 is worth buying.
Even if you don't plan to take the Raptor off-road to use all of the driving modes, this truck is impressively capable. There is no V8, which may turn off some buyers, but we weren't left needing more power through our packed week of testing. The Raptor still sounds good, though it's aided by engine noise piped into the car speakers. The 2018 Ford F-150 is almost here, and Ford is using the same engine and the same overall look for the 2018 Raptor.
The 2017 F-150 Raptor starts at $49,265 and was $61,490 as equipped with Equipment Group 802A which adds Sync 3, a power sliding rear window, 4.10 Front Axle, 360-degree camera, Blind Spot Monitoring with Trailer support, Pro Trailer Backup Assist, Remote Start and more. This price also includes the tailgate step, spray in bedliner and Raptor Technology Package with adaptive cruise control.
[letsreview]
2017 Ford Raptor Off Road Performance
The 2017 Ford Raptor is designed to go off-road and it's ready to help you drive better off road. While you aren't likely taking your Raptor jumping off sand dunes, the off-road FOX Racing Shox and driving modes, along with intelligent four-wheel drive, are there to help you. We took the 2017 Raptor to Bundy Hill Off Road Park in Michigan and tested the off-road prowess.
We came away impressed as the Raptor handled everything we threw it at with ease. The only limits you'll hit at an off-road park or on a trail is if the trail gets too narrow for your Raptor. In Mud and Sand mode the Raptor simply eats up rough terrain, climbs hills and navigates muddy holes without breaking a sweat. Even if you bite off a little more than you can chew, the Raptor is able to save you in many cases.
The 360-degree camera is especially helpful for navigating tight situations, and when you are in mud and sand mode the front camera stays active so you can see what is right in front of you despite the large hood that is in the way. Off Road Apps show you the Raptor's angles and where the wheels are turned, so you know your situation at a glance.
Baja mode is insane. We took the Raptor to the Sand Drag Strip normally frequented by ATVs and hit speeds over 50 mph easily while maintaining control. It was so fun we had to take multiple trips and passengers through this spirited sandy adventure. The difference between driving the Raptor in Baja mode and almost any other truck on this surface is huge.
As you switch modes, the vehicle will adjust four wheel drive on and off automatically as well as tune steering and suspension for optimal performance. The Raptor includes Normal, Sport, Weather (snow and rain), Mud and Sand, Rock Crawl and Baja.
2017 Ford Raptor Driving On the Road
What if you don't want to take the Raptor off-road and get it all muddy? Is it still an awesome truck? Yes, it is. As a pavement queen, the Raptor is ready to impress with a very good ride that is actually very quiet for a truck. Part of that comes from some noise cancellation piped through the sound system.
While driving on the highway we saw 18.1 miles per gallon, which isn't bad at all for a pickup like this. If you only plan to commute in this it's not cheap, but you can tow and use it as a badass work truck as well.
The Raptor is wider than a traditional F-150, so it takes up more of your lane on the highway. You'll need to be more mindful of your surroundings, but in general other drivers tend to give the bold Raptor a little extra room. Our Raptor came equipped with Blind Spot Monitoring so we never had to worry about someone hiding at our flank. This even includes a Trailer Blind Spot System that monitors your blind spot with a trailer attached.
Lane Keeping helps you stay in your lane and Adaptive Cruise Control makes long hauls much easier by automatically slowing you down if traffic fails to keep up with the speed you set the cruise at. All of this makes daily driving the Raptor not only possible but enjoyable.
You can program your trailers into the Raptor, and into all F-150 trucks, with Pro Trailer Backup Assist. Once this short process is done you can backup your trailer like a pro by turning a knob on the dash instead turning the wheel. The knob spins the wheel and puts the trailer right where you want it. This is an impressive piece of tech and one that we definitely appreciate.
2017 Ford Raptor Design
The 2017 Raptor immediately stands out with a huge FORD grille with integrated orange lights. The front bumper is also unique and plays a practical role: it gives you a more clearance when off-road. You can also opt to put huge Raptor graphics on the sides of the truck if you want.
The front seats of the Raptor are very comfortable. They are heated and ventilated to keep you at the perfect temperature. The dash is well laid out with buttons and controls where you expect them. A large storage area straddles the middle of the front seats.
With the SuperCab there is room for up to five adults, though legroom will be a little tight in the back. They fold up so that you can haul cargo inside the cabin and lock it up. The rear sliding window really helps airflow through the cabin.
The bedliner stood up to pine sap dripping pine branches without any noticeable scratches and the tailgate step makes getting in and out of the bed easy for anyone. This sets up and stows away easily. There are multiple tie-down points in the bed and spot lights on the mirrors to help light up a work area.
2017 Ford Raptor Tech
In addition to the 360-degree camera and the smart trailer system that makes it possible for casual trailer haulers like me to back up a trailer like a pro, Ford packs in a lot of tech in the 2017 Ford F-150 Raptor.
On the center of your instrument cluster is a small screen that shows you the Raptor status, including the mode you are in and the steering mode, as well as other Raptor stats you may want to see at a glance. This screen also shows you the Off-Road stats like incline, angle and where your wheels are aimed.
With the Equipment Group 802A, you get Sync 3. This is a massive step up from MyFord Touch and it's an essential feature for users who want to stay connected on the go. Ford's system is fast and easy to use. Sync 3 also includes support for Apple CarPlay and Android Auto so you can plug your phone in and get access to navigation, music, texts, phone calls and voice controls that are tightly integrated with your device.
Combine this with driver convenience features like blind spot monitoring, adaptive cruise and lane keeping and the 2017 F-150 Raptor is a very high-tech pickup.
You Need These 10 Must Have Car Features: Find Out Why
Smart Cruise Control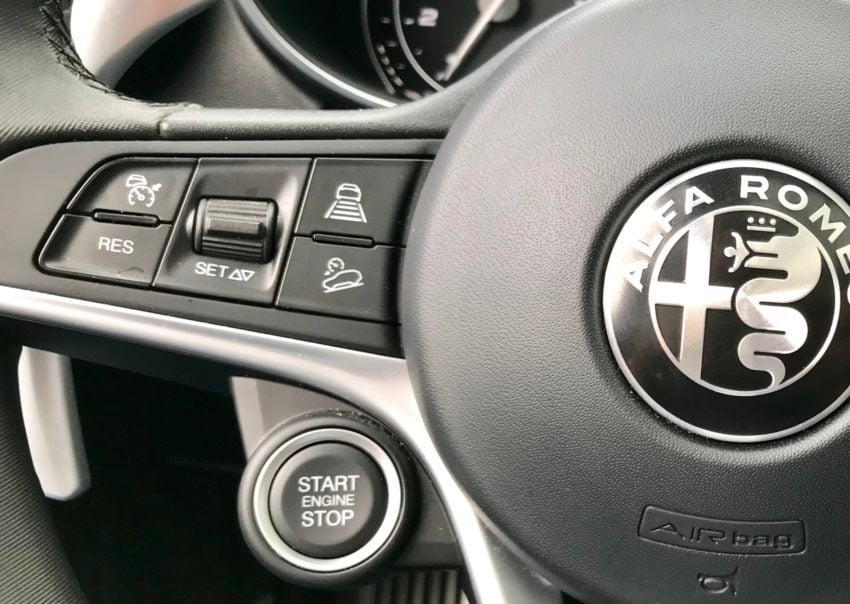 Do you hate constantly adjusting your cruise control, or giving up on cruise control because of traffic or due to a driver in front of you who keeps changing speed? You need a smart cruise control system.
Smart cruise control goes by many different names. You may see it listed as Radar Cruise, Adaptive Cruise or Intelligent Cruise control. Whatever it is called, it will allow you to set your cruise control and then stay with the flow of slower traffic.
Here's why we love it and why you need it. You get on the highway and set the cruise at 76 miles per hour. You also set the distance you want kept between you and the car in front of you. There are typically three or four settings so you can be close or keep a lot of space. Now you simply steer and your car will go 76 mile per hour when traffic allows it or there is no one in front of you. When someone is in front of you going 73 mph, the car automatically slows down to keep you the distance you choose from that car. This is indispensable in traffic and on long road trips.
Not all smart cruise control systems are the same. Some of work at all speeds, while others only work above a specific limit. Some systems can bring you to a complete stop in traffic and then restart without you needing to touch a pedal.
You can find adaptive cruise control on cars as cheap as $18,500 like the Toyota Corolla, and as an option on many cars below $30,000. Even on pricier cars you may need a higher trim level or special package to get this feature.