2017 Infiniti Q70L Review
The 2017 Infiniti Q70L is a luxurious sedan with a lot of power, all wheel drive and a backseat that's as impressive as the driver seat. All that power gives you better than expected acceleration, but it's not a sports sedan. The Q70L a longer wheelbase model of the Q70 that offers more room in the backseat so you can carry your passengers around in comfort and style. While luxurious, the interior is starting to show its age, especially compared to the just updated 2018 Infiniti Q50.
With a longer wheelbase and the 414 horsepower 5.6L V8 engine, this sports sedan offers nearly anything you need from a luxury sedan and enough fun so that you won't always want to be in the backseat. We took the 2017 Infiniti Q70L from Ohio to Chicago and back to see how this luxury sports sedan handles the tortures of a road trip.
Our Q70L came equipped with the new for 2017 Premium Select package that adds accents to both the inside and outside of the vehicle, sports brakes, a rear spoiler and alloy wheels. This $3,300 package is finally available on the long wheelbase version. The 2017 Infiniti Q70L 5.6L V8 with All Wheel Drive starts at $67,400 and with the Premium Select package our review vehicle came in at $71,605 including destination.
[letsreview]
Driving the Infiniti Q70L
A successful solo road trip is equal parts good driving and good music and the Q70L checks both boxes. Let's start with the driving experience. At first glance this looks like it may simply be a luxury car lumbers along, but that 5.6L V8 is ready to rocket you away from the stop light and there is still power left when you need to overtake on the highway to get around a slower driver.
Shifting is smooth as you would expect on a luxury sedan, and shifts are quick when using the shifter on the center console, but you won't find any paddle shifters that allow you to manually switch gears while keeping both hands on the wheel. Sport mode is capable and quite fun, even while touring across the monotonous midwest highways.
The overall ride quality is very nice and, even in Sport mode, the suspension is able to soak up rough patches of road. Road noise is very low, which was very nice as we entered the fourth hour of our road trip. In Sport mode, the V8 growls just the right amount. Nothing too raucous, but it makes the presence known. Steering is quite good, though there is understeer if you get on it while blitzing though back roads.
Expect around 23 mpg highway and 16 mpg in the city. The EPA combined estimate is 18 mpg. The Q70L requires Premium fuel, so consider that as you compare with other luxury sedans in this class.
Infiniti Q70 L Design & Luxury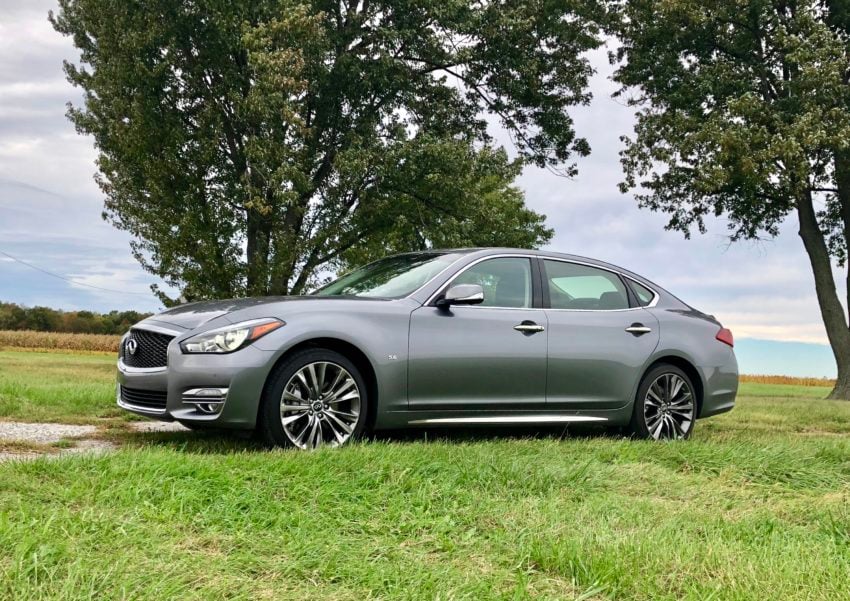 The 2017 Infiniti Q70L design is distinctive enough to stand out. It doesn't require a ostentatious grille like Lexus, and it doesn't trade on an instantly recognizable style like BMW. Instead you get an attractive swooping design that stands out on its own. No matter where you stand, the exterior of the Q70L looks great. Our model cam with the Premium Select package that enhances the design.
Inside the longer wheel base version of the Q70 you'll find a backseat that is incredibly large and inviting. This luxurious back seat is perfect for relaxing while you ride to your location or for getting work done as you stretch out your legs and open up a laptop or grab a tablet. The back seats are heated and very comfortable. All of the luxury touches inside, including accents and styling, carry over to the back seat. While many cars make sacrifices in the back seat, the Q70L does not.
The front seats are quite comfortable and come with heat and ventilation. The drive seat offers power adjustments and lumbar support. Everything is within reach of the driver, including the dial to control the infotainment system. There are plenty of cupholders and small storage openings to keep everything organized on a road trip.











2017 Infiniti Q70L Tech & Safety
A sharp and bright 8-inch display is at the center of the Infiniti Q70 infotainment system. This is not a touch screen. Instead you use a dial on the dash to make your selection and an almost overwhelming number of buttons to control various car functions and infotainment options.
The system works well, but it is missing Apple CarPlay and Android Auto support. Even with built-in navigation options this was a frustration on a road trip where an app like Waze is almost essential anymore. Voice recognition was above average and so was call quality over Bluetooth.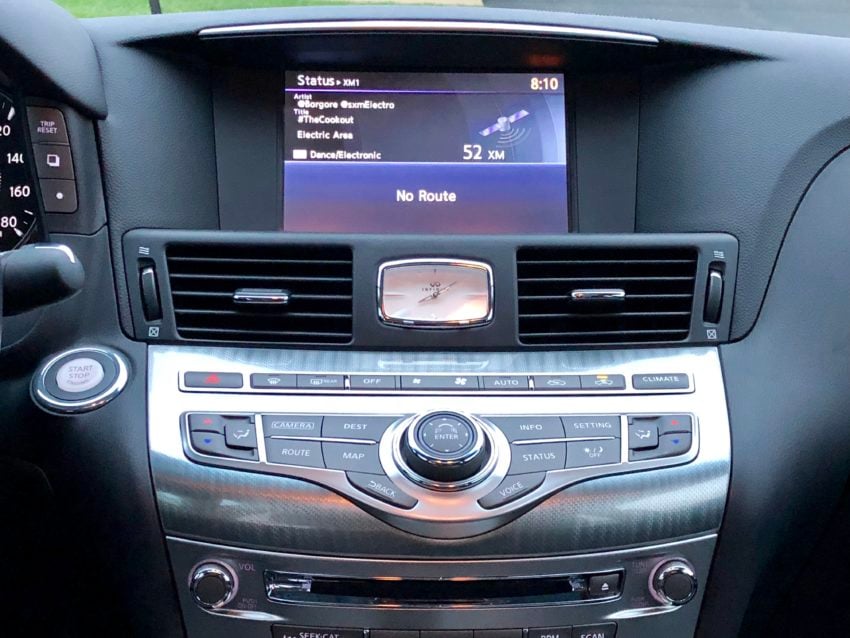 The Bose 10 speakers premium audio system sounded very good, erasing what little road noise that invaded with music and audiobooks. The 2018 Q50 moved to a dual display setup with one touch screen and one for display, but the 2018 Q70L sticks with the same setup as the 2017 model.
Infiniti offers Blind Spot Warning and Intelligent Cruise Control options that can make a road trip like this much more manageable. You'll need to add the ProACTIVE package for $3,300 to get these features. In this class Blind Spot Monitoring should be standard, especially on a longer wheel base version. Intelligent Cruise is an understandable add-on and it is one we missed significantly during this road trip so, ultimately, you will want to spend the cash to get these essential car features.
















You Need These 10 Must Have Car Features: Find Out Why
Smart Cruise Control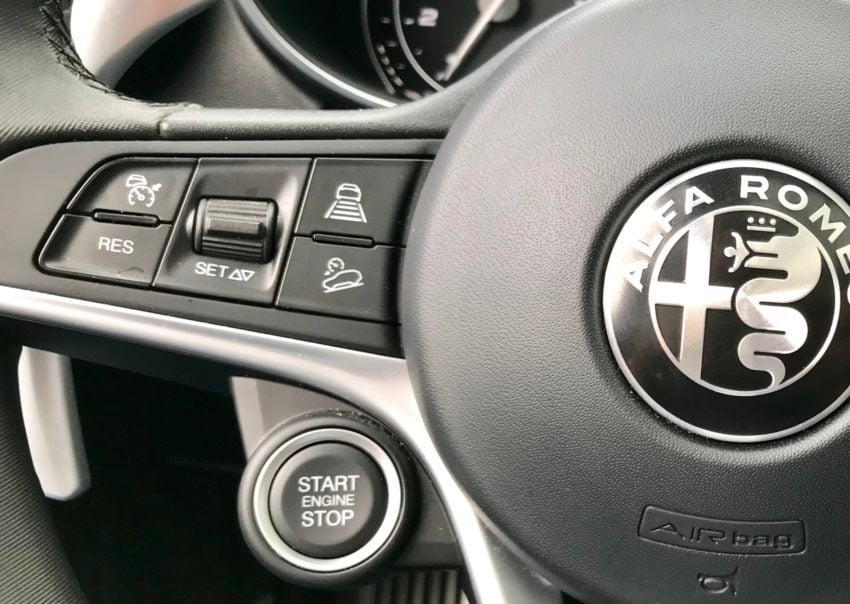 Do you hate constantly adjusting your cruise control, or giving up on cruise control because of traffic or due to a driver in front of you who keeps changing speed? You need a smart cruise control system.
Smart cruise control goes by many different names. You may see it listed as Radar Cruise, Adaptive Cruise or Intelligent Cruise control. Whatever it is called, it will allow you to set your cruise control and then stay with the flow of slower traffic.
Here's why we love it and why you need it. You get on the highway and set the cruise at 76 miles per hour. You also set the distance you want kept between you and the car in front of you. There are typically three or four settings so you can be close or keep a lot of space. Now you simply steer and your car will go 76 mile per hour when traffic allows it or there is no one in front of you. When someone is in front of you going 73 mph, the car automatically slows down to keep you the distance you choose from that car. This is indispensable in traffic and on long road trips.
Not all smart cruise control systems are the same. Some of work at all speeds, while others only work above a specific limit. Some systems can bring you to a complete stop in traffic and then restart without you needing to touch a pedal.
You can find adaptive cruise control on cars as cheap as $18,500 like the Toyota Corolla, and as an option on many cars below $30,000. Even on pricier cars you may need a higher trim level or special package to get this feature.