2018 Infiniti Q50 RED SPORT 400 First Drive & Review
The 2018 Infiniti Q50 is a new model with refined steering, upscale performance and a strikingly beautiful design. Available in trim levels that build up through a luxurious model, a bolder looking Sport and up to the 2018 Infiniti Q50 RED SPORT 400, Infiniti is able to meet the needs of the entry level buyer, a buyer looking for luxury and the enthusiast who wants to go fast in style.
If you're considering a luxury sports sedan, you need to consider the 2018 Infiniti Q50 Red Sport right alongside the Lexus IS 350 F Sport, BMW 340i Track and the Audi S4.
The 2018 Q50 starts at $34,200 for the PURE and goes up to $53,000 for the Q50 RED SPORT 400. All models are available with rear wheel drive or all wheel drive.
We tested the 2018 Infiniti Q50 RED SPORT 400 rear wheel drive with the 400 horsepower 3.0 Liter Twin Turbo V6. This includes the Sensory Package that adds in Bose Performance Series Audio, a power tilt wheel and driver memory settings as well as the ProACTIVE package that adds Direct Adaptive Steering, Intelligent Cruise Control, Blind Spot Intervention, Lane Departure Prevention with Active Lane Control, Adaptive Front Lighting System and High Beam Assist. Our 2018 Q50 review vehicle came equipped with high-performance summer tires.
Infiniti brought us to Nashville to take the 2018 Infiniti Q50 through twists and turns outside of the city as we explored the Leipers Fork Distillery and Mint Springs Farm, leaving a little bit of rubber along the way.
2018 Infiniti Q50 Driving
The 400 horsepower rear wheel drive 2018 Q50 delivered a fun-filled ride through the twisty country roads around Nashville. Acceleration is quick and there's plenty when you need it at higher speeds. An optional exhaust upgrade beefs up the sound, and it's a package we would definitely add to a Q50 in our driveway.
Infiniti includes multiple driving modes, including Sport and Sport+, that unleash more of what the Q50 has to offer. We confidently accelerated out of twisty corners without the rear end kicking out or feeling like it was going to get away from us.
New for 2018 are refinements to the steering systems. I've not driven the 2016 or 2017 Q50 to compare the Direct Adaptive Steering systems from those models to the new one, but I found the steering to be good and in line with the responsiveness of the Lexus IS 350 F Sport. The steering offered good feedback and I didn't feel like there was too much, which was a complaint with older versions.
You can get the Q50 with Direct Adaptive Steering or an electric power assist version. Make sure to pay attention while you test drive to see what your preference is.
Fuel economy is in line with the 2017 Q50 Red Sport 400, which gets 20 mpg city and 26 mpg highway.
2018 Infiniti Q50 Design
I'm a fan of the Infiniti Q50 interior, despite not normally liking the quilted seat designs on most cars. Inside you definitely feel that there is a focus on the driver. The seats are very comfortable and even include an adjustment for the front edge of the seat, so that you can get absolutely comfortable. There are many adjustments to get things just right and you can save them so that multiple drivers don't need to play with settings every time they switch.
We found the accent stitching throughout the cabin tastefully done and it fits in well with the Red Sport branding. There is carbon fiber trim inside the car through the center console and up to the dash. This is not as sharp-looking as the trim in the 2018 Q60. It's definitely not as nice looking as the Carbon Fiber on the mirrors. Other than the trim, all the other surfaces are soft touch and offer the right level of luxury in a sports sedan like the Q50. Infiniti also updated the steering wheel, added new ambient lighting, a new signature shifter and other refinements to the interior.
Infiniti offers a heated steering wheel and heated seats, but there is no option for ventilated or air conditioned seats. It is a noticeable missing feature in a 2018 model, especially the top of the line Red Sport 400 in the Nashville heat.
From the outside the 2018 Infiniti Q50 Red Sport 400 is an eye-catching car. Our vehicle in Dynamic Sunstone Red was quite eye catching, and the Iridium Blue absolutely sparkles in the sun. The Red Sport 400 and the Sport both offer sport looks that set these two 2018 Q50 models apart from the Pure and the Luxe models.
Sweeping lines and a bold front set the tone for the Q50 and the unique 19-inch wheels all come together to offer a sporty style that pulls off refined power very well.
2018 Infiniti Q50 Tech & Safety
There are two screens in the dash of the Q50. The top one shows you information like track listings, navigation and other details. To access it and use the features you tap the lower touch screen where you can select a variety of controls and apps. There are also many buttons on the dash and center console to adjust options without looking at the touch screen.
Infiniti does not support Apple CarPlay or Android Auto, which is another disappointment. Lexus does not support these, but BMW and Audi both embrace this feature that lets you use your phone and some apps with Siri or Google Now on the dash. The InTouch system is responsive and I prefer it over the Lexus system that requires you to use a touchpad or a joystick for selections, though I still found myself reaching for the top screen from time to time.
Infiniti and Bose team up for an upgraded sound system. A Bose rep explained to us that the Bose Performance Series uses higher end speakers, aluminum speaker grilles and other upgrades to deliver better sound. With the right music, you will experience a much wider soundstage than in many cars. It's one of the better audio systems we've listened to. You'll find the best sound when you increase the volume.
Infiniti describes the Dynamic Adaptive Steering as the building block of self-driving cars. While the 2018 Q50 will not drive you to work and then let you take over for the fun and twisty roads on the weekend, there are a lot of safety features and high tech going into the car that will make driving it easier and safer.
When we exited our very tight parallel parking we found out that the car won't allow you to slowly back into another car. While many cars will beep and warn you that you are too close, the Q50 actually stops the car so you don't run into something. That Backup Collision Intervention feature is standard on the Red Sport 400.
Infiniti also includes a handy 360 camera feature that shows you an around-the-car view as well as a backup camera. Predictive Forward Collision Warning monitors two cars in front of you to help identify potentially bad situations and keep you safe.
While you need to keep your hands on the wheel, the Lane Departure Prevention with Active Lane Control will help steer you in your lane as you drive on the highway. Combined with Intelligent Cruise Control, long drives on the highway are less stressful.
You Need These 10 Must Have Car Features: Find Out Why
Smart Cruise Control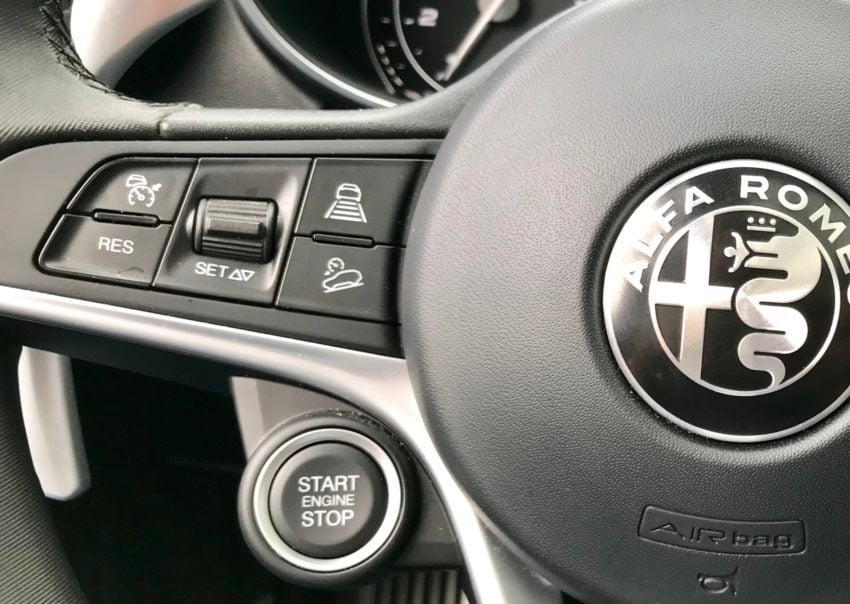 Do you hate constantly adjusting your cruise control, or giving up on cruise control because of traffic or due to a driver in front of you who keeps changing speed? You need a smart cruise control system.
Smart cruise control goes by many different names. You may see it listed as Radar Cruise, Adaptive Cruise or Intelligent Cruise control. Whatever it is called, it will allow you to set your cruise control and then stay with the flow of slower traffic.
Here's why we love it and why you need it. You get on the highway and set the cruise at 76 miles per hour. You also set the distance you want kept between you and the car in front of you. There are typically three or four settings so you can be close or keep a lot of space. Now you simply steer and your car will go 76 mile per hour when traffic allows it or there is no one in front of you. When someone is in front of you going 73 mph, the car automatically slows down to keep you the distance you choose from that car. This is indispensable in traffic and on long road trips.
Not all smart cruise control systems are the same. Some of work at all speeds, while others only work above a specific limit. Some systems can bring you to a complete stop in traffic and then restart without you needing to touch a pedal.
You can find adaptive cruise control on cars as cheap as $18,500 like the Toyota Corolla, and as an option on many cars below $30,000. Even on pricier cars you may need a higher trim level or special package to get this feature.