2017 Jeep Grand Cherokee Review
The Jeep Grand Cherokee is the most awarded SUV, and after spending a week in the luxurious 2017 Jeep Grand Cherokee Summit it's easy to understand why.
The Grand Cherokee delivers off-road prowess in a wide range of trim levels and price points from an entry level Jeep Grand Cherokee to the luxurious Summit, the speedy Jeep Grand Cherokee SRT, a trail ready Grand Cherokee Trailhawk and next year the Jeep Trackhawk.
The 2017 Jeep Grand Cherokee is a practical, useful and fun SUV. Even if you don't plan to go off-road the automatic four wheel drive option will help you get to and from work in the snow and whatever else nature throws your way.
2017 Jeep Grand Cherokee Review Summary
[letsreview]
The 2017 Jeep Grand Cherokee starts at $30,395 and goes up from there with a starting price of $53,395 for the 2017 Jeep Grand Cherokee Summit that we tested. The Summit includes a unique grille, badging and the option for a $4,995 luxurious interior that you will not find on the rest of the models. This specific model is the Summit California Edition for $995 that includes upgraded wheels, body color front and rear fascia and a few other upgrades. If you plan to go offroad, the $295 Skid Plate Group is a must have.
The Trailhawk model is new for 2017 as well as upgrades to the Summit line that includes the new self-parking system and lane departure warning. The rearview camera and parking sensors are standard this year.
2017 Jeep Grand Cherokee Performance
Our Jeep Grand Cherokee Summit came with the 3.6L V6 engine and eight-speed transmission. While you won't touch the acceleration of the SRT or the new Trailhawk, this is a very capable gas engine that provided sufficient acceleration for city traffic and highway driving.
There is a diesel option that delivers better fuel economy and a V-8 that adds power, towing capacity and a more robust sound to the vehicle.
QWith the Quadra-Tec II 4WD system, Selec-Terrain System and Quadra-Lift Air Suspension the 2017 Jeep Grand Cherokee is legitimately ready to go off road.
The Quadra-Lift Air Suspension raises the ride height to go off road to over 10 inches. When you park and when you are driving around town, you are at a lower height that makes it easy to get in and out of the car and delivers a more aerodynamic ride. We love this setup and no matter which Grand Cherokee trim level you buy, it's an option that you should make sure you buy.
It's unlikely that many people will take the 2017 Jeep Grand Cherokee Summit offroading in the traditional sense, especially with a luxurious off-white interior, but we were able to try out the 4WD system that Jeep offers across all the trim levels. The Selec-Terrain System allows you to dial in the terrain, and in Auto, the system attempts to select the best settings to handle your situation. Four Low is available with the push of a button when in neutral. Overall this is a very capable system and you should consider the Skid plate protection option if you plan any real off road adventures.
There is a Sport mode that makes the Jeep shift differently for a slightly peppier feel. By default, the vehicle turns the engine off when you stop, but there is a button on the dash to disable this. You need to push the button each time you drive the car if you don't want this fuel saving feature enabled.
The 2017 Jeep Grand Cherokee towing capacity is between 6,200 and 7,400 pounds depending on your configuration. This chart helps you figure out what options you need and the specific towing limits.
The 2017 Jeep Grand Cherokee Summit delivered 24.6MPG on the highway for us, close to the 25MPG estimate. Combined we achieved a little better than the 21 EPA estimate. While not awful, it's lower than the estimates for the 2017 Ford Edge, Kia Sorento, and several other mid-size SUVs.
2017 Jeep Grand Cherokee Design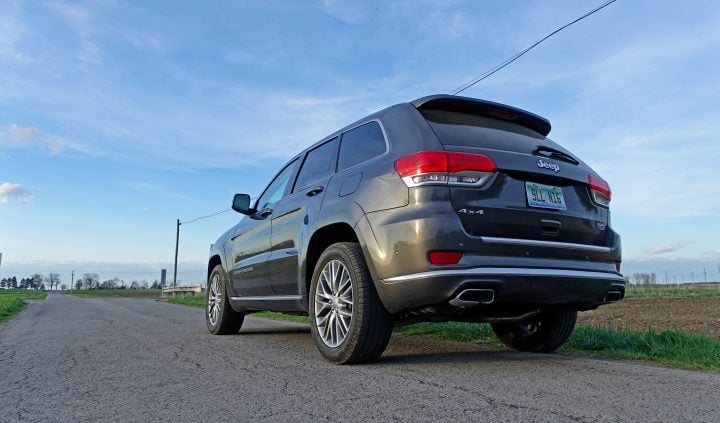 While the overall look of the Jeep Grand Cherokee is the same across the models, different trim levels gain some unique items. The Summit that we spent the week in has a special front grill like we saw in the 75th Anniversary Edition.
The 2017 Grand Cherokee design manages to be modern and stylish while still retaining the Jeep roots. We love the combination of bold looks with refined lines. There's a perfect mix that delivers a body style that looks good in any environment.
We especially like the side of the 2017 Jeep Grand Cherokee. It offers a sleek look and the curved panels on the doors really stand out.
Inside there are a range of finishes and variations that you can choose to match the purpose and the style of your Grand Cherokee.
The 2017 Jeep Grand Cherokee Summit we drove included the Signature Leather Wrapped Interior package. Say goodbye to plastic and hello to leather and premium materials that cover the cabin in a luxurious combination from the seat to the dash and across all the doors. It's an expensive package, but if you are looking for luxury in a Jeep it's one that won't disappoint.
The Jeep Grand Cherokee seats are comfortable and if you can, we recommend opting for the heated and ventilated seats, which will keep you comfortable on long rides.
The backseat is comfortable and large enough for two adults without cramping the driver. If you have tall rear seat passengers, you will need to move the front seats up a little for more knee room.
The rear seats fold flat to open up the cargo space, even more, when you need to haul a larger load. There is a good deal of room in the back with the seats up. There is a pull-out cover that you can use to hide items in the back cargo area. This easily comes out so you can haul larger items. There is a full-size spare under a panel in the back. Jeep includes a rechargeable flashlight in a small section in the back as well.
2017 Jeep Grand Cherokee Tech and Safety
The 2017 Jeep Grand Cherokee features Uconnect 8.4, which is an easy to use infotainment system with a large 8.4-inch display in the center of the dash. The car includes an internet connection and Uconnect Access that allows you to use some apps on the infotainment screen and to use the car's Internet connection as a WiFi hotspot to get a computer or other device online.
The Uconnect system works well, but it is limited by the Internet connection that tops out at 3G, unlike the 4G LTE connectivity found in Chevy vehicles. There is no support for Android Auto and Apple CarPlay in this model, but we know it is coming in the 2018 Jeep Grand Cherokee Trackhawk.
The 19 speaker Harmon Kardon sound system is phenomenal, filling the cabin with rich sound. Phone calls sound very good over the Bluetooth connection. There are a good number of charging points throughout the vehicle.
Jeep now offers a self-parking option to help you parallel park and perpendicular park, and it works nicely. The LED headlights provided very good visibility and there is an auto bright option to switch between normal and bright headlights when traffic comes at you.  Blind Spot monitoring makes it easy to know when it is safe to switch lanes and adaptive cruise control makes longer trips in traffic much more enjoyable by automatically matching your speed to slower traffic in front of you. The system can even stop you if needed.
The Keyless Enter-N-Go system allows you to unlock the doors by touching a handle with the key in your pocket and push a button on the dash to start the car.
You Need These 10 Must Have Car Features: Find Out Why
Smart Cruise Control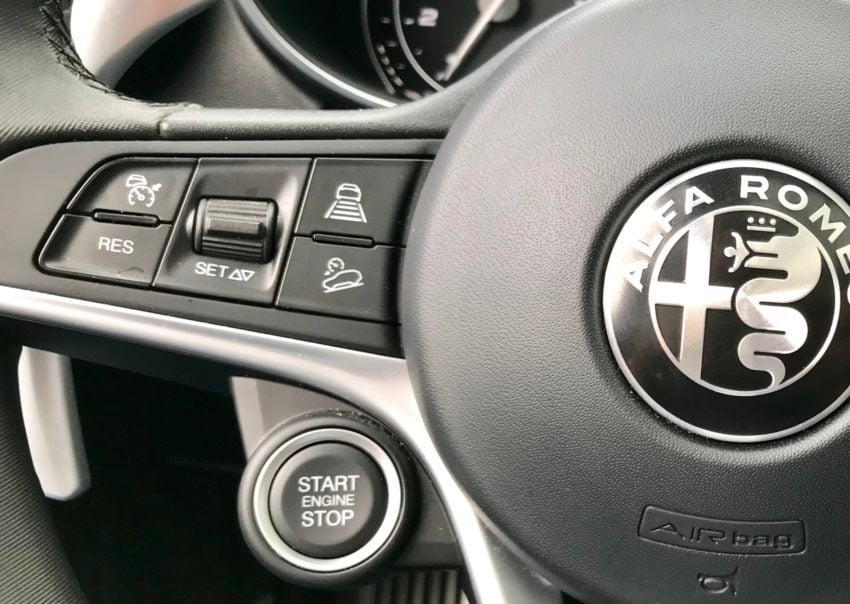 Do you hate constantly adjusting your cruise control, or giving up on cruise control because of traffic or due to a driver in front of you who keeps changing speed? You need a smart cruise control system.
Smart cruise control goes by many different names. You may see it listed as Radar Cruise, Adaptive Cruise or Intelligent Cruise control. Whatever it is called, it will allow you to set your cruise control and then stay with the flow of slower traffic.
Here's why we love it and why you need it. You get on the highway and set the cruise at 76 miles per hour. You also set the distance you want kept between you and the car in front of you. There are typically three or four settings so you can be close or keep a lot of space. Now you simply steer and your car will go 76 mile per hour when traffic allows it or there is no one in front of you. When someone is in front of you going 73 mph, the car automatically slows down to keep you the distance you choose from that car. This is indispensable in traffic and on long road trips.
Not all smart cruise control systems are the same. Some of work at all speeds, while others only work above a specific limit. Some systems can bring you to a complete stop in traffic and then restart without you needing to touch a pedal.
You can find adaptive cruise control on cars as cheap as $18,500 like the Toyota Corolla, and as an option on many cars below $30,000. Even on pricier cars you may need a higher trim level or special package to get this feature.