The 2017 Kia Cadenza delivers the right upgrades from the previous 2016 model to step up to the table with established luxury brands. While there is still room for improvement, there is a lot to like about the 2017 Cadenza. Kia offers all the right technology and safety options to stand out and outdoes the Lexus ES 350 in the tech department with wireless charging, Apple CarPlay & Android Auto.
A luxury Kia may surprise many buyers, but this isn't the company's first take on an upscale sedan. The new 2017 Cadenza builds on the luxury car that Kia first introduced in 2012. This new model includes refinements and upgrades that bring it closer to the competition in key areas, all of which should make it an earn a look from car buyers looking to get the most value out of their luxury car purchase.
[letsreview]
The 2017 Cadenza is available in three trim levels with a single engine choice. You can choose from Premium, Technology, and Limited which all come with the 3.3L V6 engine capable of 290 horsepower. The Kia Cadenza Premium starts at $31,990, Technology at $38,990 and Limited at $44,390. We drove the 2017 Kia Cadenza Limited with no added options.
2017 Kia Cadenza Driving
The 2017 Kia Cadenza uses the same 3.3L V6 engine as the previous model, but it's matched up with a new eight-speed automatic transmission. It's a respectable combination, but it's not meant to deliver thrilling rides. You'll cruise through corners rather than twist and turn, but that's more in line with what Kia offers in the Cadenza.
If you're upgrading from an earlier model, expect a similar feel on the road. There are multiple drive modes and Sport does change the shifting slightly, but all in all, there aren't massively noticeable changes as you jump between the four available options. The ride shines when you hit rough roads because you won't feel much of anything thanks to a suspension that eats up any bump or pothole you find.
The 2017 Cadenza handles well if you are looking for a smooth driving experience. You can hear the car's limits as tires squeal when you push the car too much on curves. Acceleration is good, proving more than capable of entering traffic, merging on to the highway and overtaking slower cars on two lane roads.
The 2017 Cadenza offers 28 mpg highway and 20 mpg city, a minor improvement over the 2016 model, and a combined 23 mpg according to EPA estimates.
2017 Kia Cadenza Design & Interior
When you first look at the Cadenza, you might not realize it's a Kia. An elegant exterior commands attention, from the wider "tiger nose" grille to the clean lines that sweep across the car. Kia says that the Cadenza uses an upgraded steel body panel that is more dent resistant, so you don't need to fear crowded parking lots as much. The Z shape headlight and taillight accents as well as bolder angles on the rear windows accent the design nicely, adding just enough boldness to the luxury look. Kia did an impressive job upgrading the looks from earlier Cadenzas that looked like they hadn't quite grown into the look.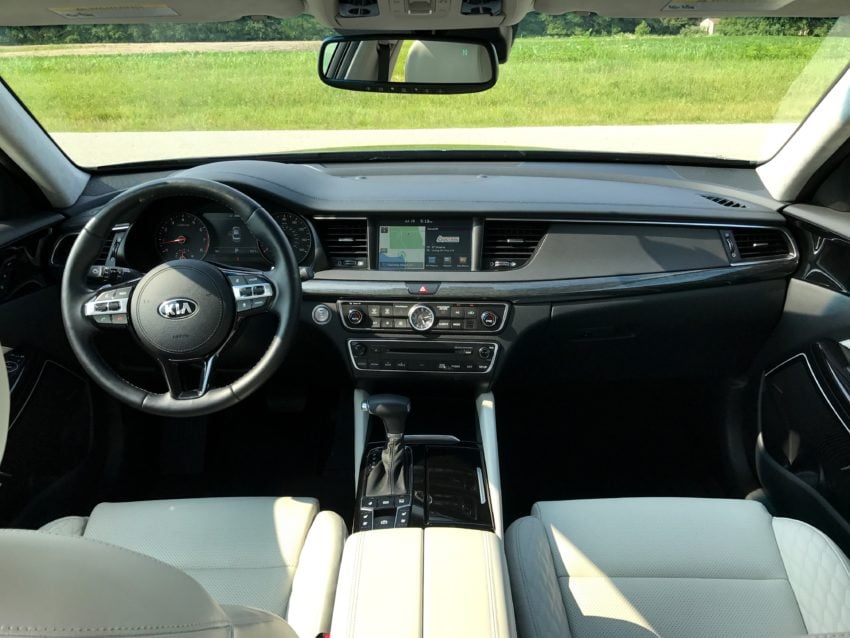 Once you step inside you'll find a very nice interior with luxury touches like accent stitching and soft touch material throughout. There's definitely a hand crafted look and feel to it. While the car remains the same size, the new Cadenza also features a longer roofline and wheelbase for better interior space. There's a massive amount of space in the back seat, with plenty of legroom and headroom. The seats are comfortable and there are USB and 12V power connections. A power sunshade blocks out the sun from the rear window and manual sunshades are available on both rear windows. The two side seats in the back are heated. The only thing missing from the back seat is independent climate control. The interior is very quiet while on the road.
Our model came with the White Interior package that adds White Nappe Leather seat trim that accents nicely to the black trim on the dash and carpets. The Steering wheel is comfortable and controls are easy to find and remember the location. The front seats are heated and ventilated to keep you comfortable in whatever climate you find yourself in.














2017 Kia Cadenza Tech & Safety
The Kia UVO infotainment system is capable and the 8-inch touchscreen is very responsive to touch. It's easy to pair your phone to the car for playing music and making calls. When you plug your Android or iPhone in, you get access to Android Auto and Apple CarPlay. Both Android Auto and Apple CarPlay allow you to use some of your phones built-in apps, read and send messages, get directions, listen to music and more while in your car. These systems both make it easier to use the important parts of your phone in the car, while still keeping you focused on the road.
The Lexus ES 350 does not support CarPlay or Android Auto, while other similar cars like the Lincoln MKZ and Buick Lacrosse support these advanced technology options. There is a wireless charger in the Limited trim level that lets you set many newer Android phones on it to charge up. Kia includes multiple power points in the front and rear of the car so you and your passengers aren't left looking for a place to plug in.
The heads up display in the Kia Cadenze is the best we've used in a sedan. The system is easy to see, adjusts to the absolutely perfect angle and uses colors that stand out while driving. This system lets you see your speed, navigation information, and other details without moving your eyes off the road and to the screen or instrument cluster. Make sure you try it out while test driving the 2017 Kia Cadenza.
Other small touches include interior and exterior lights that turn on when you approach with the keys in your pocket, a memory seat that moves back when you exit the car and a power trunk, which complete the package.
From a driver convenience and safety perspective, you'll find all the features you expect on a luxury sedan. These start with Advanced Smart Cruise control that will keep you a set distance from the car in front of you while driving on the highway. It includes braking when needed and accelerating back up to speed without the need for you to do anything.
The 360-degree camera system helps you maneuver into tight parking spaces and you can even tap on the screen to get close up views of each corner of the car, even when pulling forward so that you don't catch a wheel on the curb.
Kia includes Autonomous Emergency Braking that can apply the brakes and bring you to a stop when the system senses an impending front collision. There is also a Forward Collision Warning System that plays an alert and flashes a warning if there is a potential crash ahead. There is also a Blind Spot warning system so you know if someone is in your blind spot and a lane departure warning system that alerts you if you are crossing the lane markers without your turn signal on.
You Need These 10 Must Have Car Features: Find Out Why
Smart Cruise Control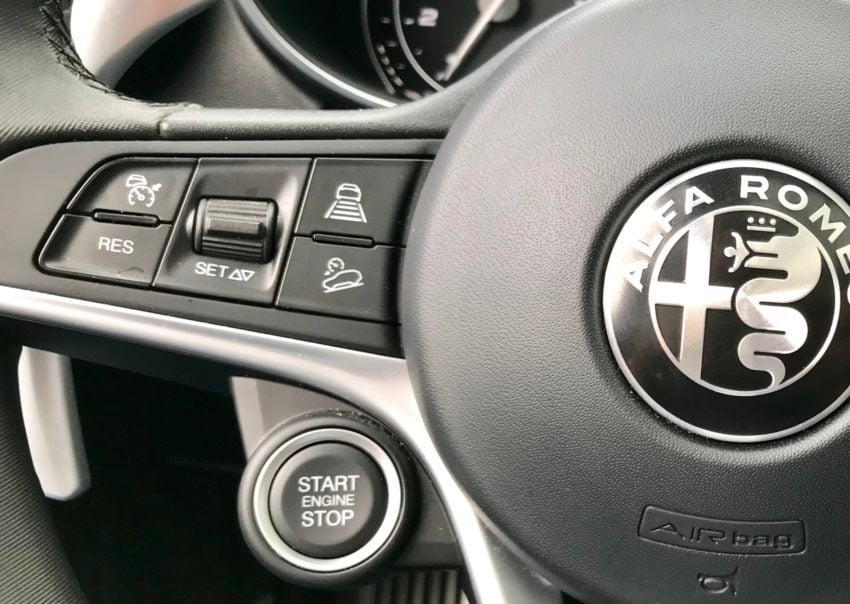 Do you hate constantly adjusting your cruise control, or giving up on cruise control because of traffic or due to a driver in front of you who keeps changing speed? You need a smart cruise control system.
Smart cruise control goes by many different names. You may see it listed as Radar Cruise, Adaptive Cruise or Intelligent Cruise control. Whatever it is called, it will allow you to set your cruise control and then stay with the flow of slower traffic.
Here's why we love it and why you need it. You get on the highway and set the cruise at 76 miles per hour. You also set the distance you want kept between you and the car in front of you. There are typically three or four settings so you can be close or keep a lot of space. Now you simply steer and your car will go 76 mile per hour when traffic allows it or there is no one in front of you. When someone is in front of you going 73 mph, the car automatically slows down to keep you the distance you choose from that car. This is indispensable in traffic and on long road trips.
Not all smart cruise control systems are the same. Some of work at all speeds, while others only work above a specific limit. Some systems can bring you to a complete stop in traffic and then restart without you needing to touch a pedal.
You can find adaptive cruise control on cars as cheap as $18,500 like the Toyota Corolla, and as an option on many cars below $30,000. Even on pricier cars you may need a higher trim level or special package to get this feature.

As an Amazon Associate I earn from qualifying purchases.