2017 Kia Optima Hybrid Review: What Buyers Need to Know
The 2017 Kia Optima Hybrid delivers a spacious interior, high quality materials and features that stand out at the price. The Optima Hybrid offers better performance than the Ford Fusion Hybrid, but lacks the Fusion's bolder style.
We recently took the 2017 Kia Optima Hybrid and the 2017 Kia Optima Plug-In Hybrid on extended tests and came away impressed with the performance, value and features of both. The 2017 Kia Optima Hybrid is completely redesigned this year.
The 2017 Kia Optima Hybrid starts at $25,995, which is about $700 more than the base 2017 Ford Fusion Hybrid. The Optima Hybrid we tested was the EX trim level which starts at $30,990 and includes a variety of upgrades and options like power folding mirrors, a panoramic sunroof, sound absorbing front windows, smart headlights, 17-inch Alloy wheels, an 8-inch color touch display, Harmon Kardon premium sound and a variety of safety and convenience features as optional upgrades.
[letsreview]
Most buyers will notice the features in the Hybrid EX and in the Technology package daily. Combined, it's a $9,995 upgrade, but it delivers a lot of valuable convenience and safety features.
2017 Kia Optima Hybrid Driving
The 2017 Kia Optima Hybrid handles very well and it drives amazingly for a sedan that you want to get around in with good fuel economy. Acceleration is swift, thanks in part to the electric motor that is ready to give you power as soon as you press the pedal. While we were left wanting more from the 2017 Ford Fusion Hybrid when it came to acceleration, Kia nails it with the perfect amount of power.
Unless you are listening closely you won't know that you've switched from electric to gas power while driving. It's a very smooth transition and as soon as possible it will switch back to electric only power. On this model you cannot hold your electric charge to use later, but it is a feature on the plug-in hybrid. We took the Kia Optima Hybrid on a long road trip and the car handled great for a long haul as well as on various trips around town. The ride is smooth, even on Michigan's rough roads.
2017 Optima Hybrid handles very well with responsive steering and it's easy to keep in your lane as well as navigate tight parking lots. It's not going to meet your need for performance that you can get in some high horsepower sedans, but you're here for excellent fuel economy. Thankfully the Optima Hybrid is still fun to drive while delivering 39 mpg city and 46mpg highway. The battery charges as you drive and brake, so you don't need to look for a charger or worry about range. You can see your driving grade on the infotainment screen, so you know how your driving impacts the fuel economy.
2017 Kia Optima Hybrid Design & Interior
The 2017 Kia Optima Hybrid looks like a modern car and it is stylish, but we're bigger fans of the ford Fusion Hybrid look, which features a bolder grille and more powerful body styling. The good news is that's all personal preference and the Optima's design is driver and passenger friendly.
The Kia Optima interior is comfortable and we appreciated the 12-way, power adjustable driver's seat with 4-way lumbar support as well as the options to heat and cool the front seats while on a long road trip. The back seat also includes heated seats and power ports to plug in and charge gadgets. There is a good amount of legroom in the back without asking the driver or front passenger to change their seat positions, but taller passengers will wish for more headroom.  We also like the rear window sunshades that are perfect for keeping passengers cool and out of the sun.
Kia keeps a lot of the 2017 Optima Hybrid interior features we like for the EX model or as part of the Hybrid Convenience Package on the Premium model.
Even though this is a hybrid, you don't lose much trunk space, so you can count on hauling a lot of groceries and gear in the back. Kia includes the Smart Key with both trim levels, so you can lock and unlock the Optima with the key in your pocket or purse. In the car, you can start it with the push of a button as well.










2017 Kia Optima Hybrid Tech and Safety
Kia nails it in the technology department with a large, beautiful touch screen that is easy to reach and also very easy to use. The UVO system is very user friendly and it includes support for Bluetooth, USB and Aux In connectivity. Phone calls sound good on the built–in system and there are also steering wheel controls available to control music and calls.
Both trim levels include support for Android Auto and Apple CarPlay, which allows you to use an interface that you are used to on your car's screen. The Optima handles Android Auto and Apple CarPlay very well and we especially like the ability to use Waze on Android Auto while driving the Kia Optima Hybrid on a road trip as it alerts us traffic, police presence, construction and road hazards and can even route around them.
On both trim levels you can get optional driver convenience features including parking assist sensors, blind spot detection and rear cross traffic alert. This is part of the Convenience package on the Premium and part of the Technology package on the EX trim level. With the Optima Hybrid EX, you also get;
Smart Headlights
Lane Departure Warning System (LDWS)
Autonomous Emergency Braking (AEB)
Once you experience smart cruise control, you won't be willing to go back to a normal system. The Advanced Smart Cruise Control automatically keeps your speed at the right level to keep you 1 to 4 car lengths back from the car in front of you. The car will apply brakes to slow down and accelerate back up to speed. It works perfectly on the Optima Hybrid and is easy to use.
You also get smart headlights, which will help you drive better at night. Kia calls this Dynamic Bending Light, which is a fancy way of saying the headlights turn slightly as you corner so that the road is easier to see. Kia's version works great and this is another feature that it's hard to live without once you get used to it. The headlights also automatically switch between high beams when needed and off when traffic is approaching.
With the Technology Package you also get the Lane Departure Warning System, which will alert you if you are about to leave your lane. This system is very sensitive, and too sensitive for some country roads, so we preferred to use it on the highway only. You can turn it on or off with a button on the dash. It will not steer you back into your lane, just alert you.
The Forward Collision System will alert you if there is a potential for a front collision with audio and visual alerts. The Autonomous Emergency Braking can apply the brakes and is only available on the EX with the Technology package.
You Need These 10 Must Have Car Features: Find Out Why
Smart Cruise Control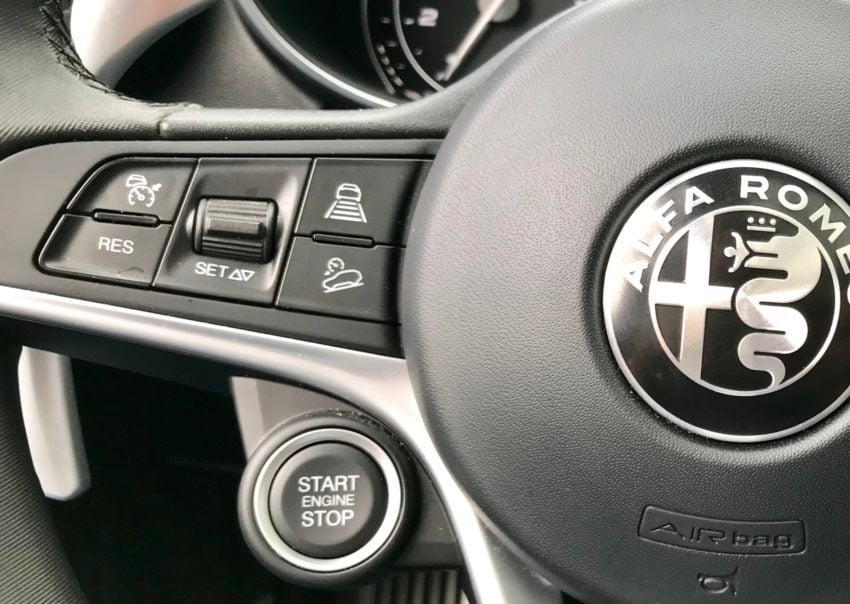 Do you hate constantly adjusting your cruise control, or giving up on cruise control because of traffic or due to a driver in front of you who keeps changing speed? You need a smart cruise control system.
Smart cruise control goes by many different names. You may see it listed as Radar Cruise, Adaptive Cruise or Intelligent Cruise control. Whatever it is called, it will allow you to set your cruise control and then stay with the flow of slower traffic.
Here's why we love it and why you need it. You get on the highway and set the cruise at 76 miles per hour. You also set the distance you want kept between you and the car in front of you. There are typically three or four settings so you can be close or keep a lot of space. Now you simply steer and your car will go 76 mile per hour when traffic allows it or there is no one in front of you. When someone is in front of you going 73 mph, the car automatically slows down to keep you the distance you choose from that car. This is indispensable in traffic and on long road trips.
Not all smart cruise control systems are the same. Some of work at all speeds, while others only work above a specific limit. Some systems can bring you to a complete stop in traffic and then restart without you needing to touch a pedal.
You can find adaptive cruise control on cars as cheap as $18,500 like the Toyota Corolla, and as an option on many cars below $30,000. Even on pricier cars you may need a higher trim level or special package to get this feature.

As an Amazon Associate I earn from qualifying purchases.