2017 Kia Optima PHEV Review: 5 Things Buyers Need to Know
The 2017 Kia Optima PHEV takes the already excellent 2017 Optima and adds a battery pack and the ability to charge by plugging in. This $10,000 upgrade from the normal 2017 Kia Optima Hybrid allows you to drive about 27 to 29 miles on battery power, so you can dramatically reduce the amount of gas that you use. Kia manages to add a good deal of range without taking up much space in the trunk and passenger area.
Although you plug it in, the 2017 Kia Optima PHEV is still rocking a gasoline powered engine so that your range is not limited to 29 miles on a charge. The range is less than the 2017 Chevy Volt, but double the Toyota Prius Prime. You can charge up with a public electric vehicle charger, but you can also stop at a gas station and top off the tank like you would a normal car.
The similarities don't stop there. You'll find the 2017 Optima PHEV drives much like a normal car, though you get much zippier acceleration thanks to the electric motor delivering immediate power to your wheels. When you need the gas engine, it's there immediately and you won't notice the switch unless you are driving with the radio on silent.
[letsreview]
The 2017 Kia Optima PHEV starts at $35,210 and only comes in one trim level, EX. This includes leather heated seats, harman kardon premium sound and support for Apple CarPlay and Android Auto on the 8-inch touch screen. Users can opt for a $5,250 EX Technology package that adds many of our must have features on a new car. One downside to the Optima PHEV is that it is missing many driver assist and safety features on the standard model.
2017 Kia Optima PHEV Driving
Like the Optima Hybrid, the 2017 Kia Optima PHEV handles very nicely. The Plug In model accelerates a little faster and it includes an option to hold the electric charge, which is not found on the standard hybrid. The steering is responsive and we didn't need many corrections to stay centered while driving on the highway.
You won't really feel any switch from electric to gas power, as the shift is very smooth and you can go up to 75 mph on all electric power, so you may not need it very often. When you are driving you can see how efficient your driving is with indicators on the infotainment screen, but you can also simply ignore them and drive like you regularly would and still get the benefits of the Plug in hybrid fuel economy.
For drivers with a short commute, or a place to plug in, this essentially means a gas free drive to and from work. My wife works 14.6 miles from home, which means she could drive the 2017 Optima PHEV to and from work with very little gas needed. We saw 24 to 27 miles of electric range during most trips with a mix of city and highway driving. When you need to rely on gas for longer trips you can expect about 40 MPG combined.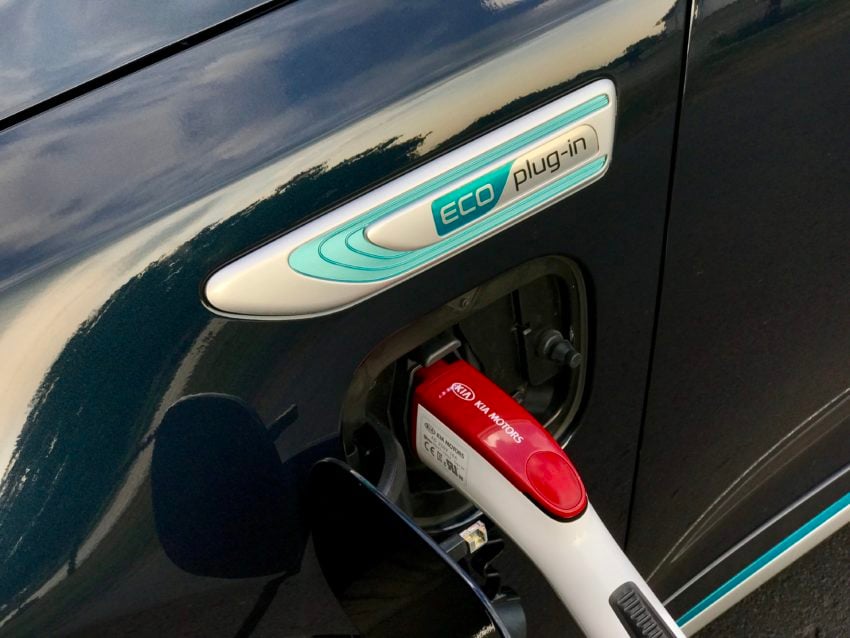 Plugging into a normal wall outlet with the included 120V Level 1 charger will top off the battery during a lengthy overnight charging session. You can also use a Level 2, 240V, charger to fully recharge in about three hours at a public charger or you can opt to have one installed at your home. The battery also recharged whern you brake using regenerative braking.
2017 Kia Optima PHEV Design & Interior
At first glance the 2017 Kia Optima PHEV looks a lot like the standard Kia Optima and Kia Optima Hybrid, but there are some special features that you will see if you take a closer look. First off, there is a blue trim along the exterior chrome and even on the headlights that you won't find on other Kia Optimas. Additionally, the Optima PHEV includes active grille shutters that can close to reduce drag and improve fuel economy.
In the cabin, you'll find that this version offers much the same setup as the the Kia Optima Hybrid. The cabin is well appointed with leather seats, controls are easy to reach and the seats are comfortable. The rear seats have a good amount of legroom, but headroom is an issue for taller passengers. The Smart key system allows you to unlock and start the car with the key in your pocket.
You do lose some trunk space to the battery packs. The packs sit at the front of the trunk, creating a small shelf area. You can still fit several suitcases into the trunk, but this is something you will definitely want to pay attention to as you think about how you will use the car. You can still fold the seats down, but the area you have to slide anything through into the main cabin is much smaller.
2017 Kia Optima PHEV Technology
We love the technology options in the 2017 Kia Optima PHEV. The built-in 8-inch infotainment system is easy to use and works well, but the real pleasure comes when you plug in your ipHone or Android phone and put Apple CarPlay or Android Auto on the screen. This allows you to use your favorite apps and maps on the vehicle's screen instead of looking down at a phone screen. We especially love the ability to use Waze on Android Auto.
You can also install the UVO eco app to monitor charging status, check your car's range, lock or unlock the doors and schedule charging. You can also control the climate to get the car to the right temperature before you unplug and leave. The app also helps you find charging stations. The Kia UVO system on the dash can show you how eco friendly your driving is and help you find a place to charge as well.
2017 Kia Optima PHEV Safety
The 2017 Kia Optima Hybrid EX includes some standard safety features, but to get even one of our must have drive convenience features you will need to upgrade to the EX Technology package. On the standard EX, you get a full suite of airbags and assist technologies that can help adjust braking based on road conditions as well as a tire pressure monitoring system.
With the EX Technology package, the car gains the ability to brake on it's own if a potential collision is detected. You also get smart cruise control that will keep your car a set distance behind traffic in front of you without the need to constantly adjust your settings or hit your brakes. This is one of our favorite features, and a must have in 2017.
You'll also gain a very good Blind Spot Detection system with rear cross traffic alert. This will help you change lanes better and make backing out of parking places much safer. The LED headlights also come with Dynamic Bending Light technology, which means more of the light is on the road as you take curves or turn. This allows you to see people, vehicles and hazards better at night.


























2017 Kia Optima PHEV Packages to Buy
We recommend that most buyers add the EX Technology package that bumps the price up about $5,000. This adds many of the driver safety and convenience features we look for on new cars. These are features you will miss if you don't equip the Optima with them. The EX Technology package adds;
Autonomous Emergency Braking (AEB)
Advanced Smart Cruise Control (ASCC)
Blind-Spot Detection (BSD) System
Rear Cross-Traffic Alert (RCTA)
Rear Parking Assist System (RPAS)
LED Projector Beam Headlights with Dynamic Bending Light (DBL)
Panoramic Sunroof with LED Interior Lighting
Even if you are only buying for Blind Spot Detection, Advanced Cruise Control and Rear Cross Traffic alert, this is a package that you should add to your Optima PHEV.
You Need These 10 Must Have Car Features: Find Out Why
Smart Cruise Control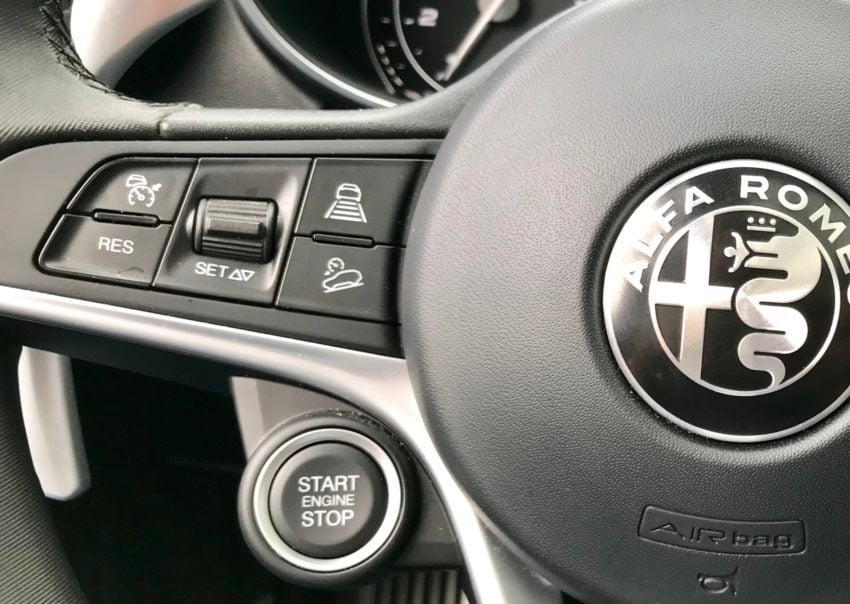 Do you hate constantly adjusting your cruise control, or giving up on cruise control because of traffic or due to a driver in front of you who keeps changing speed? You need a smart cruise control system.
Smart cruise control goes by many different names. You may see it listed as Radar Cruise, Adaptive Cruise or Intelligent Cruise control. Whatever it is called, it will allow you to set your cruise control and then stay with the flow of slower traffic.
Here's why we love it and why you need it. You get on the highway and set the cruise at 76 miles per hour. You also set the distance you want kept between you and the car in front of you. There are typically three or four settings so you can be close or keep a lot of space. Now you simply steer and your car will go 76 mile per hour when traffic allows it or there is no one in front of you. When someone is in front of you going 73 mph, the car automatically slows down to keep you the distance you choose from that car. This is indispensable in traffic and on long road trips.
Not all smart cruise control systems are the same. Some of work at all speeds, while others only work above a specific limit. Some systems can bring you to a complete stop in traffic and then restart without you needing to touch a pedal.
You can find adaptive cruise control on cars as cheap as $18,500 like the Toyota Corolla, and as an option on many cars below $30,000. Even on pricier cars you may need a higher trim level or special package to get this feature.