2017 Ford Fusion Hybrid Review
The 2017 Ford Fusion is an excellent mid-size sedan and the 2017 Ford Fusion Hybrid manages to keep a lot of what we love about the Fusion, as well as delivers better fuel economy with only two real trade-offs.
The 2017 Fusion Hybrid promises and delivers great fuel economy with 43 city mpg and 41 highway mpg, this is double the city fuel efficiency of the standard Fusion.
New for 2017, the Ford Fusion Hybrid gains Sync 3 with Apple CarPlay and Android Auto support, new safety features and a Platinum trim level that takes luxury up another notch.
[letsreview]
The 2017 Ford Fusion Hybrid starts at $25,295 for the Ford Fusion Hybrid S and goes up to $37,130 for the 2017 Ford Fusion Hybrid Platinum that we spent the week driving. For comparison, the base 2017 Fusion starts at $22,110 and is available in up to the Platinum trim package for $36,750. The 2017 Fusion Sport is $33,605.
Our daily driver is the 2013 Ford Fusion, which shares the main body style with the 2017 Fusion, but there are many technologies and safety upgrades on the 2017 model. One of the first things we noticed is that Ford switched from capacitive buttons to real buttons for many car and stereo functions, which is a very good thing.
2017 Ford Fusion Hybrid Driving & Performance
The 2017 Ford Fusion is easy to drive around town, on the highway, into and out of parking spots and is generally an all around good car. But with Eco mode activated, acceleration is incredibly slow. Press the button to go from Eco to Normal and you'll gain back a little edge and acceleration that feels better for merging onto a highway. Overall though, the acceleration is still toned down compared to our gas-only Ford Fusion. While we don't expect sport-like acceleration in a hybrid like this, the 0 to 60 acceleration was too slow for us to comfortably use while driving on the highway.
Though it lacks in acceleration, the 2017 Ford Fusion Hybrid delivers big time in fuel economy. We achieved 42.7 mpg when driving on the highway with Eco mode on and during our week with the car in the city and on the highway recorded 39.0 mpg for mixed driving. Both numbers represent normal real world driving with no special attempts to extend the range.
The regenerative braking is very good. This is what helps recharge the battery anytime you lift your foot off the accelerator or press the brake. Unlike some hybrids, this felt very smooth. Road noise is kept to a minimum and Ford even pipes in some active noise canceling through the speakers to help keep road and car noise to a minimum.
Handling is very nice, even around windy roads which are still fun in Normal driving mode. There is no Sport mode to turn on for an extra boost of power or changes to shift points. In fact, the transmission in the 2017 Ford Fusion Hybrid shifts continuously, so you won't even feel the shifts happening like you do in many cars. When the car switches from battery to gas power you hear a slight change, but you won't feel a change in power or any kind of lurch. It's a smooth transition both ways, so you can forget about it and simply drive. Overall the car drives nicely and, outside of acceleration, handles much like the gas version we drive every day.
2017 Ford Fusion Hybrid Design & Features
Ford continues to slightly tweak the exterior design of the Ford Fusion since introducing the current style in 2013. Overall the car looks the same on the outside, with a sharp grill that straddles the line of bold and refined. The Fusion design aged well, and the new LED headlights and new wheel options help upgrade the looks.
The interior of the 2017 Ford Fusion Hybrid is spacious, easily fitting four adults. Legroom is good in the backseat, though headroom may be a little cramped for very tall passengers on longer trips. Ford added the new Platinum trim level that takes the interior up a notch. Compared to the Titanium level this new trim adds a more upscale look to the cabin. While not as luxurious as more expensive cars, it is a nice option to see. The Platinum trim level seats and accents on the doors use a quilt pattern that definitely looks more suited for an older buyer than a millennial.
Ford added the new Platinum trim level that takes the interior up a notch. Compared to the Titanium level this new trim adds a more upscale look to the cabin. While not as luxurious as more expensive cars, it is a nice option to see. The Platinum trim level seats and accents on the doors use a quilt pattern that definitely looks more suited for an older buyer than a millennial. One thing drivers of all age groups will appreciate is the ability to customize the accent lighting color throughout the car using the on-screen controls.
Heated and cooled seats are standard with the Platinum trim and available on other packages as an option. Dual Zone Climate control makes it easy to keep the driver and passenger comfortable.
There are a number of useful safety and driver convenience features.








The trunk space is limited by the battery that takes up a chunk of the room near the front of the trunk. We hauled groceries with no problem, but you'll definitely feel the pinch when trying to pack luggage in. The battery area doesn't go all the way up, so you can still fold the seats down and slide in a long but slim object that you need to use part of the backseat to haul.
2017 Ford Fusion Hybrid Technology & Safety
With Ford Sync 3 and a slew of driver safety and convenience features, the 2017 Ford Fusion Hybrid is at the top of its class. I've already detailed why I'm ready to upgrade to Ford Sync 3 and a week with this new system only reinforces that desire.
Sync 3 looks modern and works brilliantly with easy to find functions and a good amount of user control. Ford fixed many of the complaints with My Ford Touch and adds on to deliver a system that is easier to use and very responsive. The Premium Sony 12 speaker system sounds great; it's an upgrade that we highly recommend if you enjoy listening to music in your car.
In addition to the built-in navigation and software, you can also plug in an iPhone or Android phone and get access to CarPlay or Android Auto. These both let you use a car-friendly version of your phone's software. You can't use all of your apps on-screen, but they deliver a very nice way to interact with common phone functions, texting by voice, navigation and music.
Ford's Smart Key technology allows you to unlock the car by touching the door handle when you are next to it and to tap the top of the door handle to lock the car. You can also start the car by pushing a button with the key in your pocket, which is very handy. The key fob includes a remote start function and a LED that lets you know if the car successfully started.
Ford packs in a ton of safety and driver convenience features on the Platinum trim level, many of which are available on other trim levels. Lane Keeping will help alert you when you are about to go out of your lane and can help guide you back into your lane. The Adaptive Cruise Control will automatically slow you down when someone in front of you is driving slower, without the need to tap the brakes or adjust your cruise settings. Ford's version even supports Stop and Go, so your car can come to a complete stop and then resume without you interacting with the cruise or pedals.
With Parking Assist, the Fusion will identify if a parking spot is big enough and then do the steering to park you. All you need to do is shift, accelerate and brake. When you need to exit a tight parking spot, you can use a park out option, moving you back and forward to help you get out of the parking spot. New for 2017 is support for backing into a perpendicular parking spot, like at the grocery store. Side Sensors will also help you avoid catching the side of your car on something while navigating tight parking garages.
The Blind Spot Monitor alerts you if someone is in your blind spot with a small indicator on your mirrors. If you put your turn signal on while someone is in your blind spot, you will get an audio alert. This system also lets you know if a car is coming from the right or left when slowly backing out of a parking space.
With Pre-Collision Assist with Pedestrian Detection, the Fusion alerts you with a red light up a warning on the windshield and an ear-catching sound. When this happens the brake pre-charges to help you stop sooner and if you don't quickly act, the car will automatically brake for you.
A rear backup camera is standard on the 2017 Ford Fusion. For an added $190 you can upgrade to rear inflatable seat belts to help reduce the risk of injury in a crash.
You Need These 10 Must Have Car Features: Find Out Why
Smart Cruise Control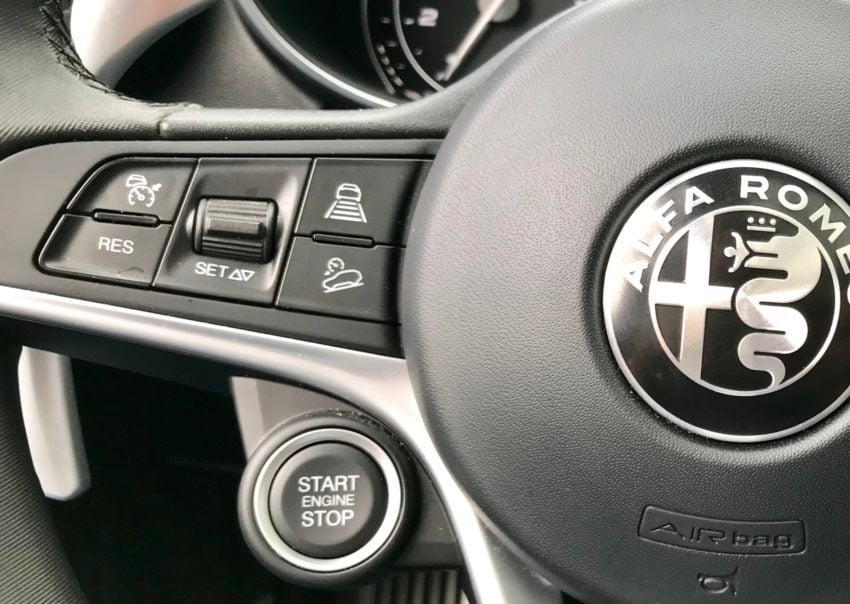 Do you hate constantly adjusting your cruise control, or giving up on cruise control because of traffic or due to a driver in front of you who keeps changing speed? You need a smart cruise control system.
Smart cruise control goes by many different names. You may see it listed as Radar Cruise, Adaptive Cruise or Intelligent Cruise control. Whatever it is called, it will allow you to set your cruise control and then stay with the flow of slower traffic.
Here's why we love it and why you need it. You get on the highway and set the cruise at 76 miles per hour. You also set the distance you want kept between you and the car in front of you. There are typically three or four settings so you can be close or keep a lot of space. Now you simply steer and your car will go 76 mile per hour when traffic allows it or there is no one in front of you. When someone is in front of you going 73 mph, the car automatically slows down to keep you the distance you choose from that car. This is indispensable in traffic and on long road trips.
Not all smart cruise control systems are the same. Some of work at all speeds, while others only work above a specific limit. Some systems can bring you to a complete stop in traffic and then restart without you needing to touch a pedal.
You can find adaptive cruise control on cars as cheap as $18,500 like the Toyota Corolla, and as an option on many cars below $30,000. Even on pricier cars you may need a higher trim level or special package to get this feature.