Lenovo Yoga 720 15-inch Review
By now, everyone is familiar with Windows 10 2-in-1s that can transform from a notebook to a tablet in seconds. Glance at the Lenovo Yoga 720 15-inch and you might think that it's the same as all those other convertibles. Don't be fooled, though. It can replace something other 2-in-1s can't yet: your entry-level gaming PC.
The Lenovo Yoga 720 15-inch could very well be someone's go-to PC for just about everything. A touchscreen and reversible hinges allow you to turn the notebook into a 15-inch tablet in seconds. Its traditional design, powerful processor and quality keyboard also make it a good notebook for getting things done. Lenovo has stuffed NVIDIA's GTX 1050 graphics card and standard voltage Intel processors into this machine as well.
Available for $949.99 online, if you're looking for an all-in-one that can also handle light gaming, the Yoga 720 15-inch is the perfect PC for you.
Lenovo Yoga 720 15-inch Review: Design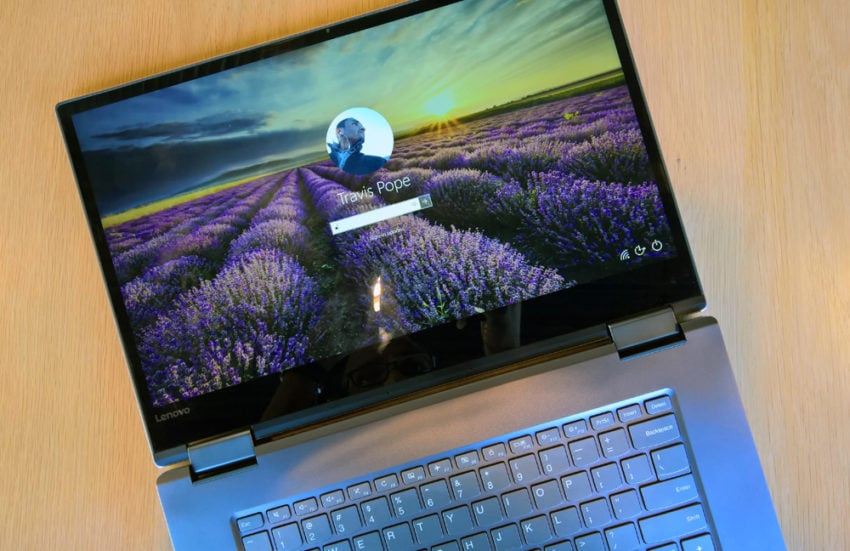 Everything about the Yoga 720 15-Inch's design and presentation screams high-end PC. Its aluminum body catches your eye the moment you unwrap it. There's no "Lenovo" logo on the top of the laptop, just a metal "Yoga" word mark. The device comes in two models, gray and silver, and its edges glisten in the sunlight the same way a piece of jewelry does.
The aluminum that protects the lid and bottom of the notebook also covers the entire keyboard deck. There are no speakers or clever designs on the deck, just a spacious glass trackpad and a Windows Hello fingerprint reader.
Though the Yoga 720 15-inch can replace a tablet, you shouldn't expect it to disappear like one in your bag. The device weighs 4.41 pounds and it's almost an eighth-of-an-inch thick. Closed, it's as big and heavy as a college textbook.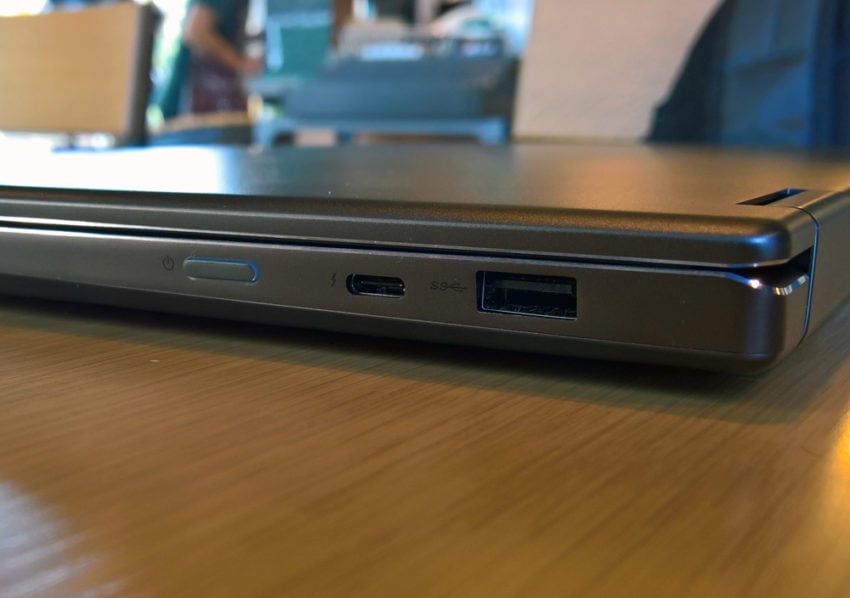 The Lenovo Yoga 720 15-inch is light on connectivity options. A Thunderbolt 3 port on the right side of the notebook allows you to quickly add a monitor, keyboard, mouse and external storage to it. Each side of the notebook has one full-size USB 3.0 port. A headset jack lets you connect a pair of headphones. You may never use that headset jack to connect external speakers after you hear the Yoga 720 15-Inch's two JBL speakers. They're loud and have plenty of bass.
Lenovo Yoga 720 15-inch Review: Internals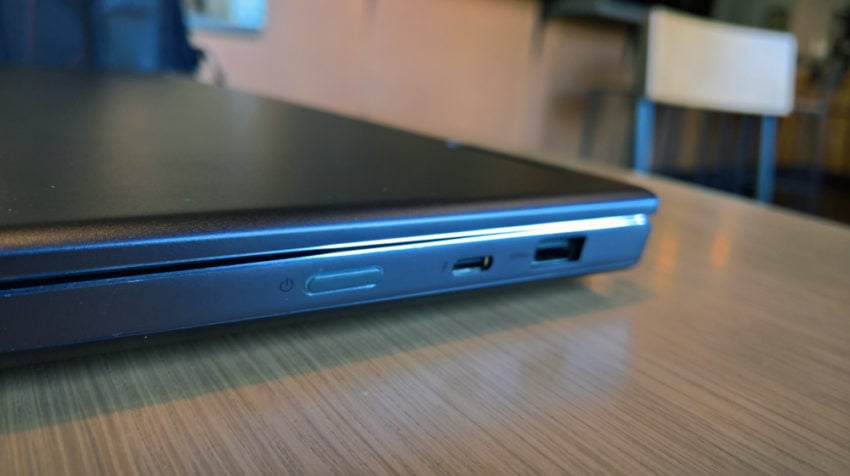 Almost all Windows 2-in-1s have low voltage processors that share their name with full-size processors. Despite having the same name, it's the full-size processors that perform better. The Yoga 15-inch defies that trend. It uses Intel's 7th Generation standard voltage processors, and you can expect a performance bump because of that.
Lenovo backs that processor up with as much as 16GB of RAM and a NVIDIA GeForce GTX 1050 graphics card that can handle blockbuster games at low and mid-range settings.
Lenovo has some other nice upgrades online too. You can add 1TB of solid state storage to the Yoga 720 15-Inch. And, if you're hungry for better-looking movies and television shows, you can swap the standard 1080p 15.6-Inch FHD display for a 15.6-inch 4K display that is four times as sharp as an HD display.
Gotta Be Mobile's review unit had an Intel Core i7-770HQ processor, 8GB of RAM, 256GB of storage, the standard FHD display, a NVIDIA GeForce GTX 1050 graphics card with 2GB of RAM and Intel HD 630 graphics. It also had a fingerprint reader and a 720p web camera, but only the fingerprint reader worked with Windows 10's Windows Hello sign-in feature. This configuration costs $1,199.99 directly from Lenovo.
Lenovo Yoga 720 15-inch Review: Experience
Doubling as a notebook and tablet doesn't compromise the Yoga 720 15-Inch's notebook experience very much.
Its keyboard and trackpad are a pleasure to use. Because of the laptop's size, there's plenty of space for your finger to move as you scroll up and down web pages and navigate Windows 10. You can see its backlit keys in the dark, and keyboard shortcuts let you dim the screen, adjust volume and turn off the trackpad without navigating settings menus in Windows 10.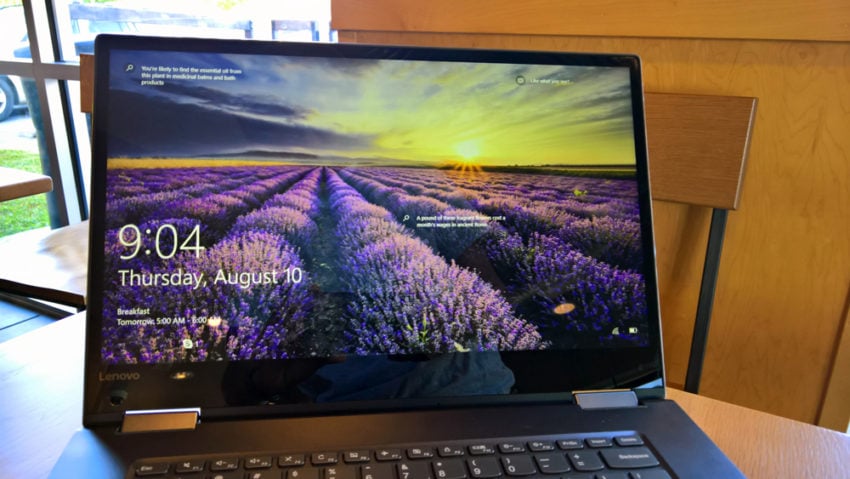 Read: Windows 10 Anniversary Update Review
Also, performance is stellar. Every productivity application you could imagine – from video editor Adobe Premiere to Outlook Mail – ran just fine. This notebook can handle tons of tabs in Chrome and Microsoft Edge without slowing down, too. You know when you are pushing the machine because its fan is not quiet under stress.
You need to work through some serious compromises to use this device as a tablet replacement. The first of those compromises is cost. Only the $1,599.99 model with 4K display supports writing with Lenovo's Active Pen digital stylus. You must buy the stylus separately to take advantage of the 4,096 different levels of pressure the screen can detect as you jot notes and draw.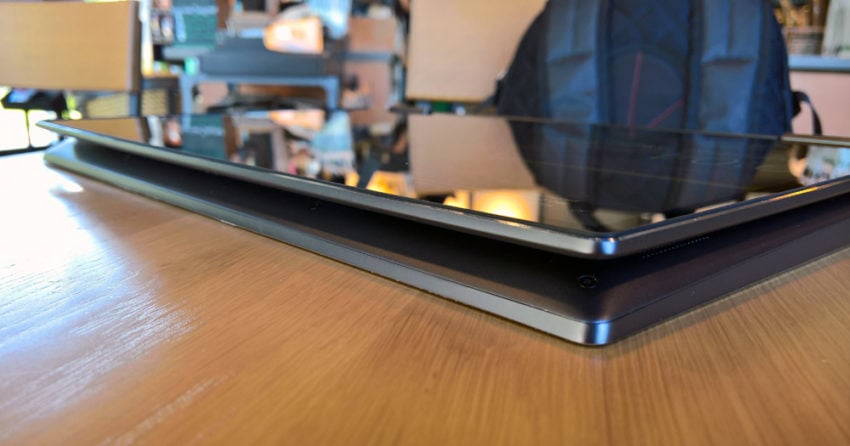 Also, some physical attributes undermine the device's tablet experience too. It weighs 4.41-pounds, so you won't be reading on it with one hand. Thankfully, you don't have to because of Stand Mode. Just flip the display around and lay the keyboard flat on your bed, lap or any other surface. Just know, that even this mode is slightly compromised. The keyboard doesn't retract into the notebook's body like the ThinkPad X1 Yoga's keyboard does.
Battery Life
Limited battery life is another big compromise Yoga 720 15-inch buyers need to overcome. The gorgeous, expansive 15.6-inch display has a big effect on how long the laptop can stay away from a power plug.
Lenovo says that it can last for 9 hours between charges. I managed around 4 hours with the screen brightness high enough that I could see it in a modestly lit room. Doing a lot of things with the brightness down low only got me around 6 hours of battery life. No matter what I did, the results were the same. This laptop couldn't get me through an entire work day on a single charge.
For Gaming
As a gaming machine, the Lenovo Yoga 720 15-inch is great. You just need to set your expectations accordingly.
Your games will look decent and sound great. The front-facing JBL speakers get very loud and things look crisp and clear on the notebook's 1080p standard display.
But, you will never play a modern game at maximum settings without the system straining. The standard voltage Intel Core i7 processor and 8GB of RAM lend themselves well to playing resource intensive games, but the GeForce 1050 graphics card inside the machine poses a problem. This card only has 2GB of dedicated RAM. Medium and low settings were fine, but it simply couldn't handle Halo Wars 2, Gears of War 4 and Planet Coaster at their highest settings. For that, you want Lenovo's Legion Y520 or another one of its dedicated gaming laptops.
Read: How to Use Xbox on Windows 10
As a modest gamer myself, not playing at maximum settings didn't bother me too much. I valued the device's other modes more than maxing out visuals because I enjoy not managing more than one device.
Lenovo Yoga 720 15-inch Review: Specs
Processor & Graphics
7th Generation Intel Core i7-7700 HQ Processor

·       (7th Generation Intel Core i5-7300 HQ Processor Optional)

Intel HD Graphics 630

Memory & Storage
8GB of DDR4 RAM

·       (16GB of RAM Optional)

256GB Solid State Drive

·       (1TB SSD Optional)

Display
15.6-Inch 1920 x 1080p FHD Display with Touch

·       (15.6-Inch 4K Display with Touch & Lenovo Pen Input Optional)

Ports & Extras
·       1 Thunderbolt 3 Port

·       2 Full-Size USB Type-A Ports

·       Mini Ethernet Port

·       1 Headset Jack

·       Intel Dual-Band Wireless AC 8625 & Bluetooth 4.1

·       720P Web Camera

·       Fingerprint Reader

·       Backlit Keyboard

Battery Life
9 Hours of Battery Life
Dimensions & Weight
14.33-inches x 9.53-inches x 0.78-inches

4.41-pounds
Lenovo Yoga 720 15-inch Review: Should You Buy?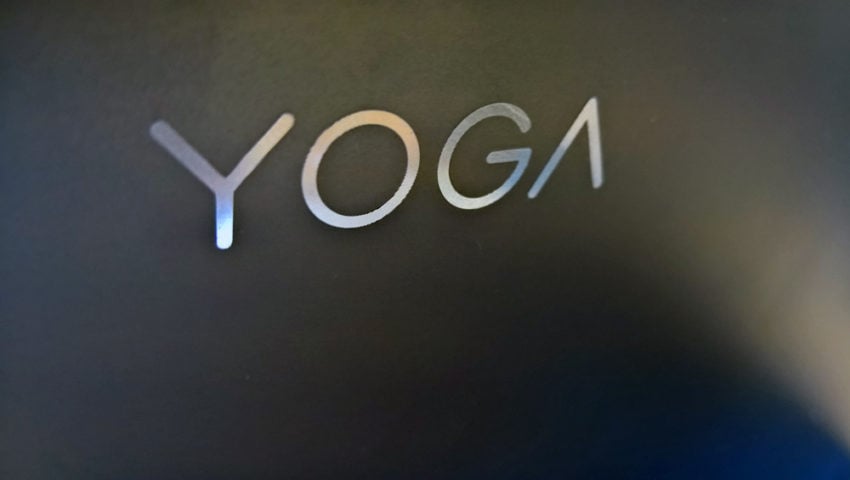 The Lenovo Yoga 720 15-inch Windows 2-in-1 does exactly what Lenovo made it to do. Buyers get a tablet, notebook and modest gaming experience all in one attractive package. For an asking price of $949, that's a lot.
Is it perfect for each of those activities? I'd say no, but no single device is. It's a notebook first and it compromises everything else to keep that focus. There's nothing wrong with that, Windows 2-in-1s with displays that flip have always been notebooks first.
If you're someone who needs a new notebook that performs well, has touch and you like to game on the side, the Lenovo Yoga 720 15-inch is a great way to spend your money. Just expect to charge it during lunch and between gaming sessions.
[letsreview]

As an Amazon Associate I earn from qualifying purchases.