2017 Lexus GS 200t Review
The 2017 Lexus GS 200t is a sports sedan that allows fans of the Lexus GS to get into the car at a lower price point than the GS 350 that packs in a more powerful 3.5L V6. While not as fun on twisting roads as the Lexus IS 350 F Sport, this bigger sedan is still capable of delivering a fun drive while offering more room. You'll need to forgo Apple CarPlay and Android Auto to deal with a distractive Lexus infotainment system, but you do get Siri Eyes free support.
While the infotainment leaves room for improvement, Lexus includes Lexus Safety System+ with Blind Spot monitoring, rear cross traffic alert, a backup camera, lane departure with lane keep assist and dynamic radar cruise control to deliver convenience and safety while you drive. These features pair well with the upscale interior and the comfortable ride.
[letsreview]
The Lexus GS 200t, also known as the GS Turbo, starts at $46,310 with all the safety and convenience features mentioned above. You will need to upgrade to the Premium Package to get heated seats, which frankly should be standard on a $46,000 luxury sport sedan. That package also adds rain sensing wipers and ventilated seats that we found especially useful during a heat wave in Ohio. The Mark Levinson Premium Surround Sound system adds $1,380 to the price and is well worth the cost for the 17 speaker system. If you want Navigation you'll need to pay $1,730 for the upgraded Nav system with the 12.3-inch display and Lexus Enform.
What It's Like to Drive the 2017 Lexus GS 200t
The entry level Lexus GS 200t cruises through long trips like a dream with the suspension soaking up most bumps. If you want a very comfortable driving experience this car delivers. When you're ready for more fun, you can toggle into Sport mode, and get a boost of fun, but not as much on the more nimble Lexus IS.
There is more body roll while taking corners thanks to a higher center of gravity. It's still fun to tear along a curvy road, but there is more focus on comfort than on sportily winding through a curvy riverside road. In Sport mode, the car downshifts more readily and accelerates out of curves very nicely. Overall acceleration is a tad slower than the Lexus IS. the GS 200t uses a 4 cylinder turbocharged engine and is rear wheel drive.
While driving in Normal mode the car reverts back to comfort with quicker upshifts and it is more hesitant to downshift. This helps with fuel economy, delivering an EPA estimated 22 MPG city and 32mpg highway, but definitely dials down the fun.
Ultimately the 2017 Lexus GS 200t is nice to drive, but if you want more fun, and prefer to take corners fiercely, you should check out the Lexus IS 200t or jump up to the 3.5L V6 in the Lexus GS 350.
How Does the 2017 Lexus GS 200t Look and Feel
The biggest reason to choose the Lexus GS 200t over the Lexus IS is interior space. The 2017 GS 200t offers a spacious cabin with plenty of legroom and headroom in the backseat. Seats are comfortable and up front, you have a lot of control over seat positioning as well as adjustable lumbar support. Heated and ventilated seats require the Premium Package upgrade.
Lexus does a good job of delivering high-end materials in the cabin. soft touch materials and leather wrap throughout areas you will frequently touch and a patterned black trim accented by silver deliver a high-end look and feel.
With room for five, you will want to stick with four adults in most situations, but those adults can ride quite comfortably. There is a lot of trunk room and an available power trunk. Our 2017 GS 200t came equipped with 18-inch rims and all season tires.















2017 Lexus GS 200t Tech and Safety
Lexus drops a massive 12.3-inch display that you can split between two different screens in the center of the dash. It's an awesome idea and it looks nice, but you have to control it with a small joystick. You cannot touch the screen to make a selection. Instead, you must move an invisible cursor around with the joystick mounted to the right of the shifter. It's frustrating and ultimately distracting when you are driving since you need to look at the screen to make sure you are selecting the right option.
There is no support for Apple CarPlay or Android Auto to redeem this system and no info on if or when Lexus will support either. The Enform system does include some app support for Yelp, Pandora, OpenTable, and others. The Navigation system works well when you use voice commands, but typing an address with the joystick is much slower than a touch screen.
One nice touch is Siri Eyes Free support, which lets you make calls, send messages and control Apple Music with Siri using the voice control button on the steering wheel.
For 2017, Lexus Safety System+ is standard. This means you get radar cruise control so that you can set and forget your speed and the car will slow you down if the car in front of you can't keep up with the speed limit. This does not support stop and go, so if traffic slows below 25 mph you will need to take control. We're starting to see more dynamic cruise systems support stop and go traffic.
Blind Spot Monitoring is standard so you can confidently switch lanes and there's also a lane monitoring system to help keep you in your lane with warnings and active steering. Lane Keep Assist works very well when you are on well-marked roads. This system also includes pre-collision with pedestrian detection, automatic headlights and a backup camera with cross traffic alerts.
If you want parking sensors to let you know when you are close to another vehicle, you need to spring for the $500 Intuitive Park Assist option.
You Need These 10 Must Have Car Features: Find Out Why
Smart Cruise Control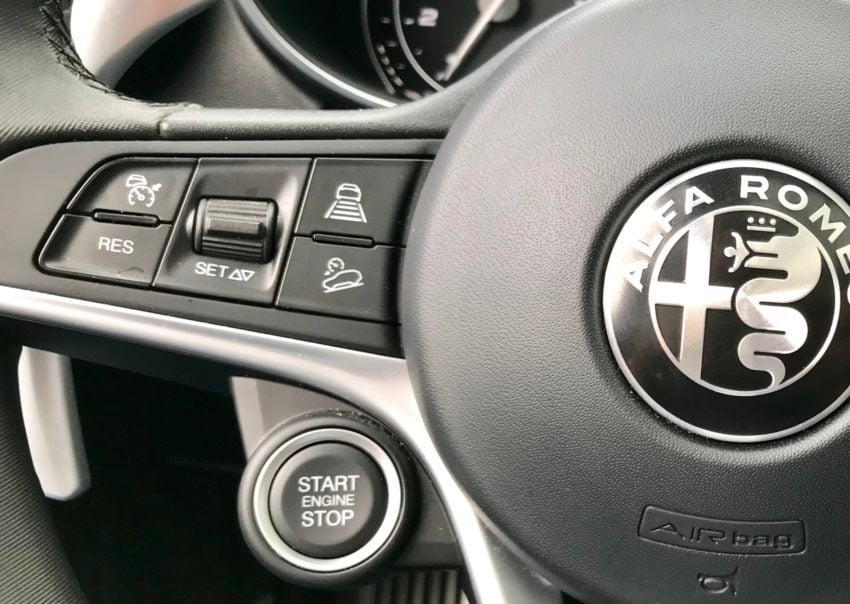 Do you hate constantly adjusting your cruise control, or giving up on cruise control because of traffic or due to a driver in front of you who keeps changing speed? You need a smart cruise control system.
Smart cruise control goes by many different names. You may see it listed as Radar Cruise, Adaptive Cruise or Intelligent Cruise control. Whatever it is called, it will allow you to set your cruise control and then stay with the flow of slower traffic.
Here's why we love it and why you need it. You get on the highway and set the cruise at 76 miles per hour. You also set the distance you want kept between you and the car in front of you. There are typically three or four settings so you can be close or keep a lot of space. Now you simply steer and your car will go 76 mile per hour when traffic allows it or there is no one in front of you. When someone is in front of you going 73 mph, the car automatically slows down to keep you the distance you choose from that car. This is indispensable in traffic and on long road trips.
Not all smart cruise control systems are the same. Some of work at all speeds, while others only work above a specific limit. Some systems can bring you to a complete stop in traffic and then restart without you needing to touch a pedal.
You can find adaptive cruise control on cars as cheap as $18,500 like the Toyota Corolla, and as an option on many cars below $30,000. Even on pricier cars you may need a higher trim level or special package to get this feature.

As an Amazon Associate I earn from qualifying purchases.