2017 Lexus IS 350 F Sport Review
The 2017 Lexus IS 350 F Sport is a fun, capable compact sports sedan that delivers a thrilling ride. Slide into a luxurious cabin, press start and dial in Sport+ mode to dial in a nearly perfect driving experience.
A sporty V6 isn't going to light up a drag strip or deliver a throaty roar, but it's quick, responsive and delivers power in a very satisfying way. Combine this all with a well-crafted cabin and seating for four, plus a spacious trunk, and the IS 350 F Sport is a gem you can't pass up.
When you don't need a full-size sports sedan like the Lexus GS 350 F Sport, the IS 350 offers a smaller footprint without dramatically reducing the cabin. Before you decide on a BMW 3 Series or Infiniti Q50, make sure you check out the new 2017 IS 350 F Sport.
The Lexus IS 350 starts at $41,370 and the 2017 Lexus IS 350 F Sport starts at $44,525. Our Lexus IS 350 F Sport came equipped at $50,174.
[letsreview]
2017 Lexus IS 350 F Sport Performance
The 2017 Lexus IS 350 F Sport manages to pull a lot of power out of a 3.6L V6. With 306 horsepower and 277lb-ft. of torque, this small car is quick and responsive. Sports cars come in all shapes and sizes anymore, and while it's not going to go head to head with a Dodge Demon, this is an impressive car.
We enjoyed spirited driving around twisty country roads and never felt at loss for control. The steering is on point and there is little correction required to stay in your lane. There is not a tremendous amount of road feel, which can limit who far you are willing to push the car.
The F Sport package upgrades the driving experience as well as the looks of the car. With multiple driving modes, you can choose the experience every time you get in the car. The Sport and Sport+ driving modes notch up the experience by changing the driving characteristics of the car. We love the Sport+ mode that unlocks the full capability while still keeping safety features intact.
You can do 0-60 in under six seconds and there is still enough power left to quickly accelerate at speed when you need to overtake a slower drive. With an affinity for small, speedy cars, the IS 350 F Sport checks all the boxes to bring a smile to our face.
Expect roughly 28 miles per gallon highway and around 22mpg in the city. Fuel efficiency will drop on both if you switch into Sport or Sport+ and push the car. You can opt for an Eco-friendly driving mode when efficiency is more important than speed.
2017 Lexus IS 350 F Sport Design & Interior
The 2017 Lexus IS 350 interior is spot on. High-end materials throughout the cabin over any surface you'll touch and even those you'll only look at. The front seats are comfortable and include heated and ventilated options. The bolsters on the sides are just right, offering just enough of a hug to keep you in place around corners without adding any difficulty to getting in and out of the car.
On the dash, a focused screen shows you the key information while you are driving: your speed, RPM, fuel level, and engine temp. Press a button on the wheel and a physical dial that surrounds the RPM indicator slides to the side to show more information. It's a gimmick, but it's also cool.
Even with a smaller overall size, the front seats offer more than enough legroom. The back seat is usable, but both front seats need to be moved forward to accommodate two adults in the back. There is not much headroom in the back of the car.
All controls are within easy reach of the driver and there are plenty of buttons on the dash for access to settings without using the distracting infotainment controls.
The 2017 IS 350 F Sport gets a new look and, when you compare the standard IS 350 with the F Sport appearance upgrades, the look is night and day. The F Sport package is $3,000 but it is a bargain when you consider the performance and the visual upgrades. An aggressive front sets the tone and everything flows back from it. The shorter length accentuates this aggressive style and the whole package comes together excellently.
The trunk is spacious and there are tie-down points that allow you to safely secure cargo. This was essential while hauling a load of pop and food over to a family event, allowing us to fully use the trunk without worrying that five 12 packs would crush the chips and bread while driving speedily to grandma's house.
2017 Lexus IS 350 F Sport Technology & Safety
The 2017 Lexus IS350 offers an amazing sound system and a beautiful huge screen that can show you a lot of information and directions, but the infotainment controls are tough to use while driving.
Lexus still sticks to a small control panel on the center console to control the infotainment system. When parked it's easy to use, though not as fast as touching a screen. While driving it is distracting and awkward to rely on.
The upgraded screen that comes with the Navigation and Sound upgrade is huge at 10.25″ and you can split the screen into two sections to see two pieces of information at the same time. There is no support for Apple CarPlay or Android Auto.
The Mark Levinson Audio system delivers impressive sound from 15 speakers and anyone who loves music needs to invest in this upgrade. The car supports Bluetooth and USB connectivity for phones and music devices. Calls sound very good inside the car and we had no problem connecting our iPhone 7 Plus to the sound system reliably.
From a safety standpoint, the LED headlights deliver good visibility at night. Adaptive cruise control allows you to set your speed and the car automatically keeps you flowing with traffic, even when the person in front of you doesn't know what cruise control is. Lane Keeping will alert you if you are going to leave your lane and help keep you in your lane. There is also a Pre-Collision System with pedestrian detection that can help stop the car if something or someone is in your path.
Blind Spot Monitors and Rear Cross Traffic alerts are available with a $600 upgrade. While you can get by without rear cross traffic alerts, blind spot monitors are a must.
You Need These 10 Must Have Car Features: Find Out Why
Smart Cruise Control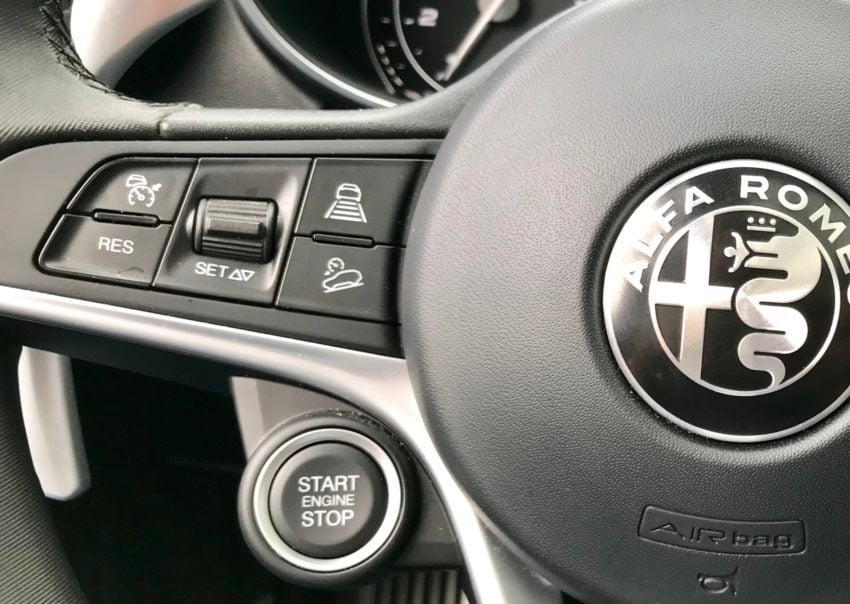 Do you hate constantly adjusting your cruise control, or giving up on cruise control because of traffic or due to a driver in front of you who keeps changing speed? You need a smart cruise control system.
Smart cruise control goes by many different names. You may see it listed as Radar Cruise, Adaptive Cruise or Intelligent Cruise control. Whatever it is called, it will allow you to set your cruise control and then stay with the flow of slower traffic.
Here's why we love it and why you need it. You get on the highway and set the cruise at 76 miles per hour. You also set the distance you want kept between you and the car in front of you. There are typically three or four settings so you can be close or keep a lot of space. Now you simply steer and your car will go 76 mile per hour when traffic allows it or there is no one in front of you. When someone is in front of you going 73 mph, the car automatically slows down to keep you the distance you choose from that car. This is indispensable in traffic and on long road trips.
Not all smart cruise control systems are the same. Some of work at all speeds, while others only work above a specific limit. Some systems can bring you to a complete stop in traffic and then restart without you needing to touch a pedal.
You can find adaptive cruise control on cars as cheap as $18,500 like the Toyota Corolla, and as an option on many cars below $30,000. Even on pricier cars you may need a higher trim level or special package to get this feature.