2018 Dodge Demon: 5 Things Buyers Need to Know
The 2018 Dodge Demon, officially known as the 2018 Dodge Challenger SRT Demon is the car that your mom warned you about. This is the fastest 0-60 production car, highest horsepower V8 production car and a host of other firsts, mosts, and bests that we'll get to in the 2018 Dodge Demon specs section below. 2018 Dodge Demon orders start on Wednesday June 21st.
You can also listen to the Dodge Demon startup and rev in our new video of the Blue Dodge Demon and check out the official Dodge Demon price information, including new details on how Dodge is trying to keep prices in check.
This is what you need to know about the 2018 Dodge Demon specs, top speed, horsepower, must see 2018 Dodge Challenger SRT Demon videos and photos as well as when you can buy one and what we know about the2018 Dodge Demon price and release date.
What is the 2018 Dodge Demon
The 2018 Dodge Challenger SRT Demon is a production car that continues the legacy of the Hellcat, and upgrades it to what Dodge calls the, "most powerful muscle car ever."
Aside from the Demon head logo on the side of the car, there is nothing outwardly evil looking about this car but when you hear it start up and watch it take off that all changes.
Dodge packs in a lot of power, performance and smart technology to make the 2018 Dodge Demon a car that will catch your attention. Watch the 2018 Dodge Demon startup and rev in the video below.
This is a street legal muscle car, that allows you to do a 1/4 mile in under 10 seconds. It's so fast that it is banned from drag racing competitions until you add additional safety gear to the car.
2018 Dodge Demon Price
Dodge confirms the 2018 Dodge Demon price at $84,995, which includes the $1,700 gas guzzler tax. This is only going on sale for one year, at least at this time. Dodge announced new measures to help prevent massive markups to the 2018 Dodge Demon Price.
"The 2018 Dodge Challenger Demon represents the best of what Dodge//SRT stands for – performance capabilities that are second to none, iconic styling and a heritage built on pushing the boundaries of what is possible at a price that is attainable," Kuniskis added. "We know some dealers may be tempted to sell to the highest bidder, but we are encouraging them to leverage the Demon as a halo for both the brand and their dealership, to bring customers into their showrooms and see everything we have to offer."
To do this Dodge will start producing Demons sold at or below MSRP first. This means a lower serial number, which makes the vehicle more attractive to collectors. You can start placing Dodge Demon orders on June 21st with a dealer who is allocated stock.
The 2017 Dodge Challenger SRT Hellcat starts at $64,195. We had fun in the $45,000 Challenger R/T Scat Pack 392 HEMI Shaker and are looking forward to a closer look at the Demon.
Future Motoring discussed the potential Dodge Demon price compared to the Hellcat, and how the MSRP could be different than what you actually need to pay to take home one of the limited production models.
The 2018 Dodge Demon is a single seater, but you can add a passenger seat and a rear seat for $1. You can also opt for the Demon Crate that adds in all kinds of racing goodies including,
Front Runner Drag Wheels
High-Octane Engine Calibration
Passenger Mirror Block-Off Plate
Performance Air Filter
Trunk Foam Case
Fender Cover
Personalized IP Badge
Shipping Crate
Torque Wrench with Extension and Socket
Cordless Impact Wrench with Charger
Hydraulic Floor Jack with Carrying Bag
Tire Pressure Gauge
Tool Bag
There is no specific price for this box, but it's undoubtedly something that Dodge Challenger SRT Demon owners will want to get, if only for the collectibility factor.
With the purchase, you get a full day at the Bob Bondurant School of High-performance driving. Dodge named Hagerty as the official insurance provider for the Dodge Challenger SRT Demon.
2018 Dodge Demon Specs
Dodge is not stingy with the 2018 Dodge Demon Specs. We know the horsepower, torque, 0-60 time and much more. Pretty much the only thing we don't know yet is the 2018 Dodge Challenger SRT Demon top speed, thought the speedometer tops out at 200mph.
Check out the 2018 Dodge Challenger SRT Demon performance numbers;
0-30 mph: 1.0 second
0-60 mph: 2.3 seconds
Quarter-mile: 9.65 seconds at 140 mph
Here's a rundown of Challenger Demon specs.
840 horsepower and 770 pounds-feet of torque from supercharged 6.2-liter HEMI® Demon V-8 engine makes Dodge Challenger SRT Demon the most-powerful muscle car ever
Highest horsepower V-8 production car engine ever produced
First-ever front-wheel lift in production car (2.92 feet) as certified by Guinness World Records
World's fastest quarter-mile production car with an elapsed time (ET) of 9.65 seconds and 140 miles per hour (mph) as certified by National Hot Rod Association (NHRA)
Challenger SRT Demon is too fast for the drag strip – officially banned by NHRA
World's fastest 0-60 production car: 2.3 seconds
0-30 miles per hour: 1.0 second
Highest g-force acceleration of any production car: 1.8 g
Air-Grabber™ induction system includes the largest functional hood scoop (45.2 square inches) of any production car
Significant upgrades to create the Demon engine include:

Larger 2.7-liter per rev supercharger; increased boost pressure to 14.5 psi
Higher rpm limit of 6,500
First-ever factory-production car with innovative SRT Power Chiller™ liquid-to-air intercooler chiller system
First factory-production car with After-Run Chiller that keeps cooling the supercharger/charge air cooler after the engine is shut off

First-ever, factory-production car designed to run on 100+ high-octane unleaded fuel or 91 octane on demand
First-ever, factory-production car with TransBrake for more powerful and quicker launches
First-ever, factory-production drag car with Torque Reserve, to deliver increased levels of power and torque at launch
First-ever, factory-production car with front passenger seat delete
With all this, you still get a three-year 36,000-mile warranty and five-year 60,000-mile limited powertrain warranty.
2018 Dodge Demon Photos & Videos
You can watch the 2018 Dodge Challenger SRT Demon reveal above to see the car on stage and a rundown of everything we know about it. There are other 2018 Dodge Demon videos throughout this post and we expect to see more coming soon now that this is official.
2018 Dodge Demon Release Date
The 2018 Dodge Demon release date is fall 2017. This is only coming for one year and that means it could be hard to find, the commanding price. Dodge announced that the 2108 Dodge Challenger Demon production starts this summer and deliveries will take place to Dodge//SRT dealers this fall.
There are only 3,000 Dodge Demons slated for production in the U.S. and 300 in Canada. Qualified dealers can start placing orders on June 21st. Dodge outlines the following requirements for dealers.
To be eligible to order a Challenger SRT Demon, dealers must have sold more than one SRT Hellcat in the last 12 months
Dealer allocation will be based on 60 percent SRT Hellcat and 40 percent Charger and Challenger sales performance
Dealers can only order as many Demons as they are allocated
Demons sold at or below MSRP will receive priority scheduling resulting in lower serial numbers
Demons sold for a price that exceeds MSRP will be produced after priority production is completed
Additionally, there is a Demon Concierge hotline at 1-800-998-1110 that will allow you to communicate with Dodge and track your order. Customers must sign a notarized document to complete the purchase. This document includes safety information and helps determine the production based on the price paid for the Dodge Demon.
You Need These 10 Must Have Car Features: Find Out Why
Smart Cruise Control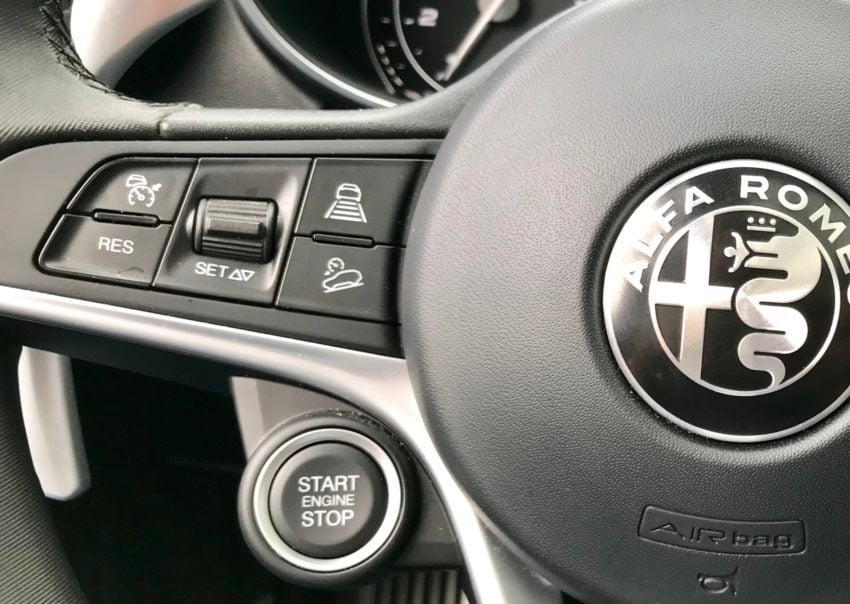 Do you hate constantly adjusting your cruise control, or giving up on cruise control because of traffic or due to a driver in front of you who keeps changing speed? You need a smart cruise control system.
Smart cruise control goes by many different names. You may see it listed as Radar Cruise, Adaptive Cruise or Intelligent Cruise control. Whatever it is called, it will allow you to set your cruise control and then stay with the flow of slower traffic.
Here's why we love it and why you need it. You get on the highway and set the cruise at 76 miles per hour. You also set the distance you want kept between you and the car in front of you. There are typically three or four settings so you can be close or keep a lot of space. Now you simply steer and your car will go 76 mile per hour when traffic allows it or there is no one in front of you. When someone is in front of you going 73 mph, the car automatically slows down to keep you the distance you choose from that car. This is indispensable in traffic and on long road trips.
Not all smart cruise control systems are the same. Some of work at all speeds, while others only work above a specific limit. Some systems can bring you to a complete stop in traffic and then restart without you needing to touch a pedal.
You can find adaptive cruise control on cars as cheap as $18,500 like the Toyota Corolla, and as an option on many cars below $30,000. Even on pricier cars you may need a higher trim level or special package to get this feature.