2017 Mazda 3 Hatchback Review
The 2017 Mazda 3 Hatchback lives up to the Mazda name with fun driving characteristics and an attractive design. New for 2017 you'll find an upgraded interior, more standard equipment and upgrades for better handling that pay off.
Going up against the 2017 Honda Civic Hatchback Sport Touring and the Chevy Cruze Hatchback, Mazda needed to step up the game for 2017; and in most areas it actually comes out ahead or on par with the competition.
The 2017 Mazda 3 5 Door starts at $19,095 for the Sport and is available in four trims, up to the 2017 Mazda 3 50Door Grand Touring we spent the week driving. The Grand Touring starts at $23,895 and $28,030 as tested with the Premium EQ package and Active Safety Package.
All but the Touring are available with a six-speed manual transmission. Upgrading to an automatic adds roughly $1,050 to the price of the car.
[letsreview]
2017 Mazda 3 Hatchback Driving Experience
While some cars are simply about getting you from A to B, Mazda adds to this by getting you there with a smile on your face. During a week of driving the 2017 Mazda 3 Hatchback, getting groceries and exploring twisting backroads, the 3 delivered us to our destination and delivered fun on the way.
The Mazda 3 handles corners expertly with excellent steering response, minimal body roll and overall skill through a variety of twists and turns. Body roll is when the car's weight is thrown to the outside of a turn, which is something you don't want a lot of while taking twisting roads on a spirited drive.
A standard upgrade for 2017 is G Vectoring Control, which adds a small amount of engine braking to help move the weight of the car to the front tires, allowing for better control and cornering.
In addition to great handling, the Mazda 3 Hatchback Grand Touring accelerates quickly. We tested the six-speed manual. The clutch and shifting are spot on, but the shifter is too close to the front of the cabin. If it was moved to the back about two inches it would offer more comfortable access to shifting while driving.
Mazda offers two engine options in the Mazda 3 and, if you can upgrade to the Touring 2.5 or Grand Touring, the 2.5L four cylinder offers 184 horsepower and 185 LB-Ft of torque, giving quicker acceleration that we appreciated.
The EPA Rates the 2017 Mazda 3 Hatchback Grand Touring with a manual at 28 MPG combined, with 25 MPG city and 33 MPG highway. When you aren't driving with a heavy right foot it is easy to hit these fuel economy estimates.
2017 Mazda 3 Hatchback Tech and Safety
In the tech department, Mazda delivers a useful and easy to use system, but it is lacking a feature that many buyers want in a new car. There is no support for either Apple CarPlay or Android Auto. Mazda is working to bring support to the Mazda Connect infotainment system, but we don't know any time frame for an update that could add this feature. We're waiting on official compatibility information, but based on the timing and wording of the announcement it is likely that the 2017 models will get this update.
You can control the infotainment system with a touchscreen or with a knob and buttons mounted behind the shifter. This setup allows you to choose the control method that best fits your preferences. There are also plenty of controls on the steering wheel.
The Bose 9-speaker sound system delivers impressive sound and cranks up nicely without distortion if you want the car next to you to enjoy your music.
In the Grand Touring you get a lot of standard safety features, including blind spot monitoring that is essential for longer trips on the highway. The Premium Equipment package is $1,600 and adds the following features:
Bi-LED headlights with auto leveling
Adaptive Front-lighting System
LED combination taillights
Heated steering wheel
Paddle shifters (AT only)
Mazda Navigation System
Auto-dimming rearview mirror with HomeLink
With this package the headlights are excellent, throwing light far out into the night and the adaptive front lighting system turns the headlights towards your turn, illuminating the road better as you drive. The Mazda navigation system works well, but the headlights and heated wheel are the big draws here, especially if you use your phone for directions and are banking on the CarPlay upgrade.
The $1,100 I-ActiveSense Safety Package is one that we would add if buying the Mazda 3 Hatchback. This includes:
High Beam Control
Lane Departure Warning System
Lane Keep Assist
Mazda Radar Cruise Control
Smart Brake Support
Traffic Sign Recognition
Radar cruise control works brilliantly and makes long trips much more enjoyable. The Lane Departure Warning System and Lane Keep Assist will help keep you in your lane. Smart Brake support uses radar on the front of the car to detect a potential crash, warn you and then apply brakes if needed.
Mazda includes a small heads up display above the steering wheel where you will see traffic signs appear as the car recognizes them. Instead of pulling speed limits and signs from a database, a sensor looks at the surroundings, so you always have the correct information at a glance.
2017 Mazda 3 Hatchback Design & Interior
For 2017 Mazda upgrades the interior to deliver a quieter ride and to make the car more comfortable for longer drives. Mazda uses sound deadening to block out much more road noise and the new seats are very comfortable.
The minimalistic interior fits the style of the Mazda 3 Hatchback perfectly and there is a new look for center storage as well as a roll-top that covers the cup holders. There are two USB ports up front and a power point in the storage area. The parking brake is electronic, which frees up some room, but takes some adjusting to if you're used to yanking the brake up when you stop in a manual.
Silver accents throughout the cabin spice up the interior just right amount and carry over into the backseat. The front is perfectly spacious enough for the driver and a passenger. The backseat can fit two adults without too many front-seat adjustments, but taller passengers will feel cramped in the back.
With the hatchback, there is a lot of room to haul cargo, much more than you get in a traditional four-door. With the seats folded down, we fit a six-foot grapevine tree in the back for Mother's Day easily. The small cargo cover over the back removes quickly for bigger items, though you do need to tug slightly to get it free.
You Need These 10 Must Have Car Features: Find Out Why
Smart Cruise Control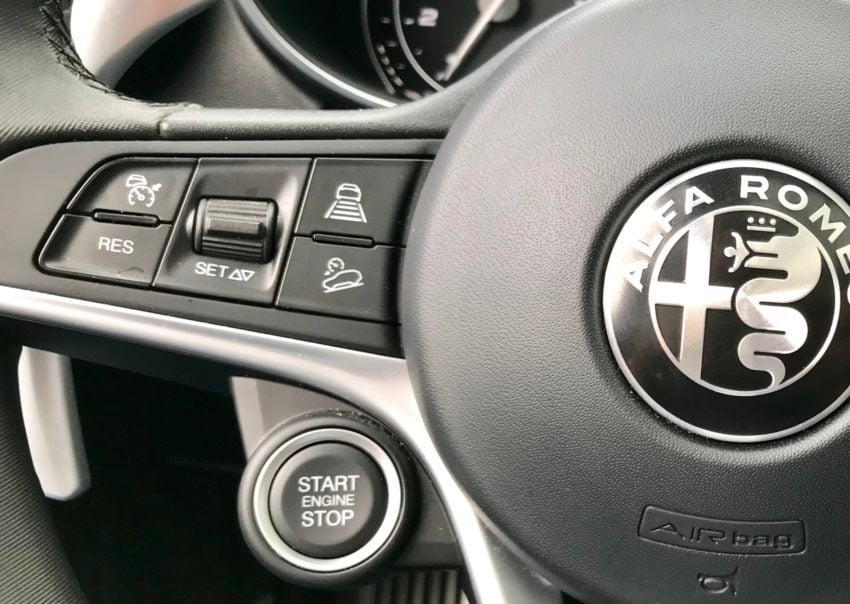 Do you hate constantly adjusting your cruise control, or giving up on cruise control because of traffic or due to a driver in front of you who keeps changing speed? You need a smart cruise control system.
Smart cruise control goes by many different names. You may see it listed as Radar Cruise, Adaptive Cruise or Intelligent Cruise control. Whatever it is called, it will allow you to set your cruise control and then stay with the flow of slower traffic.
Here's why we love it and why you need it. You get on the highway and set the cruise at 76 miles per hour. You also set the distance you want kept between you and the car in front of you. There are typically three or four settings so you can be close or keep a lot of space. Now you simply steer and your car will go 76 mile per hour when traffic allows it or there is no one in front of you. When someone is in front of you going 73 mph, the car automatically slows down to keep you the distance you choose from that car. This is indispensable in traffic and on long road trips.
Not all smart cruise control systems are the same. Some of work at all speeds, while others only work above a specific limit. Some systems can bring you to a complete stop in traffic and then restart without you needing to touch a pedal.
You can find adaptive cruise control on cars as cheap as $18,500 like the Toyota Corolla, and as an option on many cars below $30,000. Even on pricier cars you may need a higher trim level or special package to get this feature.

As an Amazon Associate I earn from qualifying purchases.