2017 Mazda Miata MX-5 RF Review
The 2017 Mazda Miata RF is slightly more practical than the soft top roadster, just as fun and a tempting option if you plan to daily drive your Miata through the cooler months.
Mazda doesn't name drop, but this is a targa, which Mazda dubs the RF. We loved the 2017 Mazda MX-5 Miata Club with the soft top, and the hard top cousin is more aggressive looking and just as fun to drive.
[letsreview]
The cabin isn't as open as with the retractable soft top, but it is super fun to drive. The RF stands for Retractable Fastback. It's motorized, and takes just a little longer to open than the manual soft top.
Given the choice I'd buy the Mazda Miata MX-5 RF over the roadster, and I would buy it exactly as configured at $34,955 with the Brembo package and Appearance Package.
2017 Mazda Miata RF Driving
The MX-5 Miata RF is about 100 pounds heavier than the soft top, but it manages to deliver very similar 0-60 times. When it comes to speed, you'll be very close when you're in any of the MX-5 models offered.
Sticking true to the MX-5 roots, this is a car focused on fun driving and on coaxing as much power as possible out of a 155 horsepower 2.0L engine that delivers 148 lb-ft. of torque. Drivers will appreciate the plentiful power below 3,000 RPM and the satisfying vroom that comes in that last 1,000 RPM before redline, when you need it.
Yes, you can go buy a sportscar with vastly more horsepower, but Mazda manages to deliver yet another incredibly fun, fast and easy to handle sports car that toes the bounds of being daily driver practical. Although it isn't a carbon copy of the roadster's driving experience, its familiar and fun. You definitely need to test drive both before you buy the known entity.
Like the soft top, there is a very good connection to the road, and you'll feel that as you drive. There is some understeer where the car gets a little squirrely when you push the car to its limits on the road, but it doesn't happen too soon and it's pretty close to the performance of the soft top. Shifting is very nice and we definitely recommend going with the manual.
You can expect about 33 miles per gallon on the highway and close to 26 in the city, depending on how much you're pushing the car.
2017 Mazda Miata RF Interior & Design
Sportscar spartan is the best way to describe the interior of the 2017 Mazda MX-5 Miata RF. Mazda focuses on the basics with two removable cupholders, though you'll only likely ever want to use one since the other is going to tap your elbow every time you shift. There's a small cubby between the seats to stash a phone or other small items and no glove box. There is a small pop up compartment that you can place your sunglasses in and that is about it.
The two seats are comfortable and the bolsters aren't too aggressive. You have limited room to move the seats back, but even taller passengers had enough room. My wife continues to not be a fan of the very small cabin, so you may or may not want to take your primary passenger on a ride before you buy to have them weigh in. Personally I find it to be a goldilocks interior — not to small, not to big — it's just right. The trunk is small, but usable if you set your expectations.
You can retract the top using a switch on the dash. It takes a few seconds and you can only do this when you are below 6 miles per hour. This did leave us hoping for a lengthy stoplight after exiting a storm into a nice summer afternoon. With the top up you'll still hear quite a bit of road, wind and engine noise, but when you are cruising on the highway in 6th gear you can hold a conversation, or drown out the noise with the Bose soundsystem. If you're driving on the highway with the top down, expect convertible hair, even with the windows up.
The MX-5 Miata RF design looks just a touch more sinister than the original roadster and we love it. While you give up a little more of that open cabin feel the back tail of the car looks gorgeous with the sweeping lines that are still there after you retract the roof. Overall, the style is just a touch bolder.
























2017 Mazda Miata RF Tech
In keeping with the focus on essentials, there's not a lot of tech built-in, but you do get MazdaConnect on a good-looking touch screen on the dash. This includes navigation options, the ability to stream music via Bluetooth or plug-in to play music, Satellite radio and hands free calling. The system is spartan, but easy to use and it gets the job done.
There is no support for Apple CarPlay or Android Auto. It's almost something you can overlook in a purpose-specific car, but we missed out on both while driving, having to stick our Galaxy S8 in a cupholder to use Waze so we could stay aware traffic jams while testing the car. Mazda previously confirmed support is coming to older vehicles with Mazda Connect, so you should be able to get CarPlay and Android Auto at some time. But there is no ETA or information on what, if any, added cost and hardware you may need.
The USB port that connects your phone to the car doesn't push enough power to charge a phone while using GPS, but there is a 12V powerpoint on the passenger side that you can rely on for more power.
The 9 speaker Bose sound system is good. The system is capable of drowning out road noise and you can turn it loud enough to clearly hear with the top down. We'd love a little more low-end, but we don't want to sacrifice trunk space or weight for more bass. You can take phone calls with the top down, although it is a little noisy. Thankfully there is a speaker right behind the driver's head where the caller's voice is piped.
2017 Mazda Miata RF Safety
Mazda includes Blind Spot Monitoring, so you can easily switch lanes and be aware of less cautious drivers on the highway.  There's also a lane departure warning system that will let you know if you are unintentionally leaving your lane. Rain sensing wipers automatically turn on and clear the windshield when it starts to rain. There is no backup camera, but it's not as much of an issue in a car this small.
We like the adaptive front lighting system, which is a fancy way of saying the headlights turn slightly as you take a corner. This delivers better visibility where you need the light and is one of our favorite safety features. The MX-5 Miata RF also includes High Beam Control, which automatically turns your high beams on when possible and off when there is traffic.
Rear cross traffic alert will let you know if a car is coming when you are attempting to back out of a parking spot. This is especially appreciated in a smaller car like this as it can be tougher to see traffic racing up and down the parking lot aisles.
2017 Mazda Miata RF Price vs Roadster
You can get into the MX-5 Miata RF for $31,555 for the Club and $32,620 for the Grand Touring. We drove the Grand Touring with the Brembo/BBS package that adds 17-inch BBS forged-aluminum wheels, keyless entry and Brembo rotors and calipers on the front wheels. It also includes the appearance package for a more aggressive look.
The Mazda MX-5 Miata RF Club is $2,025 more than the MX-5 Miata Club and $1305 more than the Grand Touring with the Soft Top. There is no Sport trim level for the Miata RF.
You Need These 10 Must Have Car Features: Find Out Why
Smart Cruise Control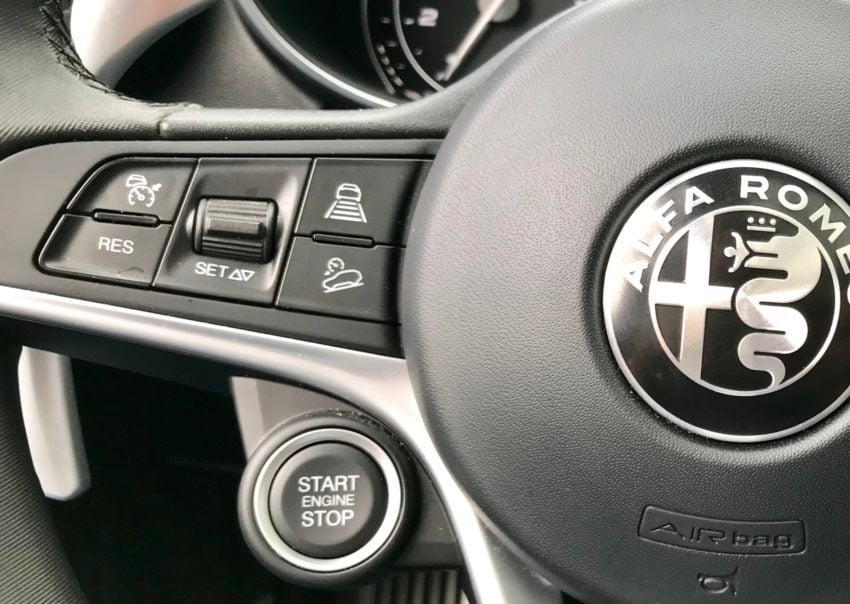 Do you hate constantly adjusting your cruise control, or giving up on cruise control because of traffic or due to a driver in front of you who keeps changing speed? You need a smart cruise control system.
Smart cruise control goes by many different names. You may see it listed as Radar Cruise, Adaptive Cruise or Intelligent Cruise control. Whatever it is called, it will allow you to set your cruise control and then stay with the flow of slower traffic.
Here's why we love it and why you need it. You get on the highway and set the cruise at 76 miles per hour. You also set the distance you want kept between you and the car in front of you. There are typically three or four settings so you can be close or keep a lot of space. Now you simply steer and your car will go 76 mile per hour when traffic allows it or there is no one in front of you. When someone is in front of you going 73 mph, the car automatically slows down to keep you the distance you choose from that car. This is indispensable in traffic and on long road trips.
Not all smart cruise control systems are the same. Some of work at all speeds, while others only work above a specific limit. Some systems can bring you to a complete stop in traffic and then restart without you needing to touch a pedal.
You can find adaptive cruise control on cars as cheap as $18,500 like the Toyota Corolla, and as an option on many cars below $30,000. Even on pricier cars you may need a higher trim level or special package to get this feature.

As an Amazon Associate I earn from qualifying purchases.