2017 Nissan Titan Review: Pro 4X is full of V8 Fun
The 2017 Nissan Titan is an impressive pickup that is ready to deliver the fun both towing and off road, backed up by a powerful V8 Endurance engine. This pickup delivers a smooth ride, decent towing capacity and is packed with cool tech in the cabin and in the bed — but no Android Auto and CarPlay yet.
We took the 2017 Nissan Titan Pro 4X to the Silver Lake Sand Dunes to test the off-road performance and then hooked up a trailer to do a little towing to the river to round out a very enjoyable week with the 2017 Titan. On the road and off, the Titan Pro 4x proved incredibly capable to meet our demands and take us where we needed to go.
The 2017 Titan is all new this year with a complete redesign that delivers a modern look inside and out. There are a ton of awesome features inside the cab and in the bed that makes using your new truck easier and will help you get more done. The gas-powered Endurance V8 sounds great and performs excellently as well.
Nissan offers the 2017 Titan in three cab varieties and a variety of configurations and trim levels. The base Titan S Single Cab 2WD starts at $29,580, or $32,610 with 4WD. The Titan Pro-4X is available in King Cab and Crew Cab varieties. The 2017 Nissan Titan Pro 4X Crew Cab starts at $45,740 with the V8 Endurance Engine. The Pro-4X Utility and Tow Package, Convenience Package and Luxury Package brought our review truck up to $52,305 with destination charges.
Nissan includes a 5 year, 100,000-mile bumper to bumper warranty, which is 2 years and 64,000 miles longer lasting than Ford, Chevy, Dodge and Toyota.
[letsreview]
2017 Nissan Titan Off Road Performance
The 2017 Nissan Titan Pro 4X is an incredibly capable off-road pickup. You could haul a Side by Side to the dunes and then take the Titan out too. We drove up to Silver Lake Dunes, aired down the tires, hooked on a flag and hit the sand. While you need to be cautious with water depth and with dunes that drop off sharply, the 2017 Titan ate sand for lunch.
There's no need to toggle modes like in the Ford Raptor. Just switch on 4WD and go have fun. The truck felt like it managed traction control as we drove up steep dunes that left many pickups and Jeeps on the other side. The V8 power and capable tires helped us conquer a variety of off-road challenges at Silver Lake Dunes.
Watch the 360 degree VR video above to see how the 2017 Nissan Titan Pro 4X performs off-road as we explore all over Silver Lake Sand Dunes in a variety of conditions. The Titan Pro 4X can ford through about two feet of water, offers a good deal of ground clearance and includes skid plates to keep the truck safe from the obstacles you encounter off-road.
In addition to the skid plate, the Pro 4X includes Bilstein Off road shocks, hill descent control and an electronic locking rear differential to help you get more done off-road.
2017 Nissan Titan Driving & Towing
The 2017 Titan drives smoothly on the road and handles very well. It doesn't feel as much like a truck as some pickups do. The V8 Endurance gas engine performs well and sounds very nice. This delivers 290 horsepower and 294 lb-ft. of torque. The Titan has a 9,740 maximum towing capacity and 1,940 payload capacity. That's nearly 3,000 pounds below the Chevy Silverado 1500 and about 1,000 pounds below the Ram 1500.
We towed a Jet Ski on a single trailer up to the Maumee river for an evening of fun and had no problem with the light load. The towing package includes Trailer light connectivity and Nissan even includes an option to check your trailer lights with the key fob, if equipped. This is a nice touch that simplifies getting a trailer ready to go on your own.
The 2017 Nissan Titan Pro 4X is rated at 15 mpg city and 20 mpg highway and 17 combined. We came close to hitting the highway fuel economy and appreciated the mix of power and efficiency that we got from the V8 engine.
2017 Nissan Titan Features, Design & Interior
The updated 2017 Nissan Titan design looks great with a bold, but not pretentious, grille and a ton of useful features built-into the design. There's a kick down step on the driver side of the bed, so you can quickly get up into the bed to tie down cargo. This is much simpler than Ford's system and a very welcome feature. There is a 120v outlet in the bed that you can use to run power tools and there are lights in the bed as well as to light up the area around the truck.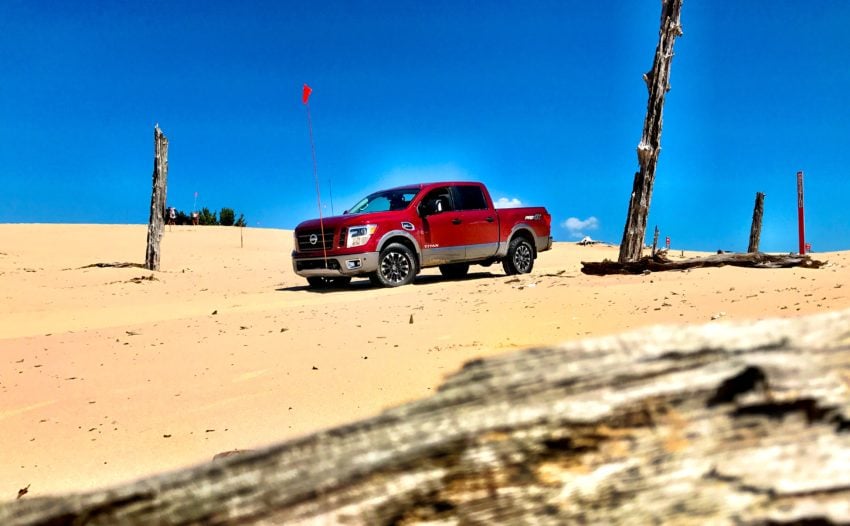 The cargo management system includes metal tie downs that you can move along the front and sides of the bed. We often see plastic used for this in other trucks. Another nice touch is that you can take the tie downs off the sides and put them on the bottom of the pickup bed to secure cargo that way as well. The tailgate locks and is damped, which means it opens slowly instead of slamming down fast. When it is time to air up your tires after an off-road session, the titan will honk when you hit the right air pressure. It's a small, but totally cool feature.
Inside, the Titan is comfortable and looks very nice. There is a lot of useful storage in the center console and there are 14 cup holders in the Titan, which came in handy during the long trip to get to the Silver Lake Dunes.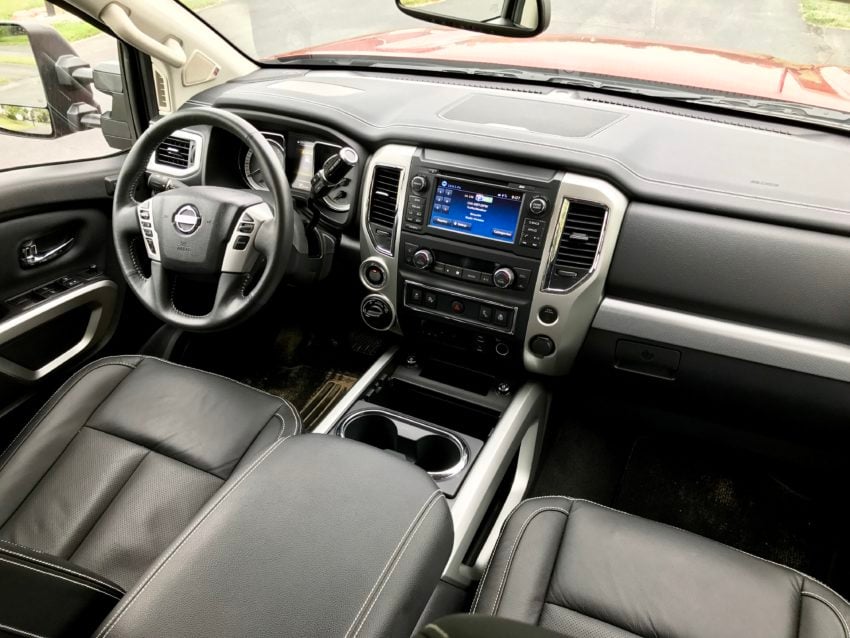 Ours came with the Luxury package that adds the much appreciated ventilated seats, a 360 view around your Titan (which is handy for parking and off-road maneuverability), plus it includes moving object detection and reverse auto tilt for the mirrors so you can see the curb at a glance. We love the power center window in the back of the truck that lets you quickly pull more air into the cabin.
Most pickups allow you to flip-up the back seat so you can securely carry cargo in the cab, but Nissan takes it two steps further. First, there is a fold out plastic shelf that gives you a level surface. This way you can haul a flat screen TV securely or even put a dog kennel on the back floor without it being at an odd angle. Second, these shelves lock under the seat to secure cargo. There is a cutout that can fit a shotgun in this section or a pistol, securely locked, under a seat that most people won't even think to look at.






The 2017 Nissan Titan Pro 4X is incredibly capable.










2017 Nissan Titan Tech & Safety
One major feature missing from the 2017 Nissan Titan is Apple CarPlay and Android Auto support. Nissan added CarPlay support to some 2017 models but has not rolled it out to the Titan. Instead, you are limited to the built-in system and Siri Eyes Free. The Titan's built-in infotainment system is OK and the touch screen is responsive and easy to use, but we definitely miss CarPlay and Android Auto.
With this system you get NissanConnect, which allows you to use your phone to choose some vehicle functions like remote start and unlock. You can also use this service to set up boundary alerts, speed limits, curfews and other monitoring options if you let someone else drive your Nissan. The Titan comes with a NissanConnect trial and it is $11.99 to $24.99 a month after the trial.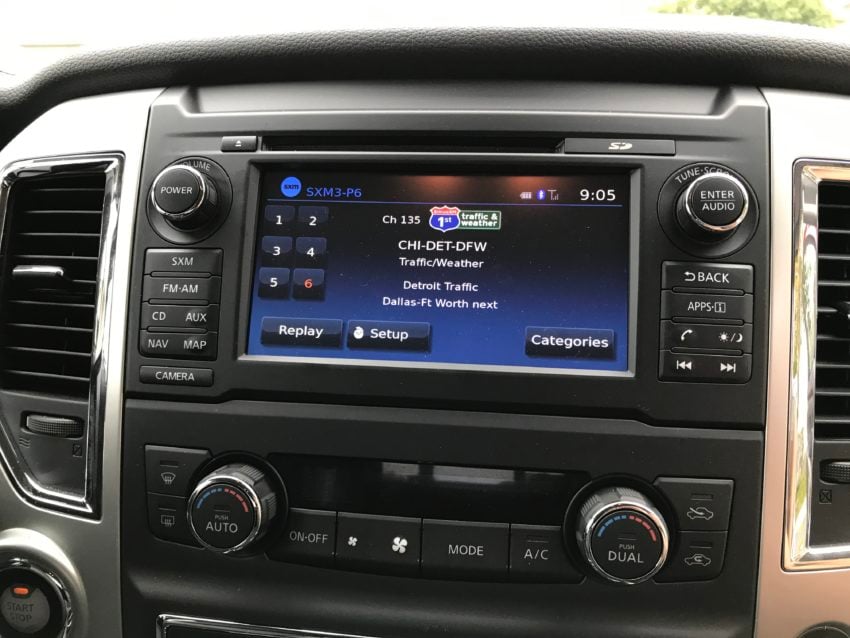 In addition to the outlet in the bed of the truck, there is one in the back seat that you can use to charge a laptop or similar device while on the go and plenty of USB ports to charge smartphones or tablets. The Rockford Fosgate 12 speaker upgraded stereo system is adequate, but not phenomenal.
From a safety standpoint, you get Blind Spot Warning and Rear Cross Traffic Alert, both of which help you drive safer. Unlike the Ford F-150 there is no trailer Blind Spot monitoring. There is cruise control, but no adaptive or dynamic cruise control available, so you will need to adjust it using steering wheel controls when traffic slows and eventually speeds up. The Titan also includes park sensors so you know if you are close to an object.
The Titan also includes park sensors so you know if you are close to an object. The upgraded 360 view camera system includes moving object detection that can alert you to moving things near your car.
You Need These 10 Must Have Car Features: Find Out Why
Smart Cruise Control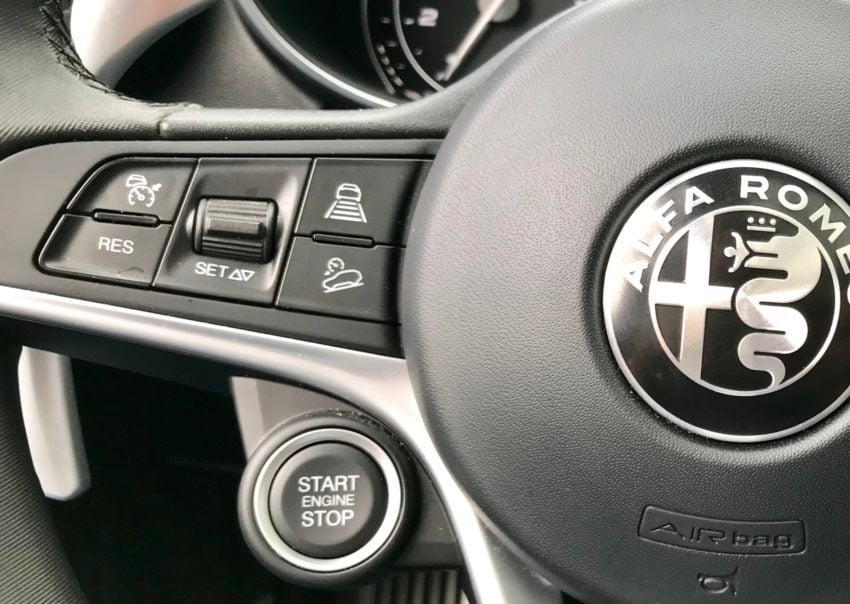 Do you hate constantly adjusting your cruise control, or giving up on cruise control because of traffic or due to a driver in front of you who keeps changing speed? You need a smart cruise control system.
Smart cruise control goes by many different names. You may see it listed as Radar Cruise, Adaptive Cruise or Intelligent Cruise control. Whatever it is called, it will allow you to set your cruise control and then stay with the flow of slower traffic.
Here's why we love it and why you need it. You get on the highway and set the cruise at 76 miles per hour. You also set the distance you want kept between you and the car in front of you. There are typically three or four settings so you can be close or keep a lot of space. Now you simply steer and your car will go 76 mile per hour when traffic allows it or there is no one in front of you. When someone is in front of you going 73 mph, the car automatically slows down to keep you the distance you choose from that car. This is indispensable in traffic and on long road trips.
Not all smart cruise control systems are the same. Some of work at all speeds, while others only work above a specific limit. Some systems can bring you to a complete stop in traffic and then restart without you needing to touch a pedal.
You can find adaptive cruise control on cars as cheap as $18,500 like the Toyota Corolla, and as an option on many cars below $30,000. Even on pricier cars you may need a higher trim level or special package to get this feature.

As an Amazon Associate I earn from qualifying purchases.