2017 Toyota Prius Prime Review
The 2017 Toyota Prius Prime is an exceptional plug-in hybrid that I enjoy driving more than the 2016 Toyota Prius. Unlike the original model, the Prius Prime brings a full EV mode to the party that combines a very good electric range with the proven benefits of the hybrid system.
You can buy the 2017 Prius Prime in three trim levels including Plus, Premium and Advanced. I spent a week putting the Prius Prime Advanced, which starts at $33,100 and was equipped with no additional packages, to the test. You can add accessories like all-weather liners, alloy wheels or other small upgrades to the Advanced trim level, but it already comes with all the options Toyota offers.
[letsreview]
The 2017 Prius Prime Advanced is an excellent vehicle, thanks in part to the price, which allows a buyer to get into a plug-in hybrid for significantly less than the Chevy Volt. This does come at the cost of a lower EV range, one extra passenger in the back seat and a lack of Apple CarPlay or Android Auto.
2017 Prius Prime Range & Driving
The 2017 Prius Prime offers 25 miles of plug-in range, which is half of what you get with the Chevy Volt but, as it turns out, it's just about right for my typical week. It would even work for my wife's daily commute, which is just about 20 miles round trip. The key with the Prius Prime, and other plug-in hybrids, is that the electric only range just needs to handle your average drive, because the hybrid system gives you as much range as you'll ever need. As long as you stop for gas eventually. The Chevy Volt's range is a better fit when I travel to a nearby coworking place, but ultimately even the Volt is not enough for an electric only trip.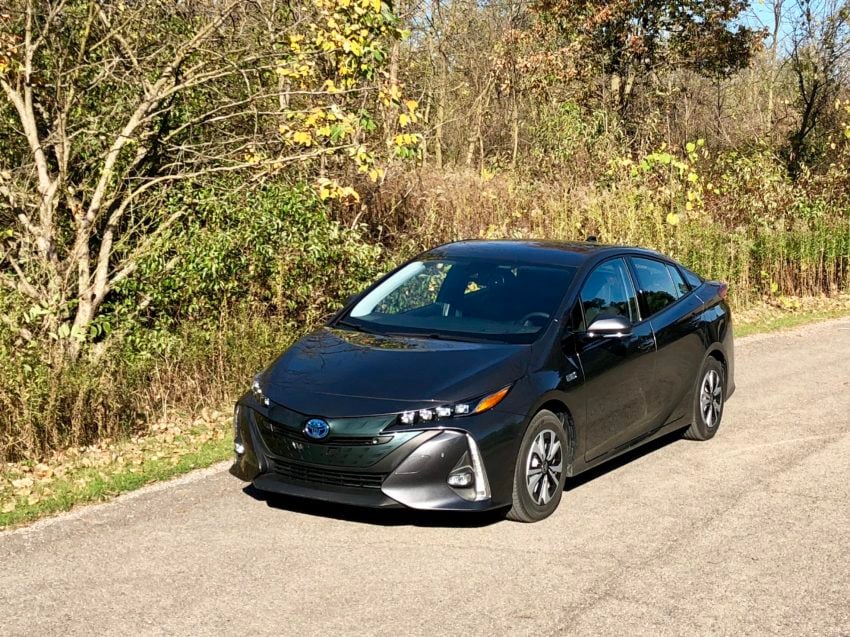 With the electric range and nightly charging I rarely needed to use much gas during my week with the Prius Prime and that is what counts. Yes the 133 MPGe is an impressive looking number, but the practical side of this is that both me and my wife could use the Prius Prime Advanced for our regular driving needs while relying mostly on electric power.
It's a Prius, so it's not particularly fast and it's not going to give you the thrills of driving a sports car, but it is easy to drive and handles well. It's definitely fast enough to get into traffic and to get up to highway speeds. When on electric power you get more instant access to the limited power you do have. In town and in traffic that first two seconds of acceleration feels zippy when in EV mode.
You can choose between Eco, Normal and Power driving modes, but Eco is too sluggish for me to use for more than a test. There is also an option to hold the EV power in reserve to use it later. You can charge over a standard 120 outlet and it will take some time, or you can get a full charge in about 2 hours on a 240 volt connection. Overall range is well over 600 miles with the combined electric and gas reserve.
2017 Prius Prime Looks & Interior
It's a Prius.
The 2017 Prius Prime gains new looks that I like better than the 2016 Prius, but it's still a car that will strike you as awesomely futuristic and modern or illicit an exclamation of "Why?" when you see it.
A new grille streamlines the front of the car and the upgraded taillights help deliver a better overall look. I won't go so far as to say I'm in love with the design of the Prius Prime Advanced, but it's easier to appreciate.
Inside you'll find a gigantic screen at the center of the dash. It's the home for all of the tech, but it's also the main focal point anytime you get in the car. Yes, you still have a dash where key details for the driver exist, but you can't talk about the inside of the car without mentioning this dominating screen.
The seats are heated, but the buttons are tucked way under the overhang of the dash, so it's a stretch to reach them. The seats are comfortable overall and there is plenty of rom for those in the front seat.
One catch is that this is only a four seater. The back seat does not come with a middle belt like you will find in the Chevy Volt. Cargo space is down slightly from the standard Prius, but I still had enough usable space for all of my needs.



















2017 Prius Prime Technology & Safety
The huge screen comes with a new version of Toyota Entune that is definitely the best version we've used, but it is missing a key new car feature I want: Apple CarPlay or Android Auto. Toyota is a holdout that refuses to add this support to Toyota vehicles. I definitely miss CarPlay or Android Auto when in the Prius Prime. Android Auto gives me Waze and other apps on the dash and CarPlay is nearly as good as Android Auto with great access to apps and messages.
The large display is easy to see, it doesn't blind you at night and the system is generally easy to use. You can plugin to play music or connect over Bluetooth. The call quality is above average. Finding what you want in the system is simple and this is the right direction for Entune, I just wish it also came with support for Android Auto and CarPlay. There is no volume knob, so you need to use touch buttons, but thankfully there are steering wheel mounted volume controls.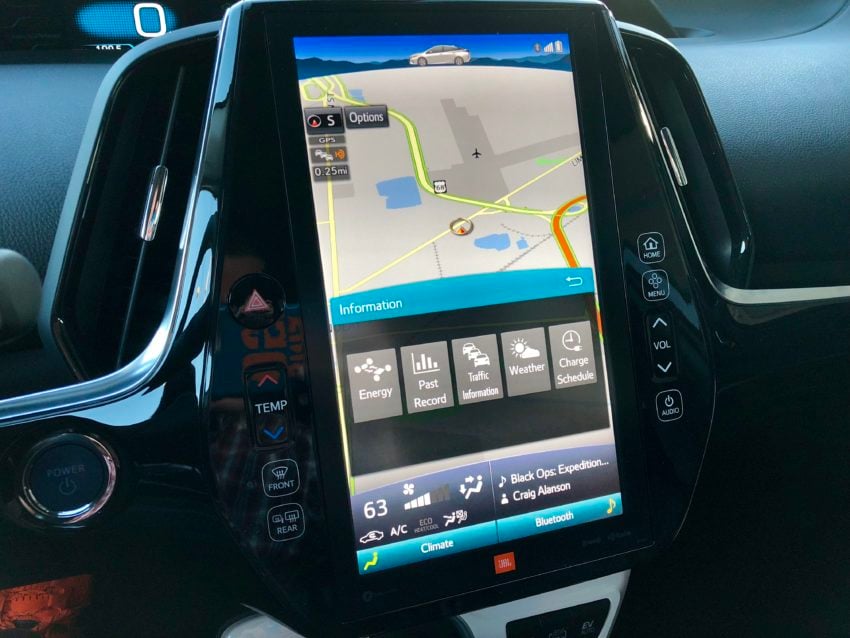 On the Premium and Advanced trim level there is a built-in wireless charger that you can use for many new smartphones.
On the safety side, the Advanced trim level includes many of our must have features like radar cruise control, blind spot monitoring, rear cross traffic alert, lane departure alert and a pre-collision system with pedestrian detection. The radar cruise control system works great and simplifies longer trips by taking the frustration out of following inconsistent drivers.
You Need These 10 Must Have Car Features: Find Out Why
Smart Cruise Control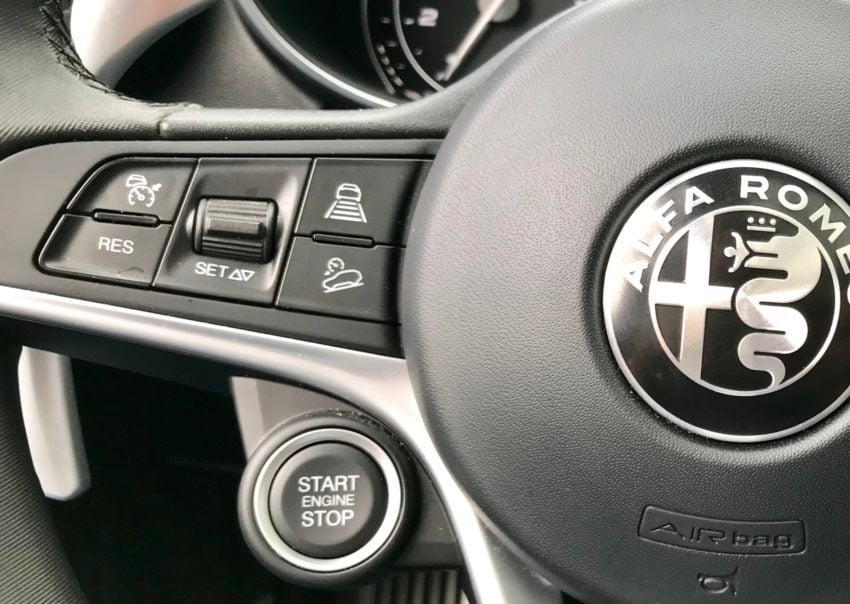 Do you hate constantly adjusting your cruise control, or giving up on cruise control because of traffic or due to a driver in front of you who keeps changing speed? You need a smart cruise control system.
Smart cruise control goes by many different names. You may see it listed as Radar Cruise, Adaptive Cruise or Intelligent Cruise control. Whatever it is called, it will allow you to set your cruise control and then stay with the flow of slower traffic.
Here's why we love it and why you need it. You get on the highway and set the cruise at 76 miles per hour. You also set the distance you want kept between you and the car in front of you. There are typically three or four settings so you can be close or keep a lot of space. Now you simply steer and your car will go 76 mile per hour when traffic allows it or there is no one in front of you. When someone is in front of you going 73 mph, the car automatically slows down to keep you the distance you choose from that car. This is indispensable in traffic and on long road trips.
Not all smart cruise control systems are the same. Some of work at all speeds, while others only work above a specific limit. Some systems can bring you to a complete stop in traffic and then restart without you needing to touch a pedal.
You can find adaptive cruise control on cars as cheap as $18,500 like the Toyota Corolla, and as an option on many cars below $30,000. Even on pricier cars you may need a higher trim level or special package to get this feature.

As an Amazon Associate I earn from qualifying purchases.