2018 Chevy Traverse Review
The 2018 Chevy Traverse is a three row SUV with a lot of cargo room, good towing capabilities and it comes with support for Apple CarPlay & Android Auto. Chevrolet completely redesigned the 2018 Traverse and you've seen it in the "Real people, not actors" commercials with a whole family popping out of the back of the SUV.
Buyers will find a lot of standard technology, even on the $29,930 base model and it handles very nicely, driving more like a car than a large SUV. Seats are comfortable and roomy, but the third row is not large enough for adult passengers on anything more than a very short trip. With a second row bench, the Traverse can seat up to 8 total. There are six USB ports in the car, so every one can charge up, and a WiFi hotspot is standard for keeping everyone connected while on road trips.
The 3.6L V6 in the 2018 Traverse offers more power, better fuel economy and it can tow 1,500 pounds. The 2018 Traverse is available in six trim levels in FWD and in all wheel drive models.
[letsreview]
The all new Traverse starts at $29,930 for the L trim and goes up to $53,595 for the High Country trim level that includes all the bells and whistles.
2018 Chevy Traverse Driving & Performance
The 2018 Traverse handles very well. Even though this is a bigger vehicle than I normally drive I never felt like I was driving a huge truck. Handling feels more like a car while driving around town and on the highway. I prefer the feel of driving the Traverse over recent minivans I've reviewed. If you are cross shopping a three row SUV and a minivan, the handling on the Traverse wins out by a mile. Parking downtown was very easy thanks to the 360 camera, which also makes exiting a busy parking spot at the store an easy task.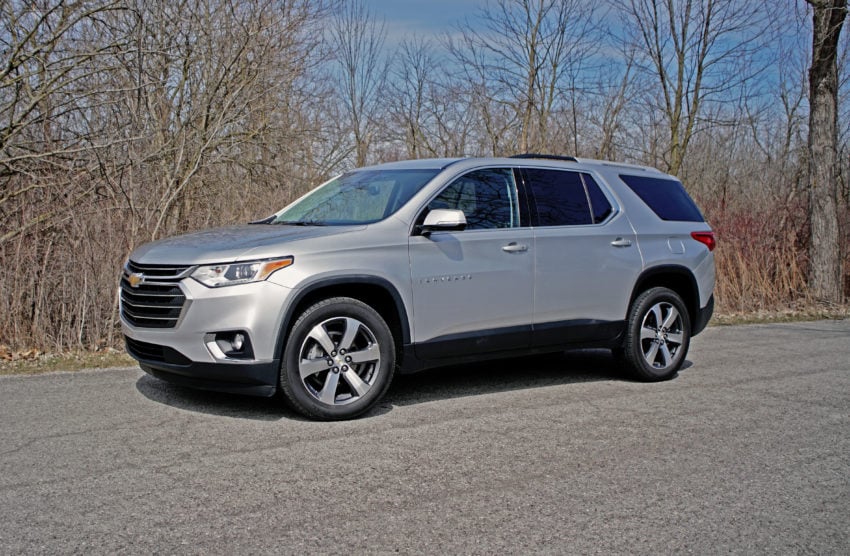 I tested the Traverse with the 3.6L V6 which performed very nicely. There is a 2.0L turbo four on the RS trim level, but most of the 2018 Traverse vehicles you test drive will come with the V6 matched to a nice 9-speed automatic transmission. I had plenty of power, even with a car load full of people, and merging on the highway was very easy. I was not able to test the towing during my time with the Traverse, but it is rated at 1,500 pounds standard and up to 5,000 pounds with a a trailering package.
Fuel economy is good for a mid size SUV with 17 mpg city and 25 mpg highway on the all-wheel drive V6. With front wheel drive you can expect 18/27 mpg and with the RS' 2.0L engine 20/26 mpg.
2018 Chevy Traverse Design & Interior
The 2018 Traverse design is a major improvement of the outgoing 2017 model. If you want a modern looking mid-size SUV, you'll appreciate the looks of the Traverse. It's modern, but still looks like a Chevy. Where the older model's curves looked minivan-like from the side, the all new Traverse looks like a SUV mixed with the best part's of Chevy's truck lines.
Inside, the Traverse is roomy for the front row and middle row. Up front there is plenty of room, comfortable seats and the heated seats felt amazing during this incredibly cool spring. I drove my parents, and later my in-laws, around in the Traverse and the second row captain seats were comfortable and everyone had enough room in the second row. There is a hidden storage compartment behind the screen, which is perfect for stashing a wallet or other valuable when you need to leave it in the vehicle.
Getting to the third row is easy with the slide forward seat on the passenger side. The third row legroom is very limited. The middle sets can move forward to provide a little more room, but that cramps adults in the middle row. The back row works for young kids, but if you need room for adults or teenagers in the back row you will want to look at a bigger vehicle. The separate rear climate controls are nice, as is the ability to lock it out and control them from the dash.
There is a lot of room for cargo. I like that there is a storage compartment underneath the traditional flat backend that is perfect for putting things you'd normally throw in the trunk of a car. There is a good deal of room even with the third row up and, if you need more room, you can fold it down and get a lot of added cargo space.
Overall the interior of the 2018 Traverse LT in leather is nice. There are still some plastic parts throughout the vehicle, but nothing felt cheap or out of place for the price.













2018 Chevy Traverse Tech & Safety
The 2018 Traverse includes Android Auto and Apple CarPlay Standard which run on a 7-inch or 8-inch touch screen in the center of the dash. This is a great feature that delivers better integration of phone calls, music, apps and navigation when you plug your smartphone in. The touch screen is easy to see and it's very responsive to touches. The standard Chevy MyLink software is very capable, but the design looks dated compared to the bright and beautiful layout in the Chevy Bolt. This is something that could change with an update down the road and it isn't a major issue if, like me, you use Apple CarPlay or Android Auto most of the time.
OnStar 4G LTE includes a hotspot that allows you to connect up to seven devices to the internet while in the car. It's handy for road trips where you need to stay connected even in spotty service. Use this to connect iPads, laptops or even a Nintendo Switch to the Internet while on the go. You get three months or 3GB included when you buy the car and can add a data plan through AT&T after that. I love that there are six USB ports in the Traverse, which means everyone can charge their devices without swapping or using long cords to reach everyone.
On the safety side you get a rear seat reminder that helps prevent leaving someone or something in the back seat. There is also a Teen Driver feature that lets you limit vehicle functions like speed, stereo volume and distance driven when a specific keyfob is used. You also get a driver report card when your teen drives the Traverse.
On the LT and higher trim levels you'll find rear cross traffic alert and sensors to help you park as well as a blind spot monitoring system that makes highway driving much safer. One downside is you need to step up to the premier to add the Driver Confidence II package that adds in lane departure warning with lane keep assist, low speed forward automatic braking and front pedestrian detection.
In addition to the standard rear view camera there is a 360 view standard on the LT and higher and the rearview mirror is digital, which allows you to see out the back of the van even when cargo or passengers are in the way. Adaptive Cruise Control is standard on the High Country trim level, but not available on lower trim levels. These types of features don't need to be standard across all trim levels, but it would be nice to see them as an option on the LT or Premier.
You Need These 10 Must Have Car Features: Find Out Why
Smart Cruise Control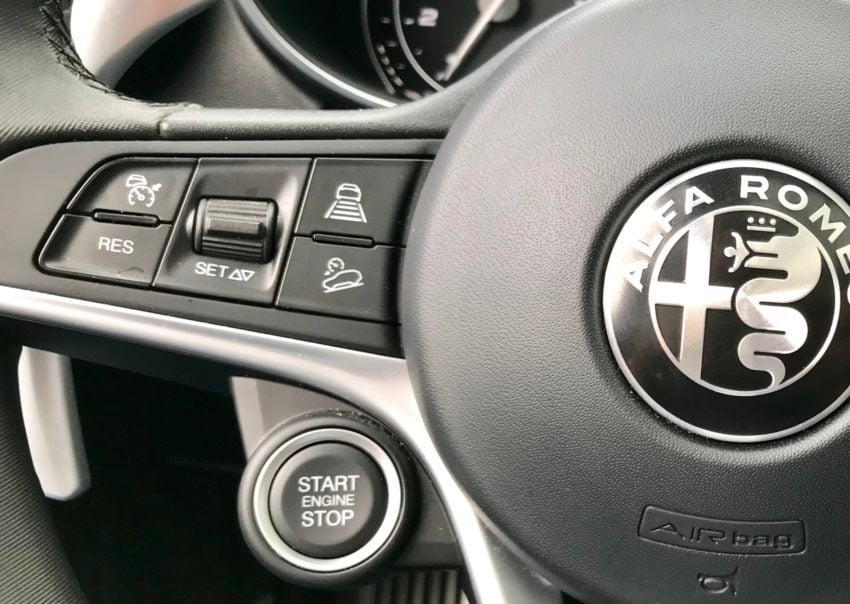 Do you hate constantly adjusting your cruise control, or giving up on cruise control because of traffic or due to a driver in front of you who keeps changing speed? You need a smart cruise control system.
Smart cruise control goes by many different names. You may see it listed as Radar Cruise, Adaptive Cruise or Intelligent Cruise control. Whatever it is called, it will allow you to set your cruise control and then stay with the flow of slower traffic.
Here's why we love it and why you need it. You get on the highway and set the cruise at 76 miles per hour. You also set the distance you want kept between you and the car in front of you. There are typically three or four settings so you can be close or keep a lot of space. Now you simply steer and your car will go 76 mile per hour when traffic allows it or there is no one in front of you. When someone is in front of you going 73 mph, the car automatically slows down to keep you the distance you choose from that car. This is indispensable in traffic and on long road trips.
Not all smart cruise control systems are the same. Some of work at all speeds, while others only work above a specific limit. Some systems can bring you to a complete stop in traffic and then restart without you needing to touch a pedal.
You can find adaptive cruise control on cars as cheap as $18,500 like the Toyota Corolla, and as an option on many cars below $30,000. Even on pricier cars you may need a higher trim level or special package to get this feature.