2018 Chrysler Pacifica Hybrid Review
The 2018 Chrysler Pacifica Hybrid offers around 30 miles of electric range, even with the heater on full blast in the middle of winter, and runs on regular fuel for longer trips. While it commands a higher up front price, the Pacifica Hybrid allowed me to do most of my daily driving with very little fuel and keep going when I needed to go on a longer trip. Even with gasoline only, the Pacifica Hybrid offers a very good 32 MPG combined.
This dramatically increases the value of the Pacifica, which comfortably seats seven people. The gasoline only Pacifica can seat up to eight, but with the Hybrid models you give up Stow N' Go Seating as well as the option for eight passengers. The interior on the Pacifica Hybrid Limited is top-notch, with Nappa leather and  very comfortable seats.
With the Uconnect Theater system to keep kids entertained, a smart key system to keep teen drivers under control, support for Apple Play, Android Auto and tons of power connections, the Pacifica Hybrid is ready for your connected life. Add on optional safety and driver convenience features like radar cruise control automatic parallel, along with perpendicular parking, and this minivan is at the top of the game.
[letsreview]
Which 2018 Pacifica Hybrid Should You Buy?
The 2018 Chrysler Pacifica Hybrid starts at $39,995 and goes up to $44,995 for the Limited, which is the model I tested. The 2018 Pacific Hybrid Limited came with upgraded wheels and the breathtaking Tri-Pane sunroof that really opens up the interior of the minivan. The total price was $48,580. The Limited is fully equipped with the Uconnect Theater, Advanced SafetyTec features and a 20 Speaker Harmon Kardon sound system.
While there is often a good reason to buy the middle trim level, the Limited is the best value when you buy the 2018 Pacifica Hybrid. For a small increase in price you get a lot of upgrades that you will actually use including automated parking, rear entertainment, premium leather seats and driver assistance features that are a key part of the driving experience.
Driving the 2018 Chrysler Pacifica Hybrid
The 2018 Pacifica drives like a minivan. There's no getting around that and it's a transition you will need to fine tune your driving to if you are used to driving a SUV. I love that the Pacifica Hybrid offers quick acceleration and a ride that is very cushioned, so you don't have to worry about feeling every pot hole and bump. There is a good deal of body roll, which was the hardest part of adapting to driving the Pacifica. This isn't unique to the Pacifica, it's something that is part of driving most minivans, but it is worth noting since you will need to adapt to this if you come from a car or SUV. The upside is the amount of space you get in the Pacifica compared to most SUVs.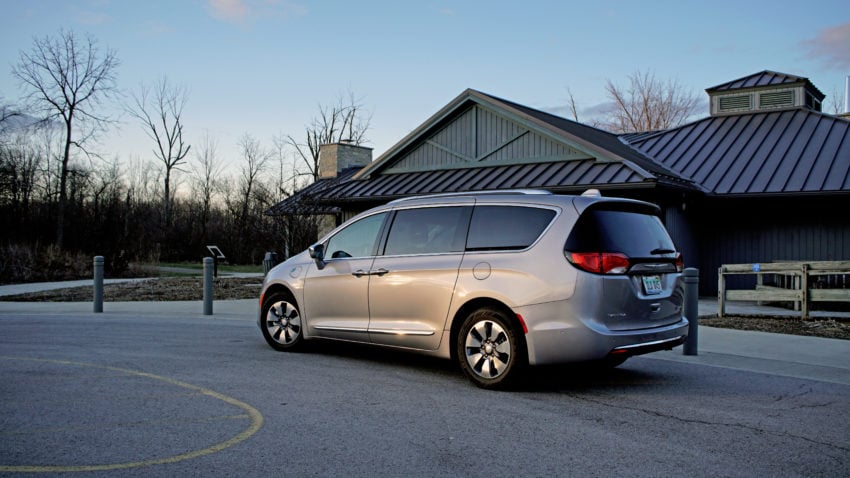 The shifter in the Pacifica is a knob that you turn. At first glance it looks like it is part of the stereo controls, but it is very easy to adjust to and shouldn't turn you off to buying a Pacifica.
Fully charged, the Pacifica Hybrid is rated for 33 miles on electric power and I routinely got around 27 to 30 miles on a charge while blasting the heat during a very cold week in Ohio. When the electric power runs out, I kept going with gas and still enjoyed good 32 MPG combined fuel efficiency. The V6 engine option is more than capable for the Pacifica.
Charging takes about 14 hours with a 110 outlet, which is the standard outlet in most homes, and if you connect to a level 2 220V charger you can get a full charge in 2 hours. I found charging with 110 was enough for most days, since there is a gas backup. If you want to take full advantage you should consider a 220V charger at home or to plug into one at work.





Using the 2018 Chrysler Pacifica Hybrid
The 2018 Chrysler Pacifica looks like a modern minivan and offers many conveniences that you would expect. The exterior styling is the same as the 2017 Pacifica and it looks a lot nicer than the minivans that I rode in as a child. It's still a minivan look, which may turn off some buyers. But with that design you get a vehicle that is easier to get in and out of, comes with more room inside and plenty of room for hauling kids or cargo.
Chrysler removes the Stow 'N Go seating option from the center row on the hybrid, so if you want access to that storage space you will need to remove the seats like in the old days. The back row easily folds down into the floor so you can quickly expand your cargo area.
All of the seats are comfortable and there is a decent amount of leg room for rear seat passengers. I really like seeing plenty of USB connections to charge gadgets as well as a second 12V adapter in the back cargo area. The Limited also includes a standard outlet so you can plug-in a laptop or even a game console to connect to the Uconnect Theater.
Getting in and out of the back seat isn't hard for a young adult. Older adults may have trouble squeezing in to the rear seat since the center captain chairs don't stow down when needed. I miss the Honda Odyssey's Magic Slide center row while using the Pacifica. The minivan feels very spacious thanks in part to the Tri-Pane sunroof that
I love that you can choose to automatically turn on the driver's heated or ventilated seat and heated steering wheel automatically when you remote start or when you start the vehicle. It would be nice to see an option to automatically turn on the passenger's heated or cooled seat as well.
The middle row can control the rear seat climate using a small control panel above the passenger side door or the front seat can control it with the Uconnect system.














2018 Chrysler Pacifica Hybrid Safety & Tech
Chrysler offers a lot of technology in the Pacifica. The Uconnect system is easy to use, responsive and connecting your iPhone or Android is a breeze. There is a Bluetooth option to connect wirelessly for calls and music or you can plug-in with a cable to use Android Auto and Apple CarPlay. I prefer to use Apple CarPlay or Android Auto, since this offers access to my apps, calls, messages and navigation on the screen as well as through voice control.
The 20 Speaker Harmon Kardon sound system is good, and handles louder volumes well. That's important if your solo time in the minivan is a time to jam out. Other smart features include a WiFi Hotspot that you can use to keep devices in the car connected to the Internet on long trips and Sirius XM Travel Link.
Sharing the Pacifica with a young driver is a little less stressful thanks to KeySense, which is a key that limits volume, won't play music if the seatbelts aren't buckled, set a low fuel warning earlier, limit the speed and change other safety features when this special key is used.





The Uconnect Theater is included standard with the Limited and if you are looking for entertainment in the car there is a lot of value here. You can pop a Blu-Ray in to play a movie on one or both screens. You can also plug in external devices with the two HDMI ports or stream to the screen. There are built-in apps that kids can play with using the included remote. Each screen has one remote and one pair of headphones. The remote includes a small touchpad to play games with and to navigate the system. From the front seat you can change some options and lock out the back seat controls and even turn the headphones or screens off.
Chrysler packs in tons of safety and convenience features including automatic parking for both parallel and perpendicular spots, radar cruise control, automatic high beams and blind spot monitoring with rear cross traffic alert. The parking assist is really handy if you hate squeezing into tight parking spaces and I love the adaptive cruise control for longer trips on the highway. With adaptive cruise control I set the speed I want to drive and the distance I want from the car in front of me and sensors will keep the van at the perfect cruising speed for the traffic and road. This supports stop and go, so if you are in traffic, the van will come to a full stop and then resume. Blind spot monitoring makes it easy to know if someone is in your blind spot and it's a must have on a bigger vehicle like a minivan.
Safety features include a surround view camera so you can see an overhead view as well as rear or front view of your surroundings. With Full Speed Collision Warning+ you get alerts about a potential crash at up to highway speeds and the system can apply automatic braking.
You Need These 10 Must Have Car Features: Find Out Why
Smart Cruise Control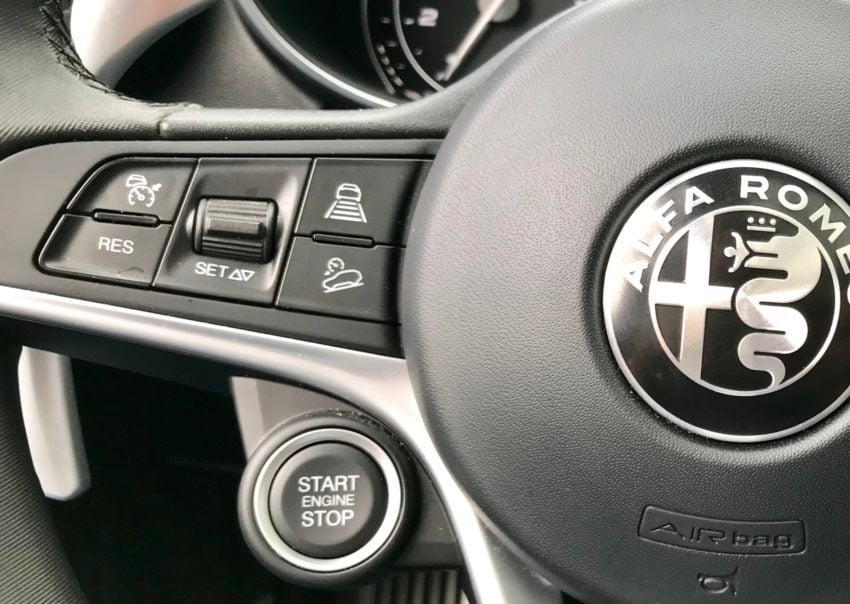 Do you hate constantly adjusting your cruise control, or giving up on cruise control because of traffic or due to a driver in front of you who keeps changing speed? You need a smart cruise control system.
Smart cruise control goes by many different names. You may see it listed as Radar Cruise, Adaptive Cruise or Intelligent Cruise control. Whatever it is called, it will allow you to set your cruise control and then stay with the flow of slower traffic.
Here's why we love it and why you need it. You get on the highway and set the cruise at 76 miles per hour. You also set the distance you want kept between you and the car in front of you. There are typically three or four settings so you can be close or keep a lot of space. Now you simply steer and your car will go 76 mile per hour when traffic allows it or there is no one in front of you. When someone is in front of you going 73 mph, the car automatically slows down to keep you the distance you choose from that car. This is indispensable in traffic and on long road trips.
Not all smart cruise control systems are the same. Some of work at all speeds, while others only work above a specific limit. Some systems can bring you to a complete stop in traffic and then restart without you needing to touch a pedal.
You can find adaptive cruise control on cars as cheap as $18,500 like the Toyota Corolla, and as an option on many cars below $30,000. Even on pricier cars you may need a higher trim level or special package to get this feature.