2018 Hyundai Tuscon Review
The Hyundai Tuscon is a stylish, small SUV with a great infotainment system, lots of safety features and plenty of cargo space. Hyundai delivers a perfect mix of space and style at a price that's hard to argue with.
The Tuscon fits into the lineup between the Hyundai Kona and the Santa Fe, offering a small utility vehicle that gives you enough room to haul what most drivers need, while staying small enough to easily maneuver.
You can buy the 2018 Hyundai Tuscon starting at $20,050 for the SE with multiple trim levels and a starting price of $26,925 for the Limited.
Is the 2018 Hyundai Tuscon a Good SUV?
After putting nearly 1,000 miles on the 2018 Hyundai Tuscon on a road trip, I loved the support for Apple CarPlay and Android Auto, blind spot monitors, comfortable ride and good fuel economy. The only thing I missed was smart cruise control, which isn't an option on the 2018 Tuscon.
The interior is nice and the inclusion of many standard safety features and available options rounds out the overall value.
I really like the Tuscon and it does many things well. If you are looking for a similar size SUV that offers a more thrilling drive, check out the Mazda CX-5.
[letsreview]
2018 Hyundai Tuscon Interior
The Tuscon interior is comfortable and laid out very well. While traveling across the midwest on a road trip with another adult we had plenty of room for drinks, snacks, sunglasses, charging cords and other items that end up in the center console or throughout the front seat. This is a great way to stress test the daily use of a small SUV that will soon hold your odds and ends.
While the interior materials don't stand out it feels well built and there is a lot of space for everyone. Even the backseat offers more legroom and headroom than you'll find in most of the competition. The panoramic moonroof option makes the cabin feel even bigger than it is.
The seats are comfortable, even on extended drives. The back seat is a little firmer, but still comfortable. There is even a slight recline option on the back seat. The Tuscon ride is good thanks to a suspension that helps absorb bad road conditions, but there is still enough connection that you don't feel floaty.
Engine and road noise is minimal when cruising at highway speeds. You'll hear the engine during hard acceleration, but the cabin is quiet enough for conversation at normal levels once you are at speed.
It's very easy to get in and out of the Tuscon's front seats thanks to tall, short doors. The rear seat is also very accessible, though taller passengers will need to bend in.
2018 Hyundai Tuscon Technology & Safety
The 2018 Hyundai Tuscon includes a very capable infotainment system with smart connectivity features that are free for the first three years.
This system includes Apple CarPlay and Android Auto, which makes taking calls, listening to music, responding to messages and getting directions easy. Just plug in your phone to the USB port and your apps are on the Tuscon's center screen.
The built-in USB port for CarPlay and Android Auto charges at a high speed, so your phone will stay charged even while powering navigation. In addition to the USB port, you can plug in a 12V adapter to charge other phones. There are three charging points, 2 up front and one in the cargo area.
The Infinity Premium Audio system sounds good, handling my Audiobooks and the Spotify playlists we needed in order to get through a long drive.
With Hyundai Blue Link your car is connected to the Internet so you can use your phone, watch or voice controlled smart home assistants to control your car. This allows you to unlock and lock the doors, sound the horn, remote start with climate control options and many other features that you can use to track the car or to set limits for teen drivers. This is free for three years and then $9.90 a month after.
Most of the 2018 Tuscon safety features are restricted to higher trim levels. You'll need to buy the SEL Plus or higher to get Blind Spot Detection, Lane Change Assist and Rear Cross Traffic Alert. If you opt for the top of the line Limited, you can add a package to get Lane Departure Warning, Automatic Emergency Braking with Pedestrian Detection and Rear Parking sensors.
Competing vehicles offer more standard safety features and include support for smart cruise control.
Driving the 2018 Hyundai Tuscon
The Hyundai Tuscon is available with two engine options. The entry level trim levels come with a 164 horsepower engine matched to a six speed transmission. The Tuscon Value and Tuscon Limited trim levels come with a turbocharged engine and a seven speed dual clutch transmission.
I tested the Limited with the Dual Clutch Transmission (DCT) and was impressed with the acceleration and the well timed shifts of the DCT. A Dual Clutch Transmission isn't a manual, but the automatic shifting feels more like a manual when the car changes gears. The Tuscon shifts very nicely and this is the engine to get if you can afford the price jump up to the Value or Limited.
Acceleration is better with the turbocharged engine. Handling is good, but it's not as sporty as the Mazda CX-5.
With the upgraded engine you can expect 25mpg city, that's 2 mpg better than the base model, and 30 mpg highway.
You Need These 10 Must Have Car Features: Find Out Why
Smart Cruise Control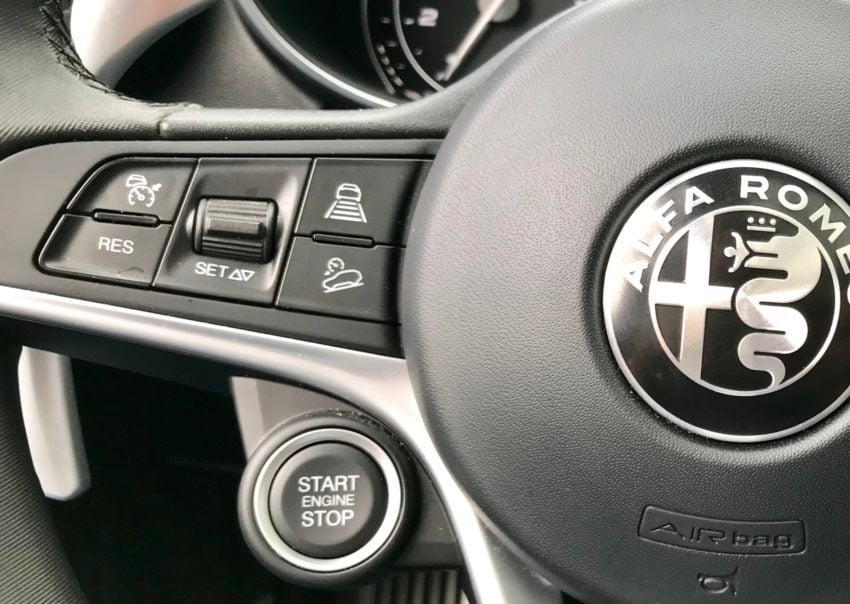 Do you hate constantly adjusting your cruise control, or giving up on cruise control because of traffic or due to a driver in front of you who keeps changing speed? You need a smart cruise control system.
Smart cruise control goes by many different names. You may see it listed as Radar Cruise, Adaptive Cruise or Intelligent Cruise control. Whatever it is called, it will allow you to set your cruise control and then stay with the flow of slower traffic.
Here's why we love it and why you need it. You get on the highway and set the cruise at 76 miles per hour. You also set the distance you want kept between you and the car in front of you. There are typically three or four settings so you can be close or keep a lot of space. Now you simply steer and your car will go 76 mile per hour when traffic allows it or there is no one in front of you. When someone is in front of you going 73 mph, the car automatically slows down to keep you the distance you choose from that car. This is indispensable in traffic and on long road trips.
Not all smart cruise control systems are the same. Some of work at all speeds, while others only work above a specific limit. Some systems can bring you to a complete stop in traffic and then restart without you needing to touch a pedal.
You can find adaptive cruise control on cars as cheap as $18,500 like the Toyota Corolla, and as an option on many cars below $30,000. Even on pricier cars you may need a higher trim level or special package to get this feature.