The 2018 Mazda CX-5 is an excellent compact SUV. It's fun to drive, handles nicely, and offers a lot of storage as well as driver tech. It's missing Apple CarPlay and Android Auto that are available on the Ford Escape and the Honda CRV.
Mazda's CX-5 is a noticeable step up in size from the 2018 Mazda CX-3 and, without the third row found in the 2018 Mazda CX-9, it feels like the perfect size for many buyers.
Is the 2018 Mazda CX-5 A Good SUV?
The 2018 Mazda CX-5 is one of my favorite SUVs despite the lack of CarPlay or Android Auto. The CX-5 is fun to drive, offers a good selection of safety features and a well-built interior.
I found the smaller CX-3's center console too cramped with no great way to use all of the space and, while I like the CX-9, the third row isn't great for adults. I'd rather have the CX-5.
If these three models are the porridge, the 2018 Mazda CX-5 is just right for me.
[letsreview]
What's New for 2018
Mazda didn't change a lot for 2018, but there are some important changes to consider. First off, there is slightly better fuel economy thanks to changes to the engine without reducing power. With the 2018 Mazda CX-5 Sport trim level you now also get more standard features, including blind spot monitoring with rear cross traffic alert, a leather wrapped steering wheel and a leather wrapped shifter. The Touring trim level now includes a full complement of active safety features as well. The top of the line Grand Touring trim remains relatively unchanged.
2018 Mazda CX-5 Interior & Design
The 2018 Mazda CX-5 interior is very well laid out and there are a lot of soft touch materials in the GT trim I tested. One of my biggest complaints about the 2018 Mazda CX-3 was the center console was cluttered and cramped, but everything fits perfectly in the CX-5.
Controls are easy for both the driver and passenger to reach. Cupholders and storage areas are ample and well suited to handling the collection of items my wife and I need in the car.
The driving position is just right and the front row seats are incredibly comfortable, wrapping up the driver and passenger for the long haul. I like the amount of seat positioning I can adjust in the driver seat to get it dialed in perfectly for me.
The second row seating offers decent legroom for adult passengers and it's easy for front and rear passengers to get in and out, even though the CX-5 sits a little higher than some of the competition.
From the outside the aggressive grille and front and will catch eyes and the sweeping lines really helps the design of this stand out.
The 2018 Mazda CX-5 isn't trying to compete with the Maserati Levante, but when I asked an friend who owns a Levante to check out the CX-5 she was impressed with the finish and with the overall style that Mazda is able to deliver at this price point.
The rear cargo area offers a decent amount of space, but it is smaller than other similar size compact SUVs. I love the cargo cover that rises with the rear door and retracts when you close it. It's a cool touch that makes a small difference every time you open the rear door to store something.
Overall, the interior is pretty quiet, but you will feel the bumps in the road more than in some other compact SUVs thanks to the firmer suspension that gives the CX-5 its fun driving characteristics.
Driving the 2018 Mazda CX-5
The 2018 Mazda CX-5 is fun to drive, which isn't something you can say about every compact SUV. The sportier suspension and Mazda touch set the CX-5 apart from most of the competition with a firmer ride that translates into more control and more fun.
Despite the focus on fun, the CX-5 accelerates slower than I'd like. It's in line with other compact SUVs that use a similar size engine, but many of the competition offer engine upgrade options. Braking is good, with a smooth stop that is easy to replicate.
While it takes a little longer to get to speed, once you are moving the CX-5's steering is spot on for the sporty feel that Mazda delivers. Steering feels a little heavier, but it's not a chore to turn. There's just enough weight that you get a better feel of where the wheels are aimed while driving at higher speeds.
The 2018 CX-5 can take turns at higher speeds than the competition without feeling like you are going to lose control. Hands down the Cx-5 is the best handling compact SUV out there.
Fuel economy is rated for 31 mpg on the highway for FWD and 30 mpg highway for AWD and 22 mpg in the city for both.





















2018 Mazda CX-5 Tech & Safety
The infotainment system in the 2018 Mazda CX-5 is easy to use with the touch screen or the dial control that sits on the center console. When stopped you can use either to control the screen, but touch is inactive while driving.
Mazda is bringing support for Apple CarPlay and Android Auto to vehicles this year and next, but neither is available on the 2018 CX-5. There is a chance it will come as an upgrade, but nothing is set in stone yet.
Setting up Bluetooth to stream music and handle calls is easy and the Bose sound system sounds very nice when I listened to audiobooks or when my wife tuned into SiriusXM Turbo.
This setup is good, but it comes up short compared to the Honda CRV and the Ford Escape with Sync 3.
The 2018 CX-5 comes standard with low speed automatic emergency braking and blind spot monitoring with rear cross traffic alert. Both of these will help you avoid accidents and are included in our must have new car features.
On the Touring and Grand Touring CX-5 trim levels you'll find a very capable adaptive cruise system that takes a lot of the strain out of long highway driving by keeping you with the flow of traffic without the need for constant speed adjustments. Mazda also includes lane departure warning and lane keeping assist to help keep the SUV in it's lane. On the Sport trim, you can upgrade to add some of these features with the Sport i-ActiveSense package.
You Need These 10 Must Have Car Features: Find Out Why
Smart Cruise Control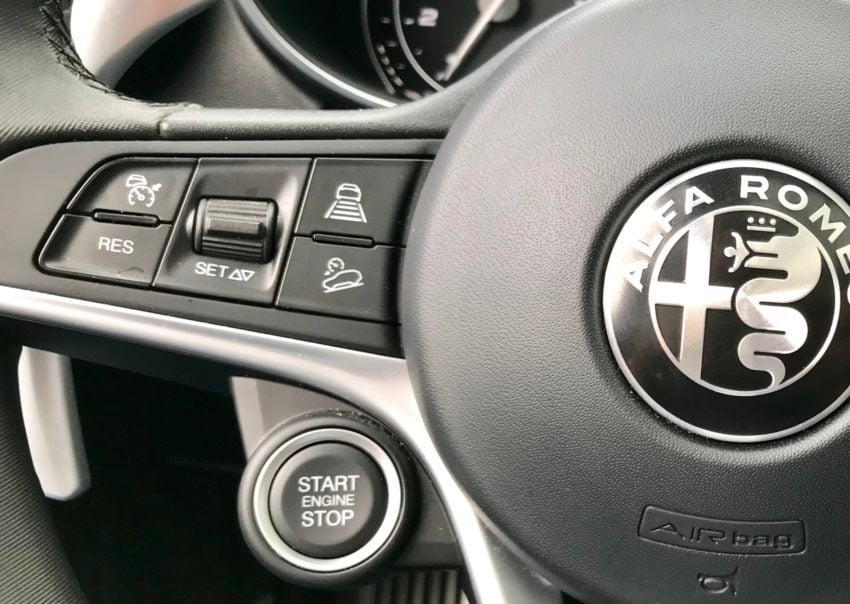 Do you hate constantly adjusting your cruise control, or giving up on cruise control because of traffic or due to a driver in front of you who keeps changing speed? You need a smart cruise control system.
Smart cruise control goes by many different names. You may see it listed as Radar Cruise, Adaptive Cruise or Intelligent Cruise control. Whatever it is called, it will allow you to set your cruise control and then stay with the flow of slower traffic.
Here's why we love it and why you need it. You get on the highway and set the cruise at 76 miles per hour. You also set the distance you want kept between you and the car in front of you. There are typically three or four settings so you can be close or keep a lot of space. Now you simply steer and your car will go 76 mile per hour when traffic allows it or there is no one in front of you. When someone is in front of you going 73 mph, the car automatically slows down to keep you the distance you choose from that car. This is indispensable in traffic and on long road trips.
Not all smart cruise control systems are the same. Some of work at all speeds, while others only work above a specific limit. Some systems can bring you to a complete stop in traffic and then restart without you needing to touch a pedal.
You can find adaptive cruise control on cars as cheap as $18,500 like the Toyota Corolla, and as an option on many cars below $30,000. Even on pricier cars you may need a higher trim level or special package to get this feature.