2018 Kia Niro PHEV Review
The 2018 Kia Niro PHEV (plug-in hybrid) is a nice crossover that offers a great deal of interior room for the size, a modern sporty look that doesn't scream I'm a hybrid look at me, and it packs in the latest tech that you'll want in a new car.
Available in three trim levels, the Kia Niro Plug-in Hybrid starts at $27,900 and goes up to $34,500 for the EX Premium trim level. This is more expensive than the hybrid Niro, but is still eligible for tax credits. I tested the 2018 Kia Niro PHEV EX Premium, which includes a range of safety and convenience features.
Is the 2018 Kia Niro PHEV a Good Crossover?
The 2018 Kia Niro plug-in hybrid is a good crossover. With this model you get the same amount of storage as the non-hybrid version, so you don't need to give up any of the utility by going green. with 105 MPGe, and an all-electric range up to 26 miles, the Niro PHEV offers a compelling alternative to the Prius Prime.
Although this is a small SUV, known as a crossover, it offers decent room for up to four adults.
The plethora of safety and driver convenience features, an easy infotainment system with Apple CarPlay and Android Auto support rounds out the offering.
[letsreview]
2018 Kia Niro Plug-In Hybrid MPG & Range
The EPA rates the Kia Niro PHEV mpg at 105 MPGe and 46 mpg when on gasoline only power.
You can get up to 26 miles on the Kia Niro battery, but this will vary in real world use. With climate control handling the heat in Ohio the electric range dropped closer to 20-22 miles during my week with the Niro PHEV.
Once the all-electric range is spent, you can continue with gas-electric hybrid power. You can charge with an included 110V charger through almost any home outlet or at public charging stations. If you run out of battery power, you still get good fuel economy.
Driving the 2018 Kia Niro PHEV
The 2018 Niro PHEV drives and handles much like you would expect a crossover to.
The Niro PHEV responds quickly when you press the gas, giving you an engaging driving experience that won't leave crossover drivers hoping for more power. There is a Sport mode that adds a little more pep to the throttle if you need to spice up your drive.
Overall the Niro PHEV does a good job of mixing gas and electric power after the all-electric range is depleted, but there are occasional bouts of indecision as the vehicle searches for the perfect blend of power.
One catch to using the Niro PHEV in all-electric mode is that when you have the heater on, the engine is running. There is no heat pump like you'll find in the Toyota Prius Prime or heating system like the Chevy Volt uses.
There is no option for all wheel drive, a downside in the midwest, but not a dealbreaker for everyone.
2018 Kia Niro PHEV Tech & Safety
Kia's UVO infotainment is easy to use, includes a 7-inch touchscreen that is responsive and easy to see while driving. Apple CarPlay and Android Auto are standard on the Niro PHEV.
You can plug your iPhone or Android phone in and use your apps, phone, messages, navigation, music and audiobooks on the in-screen console. This is available at a glance while driving and you can also use voice control.
The system also supports Bluetooth for phone calls, streaming music and Sirius XM. Call quality is above average and the upgraded Harmon Kardon sound system sounds good.
On the Kia Niro PHEV there are a lot of safety and convenience features. You'll need to upgrade to the EX trim level or the EX Premium to get some of these, but thankfully there are a lot of standard features including;
Lane Keep Assist
Forward Collision Warning
Backup Camera
Autonomous Emergency Braking
Smart Cruise Control
On the higher trim levels you also get Blind Spot Detection with Rear Cross Traffic Alert and on the EX Premium you get a parking assist system with sensors to let you know if you are close to something.
The Smart Cruise Control system works very well, reducing driver fatigue on longer trips. While not as exciting in day-to-day use, the Autonomous Emergency Breaking is a great feature that can help you avoid accidents.
2018 Kia Niro PHEV Design & Interior
While many electric vehicles focus on delivering a small hatchback style, futuristic interiors and interesting design choices, the Niro PHEV looks like a normal crossover. The exterior looks like a modern small SUV, and that's perfect for many urban buyers who need something that fits into tight spots, but also has room for adventures or trips to the store.
The interior is spacious for such a small SUV and you don't sacrifice any cargo room by going with the plug-in hybrid thanks to batteries under the rear seat and cargo area.
You'll find plenty of space for four adult passengers. Up front heated and cooled seats on the EX Premium help reduce the need to use the climate controls as much. The higher seat position is at a nice point between a car and a full SUV, giving you an elevated look at the road.
You Need These 10 Must Have Car Features: Find Out Why
Smart Cruise Control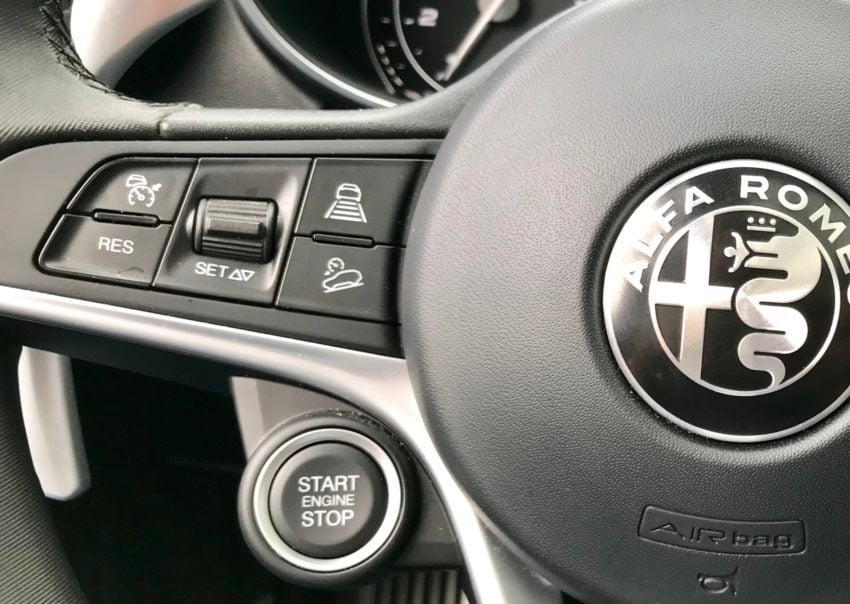 Do you hate constantly adjusting your cruise control, or giving up on cruise control because of traffic or due to a driver in front of you who keeps changing speed? You need a smart cruise control system.
Smart cruise control goes by many different names. You may see it listed as Radar Cruise, Adaptive Cruise or Intelligent Cruise control. Whatever it is called, it will allow you to set your cruise control and then stay with the flow of slower traffic.
Here's why we love it and why you need it. You get on the highway and set the cruise at 76 miles per hour. You also set the distance you want kept between you and the car in front of you. There are typically three or four settings so you can be close or keep a lot of space. Now you simply steer and your car will go 76 mile per hour when traffic allows it or there is no one in front of you. When someone is in front of you going 73 mph, the car automatically slows down to keep you the distance you choose from that car. This is indispensable in traffic and on long road trips.
Not all smart cruise control systems are the same. Some of work at all speeds, while others only work above a specific limit. Some systems can bring you to a complete stop in traffic and then restart without you needing to touch a pedal.
You can find adaptive cruise control on cars as cheap as $18,500 like the Toyota Corolla, and as an option on many cars below $30,000. Even on pricier cars you may need a higher trim level or special package to get this feature.