In an SUV filled world the minivan is still the best option for many families and the Kia Sedona is a tempting option.
Starting at $27,000 and available with first class seating for the second row in the $42,000 SXL Trim level there are a lot of options to help you customize the 2018 Kia Sedona to fit your life and your family.
The 2018 Kia Sedona is unchanged from the 2017 model. It's available with seven or eight passenger seating configurations and you can get it with dual sunroofs.
Is the 2018 Kia Sedona a Good Minivan?
This is especially true with the Sedona SXL trim level that includes an optional middle row upgrade that includes chairs that recline, pop out thigh rests and offer a headrest that adapts to deliver the perfect lounging position for long road trips. You might end up putting a kid in the front seat and taking one of these for yourself.
The 2018 Sedona does all the standard minivan tasks well, with ample room for passengers, a deep space in the back for luggage and cargo, plenty of charging ports throughout the car and it comes complete with Apple CarPlay & Android Auto support up front.
You'll find available safety features like Blind Spot Detection and Forward Collision Warning alongside other safety and tech options.
The catches that hold the 2018 Sedona back from true greatness is the lackluster fuel economy and the first class seats in the second row aren't designed for easy removal if you need to use the minivan for hauling loads of cargo. On lower trim levels you get slide and stow seating that folds the second row up to the back of the driver seat when you need more room, and this is an option on the SXL if you need the space over second row comfort.
The Honda Odyssey delivers 6 mpg more than the Sedona SX Limited and the Chrysler Pacifica's Stow & Go seating makes cargo hauling a breeze.
[letsreview]
Driving the 2018 Kia Sedona
The 2018 Kia Sedona is nice to drive thanks in part to a powerful V6 engine that gives you more than enough power and pep to get around town, merge into traffic and get up to highway speed.
Forget the engine vibrations and annoying noise from the minivans you grew up in, this is a more refined experience. The Sedona is geared towards comfort and it delivers that with the ability to soak up most bumps in your ride. On bad roads at high speeds it can't quite keep up with the bumps.
Handling is good and even though you're in a minivan, maneuverability isn't an issue. The steering makes it easy to navigate tight parking lots and school pickup zones.
The biggest drawback is the fuel economy. The 2018 Sedona SXL is rated at 17 mpg city, 22 mpg highway and 19 mpg combined. That's 6 mpg less than the Honda Odyssey.
2018 Kia Sedona Interior & Features
The 2018 Kia Sedona seats seven passengers standard, but you can get an optional eight passenger configuration that puts a removable third seat in the second row. With tri-zone climate controls, you can keep everyone comfortable.
The Sedona's front seats are very comfortable, delivering a pleasant place to sit for long road trips without constant stops to stretch. Optional upgrades include 8 way power adjustments on the front seats, heated and cooled front seats and a heated steering wheel which make for a very enjoyable experience.
In the second row you can seat three with the optional eight passenger option. I tested the SXL with the Prestige Package that puts two first class captain's chairs in the second row. These don't slide and stow like the other Sedona seats, but they prioritize comfort. These seats recline, include a pop out leg rest and an adjustable headrest. It's an epic experience for your kids, and when it's combined with the pop up screen and the second sunroof it may help stave off the "Are we there yet?, cries for a few more miles. There are optional heated second row seats.
You can also opt for Nappa leather seat trim throughout the cabin for a higher end feel. Even on the entry-level models the cabin doesn't feel cheap, and it's a classy look and feel on the top of the line SXL trim. I love the buttons on the front passenger seat that makes it easy for the driver to move the position.
The third row of the Kia Sedona is tight for adults, but it will handle young kids easily. Getting in and out of the third row is easy enough, even with the first class seating in the second row.
When it comes to cargo, I like the deep back section that is perfect for groceries or for luggage when the seats are in use. The optional cargo net is the best $50 upgrade you can add to your minivan. It holds groceries and other gear and quickly disconnects when you need to haul other cargo. The flashlight that stows in the rear is a handy addition. The hands free liftgate is pretty slick. Just stand by the back of the minivan with the key in your pocket and it will open automatically. No foot waving needed.
The third row stows into this space for a flat floor when you need to haul more cargo. The first class seats are not easily removed, which will limit cargo capacity, but the standard slide and stow seating moves to the front of the minivan to open up more room for cargo. The Honda Odyssey offers more cargo room, but the second row seats need to be removed.
2018 Kia Sedona Tech & Safety
Depending on the trim level you choose you'll get a 5-inch, 7-inch or 8-inch touchscreen in the 2018 Sedona. On the 7-inch and 8-inch screens you also get support for Apple CarPlay and Android Auto. These features and other upgrades make the 2018 Kia Sedona EX trim level the sweet spot for most buyers.
The 7-inch and 8-inch screens are easy to see, buttons are easy to locate and overall this is a very useful infotainment system. All of the models include Bluetooth connectivity for streaming and for phone calls.
There are loads of USB ports for charging and in the SX and SXL trim levels there is a 110V power inverter in the center console. On the SXL a second inverter is located in the rear cargo area and you can add this as an option on the SX trim.
It's lacking some of the high-tech options like a back seat camera, intercom and party playlist features that you can find on the Honda Odyssey, but it is well equipped.
The 2018 Kia Sedona received a five-star safety rating from the NHTSA and it includes many available safety and convenience features. There are full LATCH child-seat connections on four of the seats in the rear.
A rear view camera is standard on all trim levels. Parking assist sensors are available as an option on the LX and standard on the higher trim levels. You can get a surround view monitor on the SX and it is standard on the SX Limited.
Other safety features like Autonomous Emergency Braking, Forward Collision Warning, Lane Departure Warning, Blind Spot Detection, Rear Cross Traffic Alert and Smart Cruise are optional on the LX, EX and SX. These are standard on the SXL trim level we tested. The Smart Cruise works very nicely as does Blind Spot Detection. The Surround View and Parking Assist make getting in and out of tight spaces very easy.
If you're looking for value, check out the 2018 Kia Sedona EX with the Advanced Premium Package to get the best add-on features and a healthy mix of standard features.
On the SXL trim you also get Active Bending Lights. When you turn the wheel, the headlights turn slightly to illuminate where you are going, instead of always pointing straight ahead. This makes night driving way easier than with standard headlights.
You Need These 10 Must Have Car Features: Find Out Why
Smart Cruise Control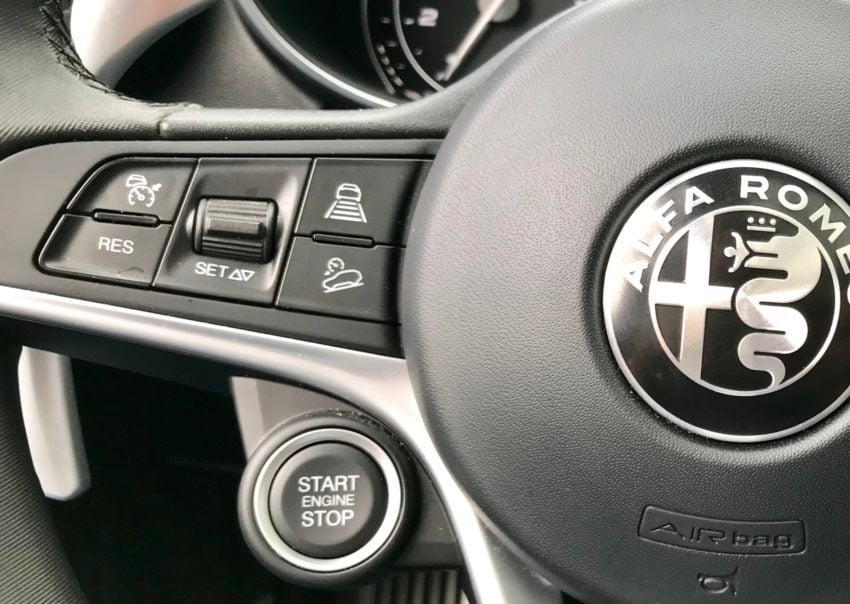 Do you hate constantly adjusting your cruise control, or giving up on cruise control because of traffic or due to a driver in front of you who keeps changing speed? You need a smart cruise control system.
Smart cruise control goes by many different names. You may see it listed as Radar Cruise, Adaptive Cruise or Intelligent Cruise control. Whatever it is called, it will allow you to set your cruise control and then stay with the flow of slower traffic.
Here's why we love it and why you need it. You get on the highway and set the cruise at 76 miles per hour. You also set the distance you want kept between you and the car in front of you. There are typically three or four settings so you can be close or keep a lot of space. Now you simply steer and your car will go 76 mile per hour when traffic allows it or there is no one in front of you. When someone is in front of you going 73 mph, the car automatically slows down to keep you the distance you choose from that car. This is indispensable in traffic and on long road trips.
Not all smart cruise control systems are the same. Some of work at all speeds, while others only work above a specific limit. Some systems can bring you to a complete stop in traffic and then restart without you needing to touch a pedal.
You can find adaptive cruise control on cars as cheap as $18,500 like the Toyota Corolla, and as an option on many cars below $30,000. Even on pricier cars you may need a higher trim level or special package to get this feature.

As an Amazon Associate I earn from qualifying purchases.