2018 Lexus LS 500 F Sport Review
The 2018 Lexus LS 500 at first sounds like it's the upscale answer for buyers who like the LC 500, but want room for passengers or a kid. The 2018 Lexus LS 500 F Sport is many things, but it isn't the sedan version of the V8 powered LC 500.
Lexus delivers an elegant luxury sedan, and the F-Sport upgrade helps it pack a punch, but even with a beautiful interior and sleek design we're left wanting more — like a V8 or at least less turbo lag.
Is the 2018 Lexus LS 500 a Good Car?
The 2018 Lexus LS 500 F Sport excels as a luxury sedan, but it's not going to fill the role of a proper luxury performance sedan that comes with a V8 and more commitment to performance.
A stunning interior with excellent craftsmanship and materials backs up the luxury end of the LS. Lexus also doesn't support CarPlay on the Lexus LS 500, and you need to use a distracting touchpad to control the infotainment system.
The Lexus LS 500 is for you if you want a luxury sedan, but the F Sport treatment doesn't deliver the same thrill as it does across the rest of the Lexus lineup.
[letsreview]
2018 Lexus LS 500 Performance
The LS 500 F Sport is a $6,000 upgrade over the standard LS 500, and it delivers a noticeably more aggressive body style and upgraded wheels, but you don't get any more horsepower by upgrading the F Sport.
The twin turbocharged  3.4L V-6 is strong and it does pack 416 horsepower, but it's not as quick as the competition and ultimately there's enough lag between pressing the pedal and the get up and go, that you'll wonder what the F Sport is delivering. The LS 500 will go 0-60 in 4.6 seconds
Ultimately the LS 500 is best in the comfortable driving mode where it delivers the smooth ride you expect, with plenty of power. The sedan stays in Normal or Comfort modes, but you need to dial on Sport or Sport+ modes each time you start the car.
The LS 500 AWD is rated at 18 mpg city and 27 mpg highway. I came up a little short when favoring Sport+ mode, but in Normal mode this is achievable.
The 2018 LS 500 AWD delivers a more engaging throttle in Sport+ mode and you get better exhaust note, but you'll need to live with a ride that doesn't soak up the road like you expect in a luxury sedan. If you opt for the rear wheel drive LS 500 F Sport, you can add-on an adaptive air suspension that could help smooth out the ride.
With the F Sport you get special 20-inch rims and rear tires that are slightly wider. You also get a really cool looking F Sport moving gauge on the dash and other upgrades, but they are mostly cosmetic.
2018 Lexus LS 500 Tech
For all the excitement and luxury that Lexus delivers on the road and in the comfortable cabin, you lose out on tech in the Lexus LS 500.
Lexus doesn't support Apple CarPlay or Android Auto in the LS 500. It is coming to the 2019 Lexus ES, and likely to other models in 2019, but there is no clear upgrade path.
The large screen is beautiful to look at, and I like that you can use it to show two different sections of the infotainment at the same time, like music and maps. Ultimately the trackpad control is frustrating to use and it's distracting while driving.
Lexus delivers good sound with the Mark Levinson 23-speaker 2,400 Watt sound system. Bluetooth and line in connectivity make playing your music and taking calls a breeze.
A massive 24-inch color heads up display shows your speed, the speed limit, navigation information, RPM, current gear and other information easily while keeping your eyes on the road.
2018 Lexus LS 500 F Sport Design & Interior
The more aggressive and sporty design is one of the biggest reasons to spend the extra $6,000 on the F-Sport trim. A beautiful pronounced spindle grille and unique front end adorns the F-Sport trim level. You also get specific F-Sport wheels.
Yes, this is a bigger car and the design doesn't try to hide that. You get a roomy interior with plenty of space for passengers in the front or back of the car. There's a huge trunk that can hold your luggage and your golf clubs. You can also wave your foot under the trunk to open and close it.
The interior of the LS 500 is stunning. Full stop. Lexus knocked it out of the park with a beautiful black leather interior and a Naguri Aluminum trim. Lexus accentuates the leather dash with aluminum accents that run from the passenger side across the vents and into the instrument cluster.
The backseat of the LS 500 is spacious, and can comfortably seat adults passengers. If you don't want the F Sport trim, you can opt for an impressive Executive package that upgrades the back seat with 22-way adjustable seats with massage, climate controlled seats, rear touchscreen controls and many other luxury upgrades.
2018 Lexus LS 500 Safety
The LS 500 packs in a full complement of safety and convenience features. The Lexus Safety System+ is standard with important active safety features including;
Pre-Collision with Pedestrian Detection
Lane Assistance
Intelligent High Beams
Dynamic Radar Cruise Control
The Pre-Collision system will help prevent accidents with cars or pedestrians. Lane assistance will help steer to keep you in your lane. This isn't semi-autonomous driving, it's a backup if you veer out of your lane. Intelligent high beams turn your brights on and off based on traffic and other factors.
My favorite feature is the radar cruise control, which does a very good job of keep a safe distance in between you and the car in front of you without constantly adjusting cruise control.
Another great feature that is standard is blind spot monitoring with rear cross traffic alerts. The Panoramic View Monitor is a nice option that gives you a bird's-eye view of your surroundings. It's essential if you are in tight parking spots every day.
You Need These 10 Must Have Car Features: Find Out Why
Smart Cruise Control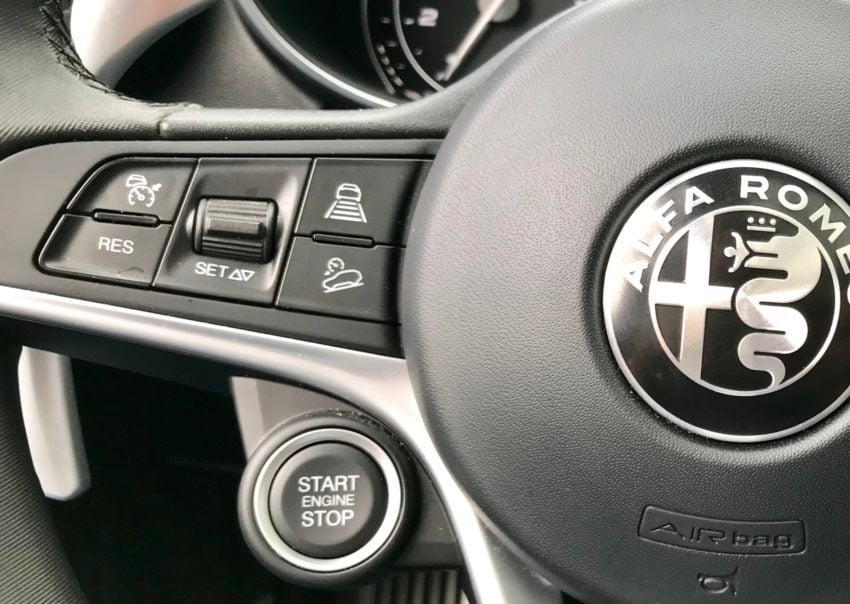 Do you hate constantly adjusting your cruise control, or giving up on cruise control because of traffic or due to a driver in front of you who keeps changing speed? You need a smart cruise control system.
Smart cruise control goes by many different names. You may see it listed as Radar Cruise, Adaptive Cruise or Intelligent Cruise control. Whatever it is called, it will allow you to set your cruise control and then stay with the flow of slower traffic.
Here's why we love it and why you need it. You get on the highway and set the cruise at 76 miles per hour. You also set the distance you want kept between you and the car in front of you. There are typically three or four settings so you can be close or keep a lot of space. Now you simply steer and your car will go 76 mile per hour when traffic allows it or there is no one in front of you. When someone is in front of you going 73 mph, the car automatically slows down to keep you the distance you choose from that car. This is indispensable in traffic and on long road trips.
Not all smart cruise control systems are the same. Some of work at all speeds, while others only work above a specific limit. Some systems can bring you to a complete stop in traffic and then restart without you needing to touch a pedal.
You can find adaptive cruise control on cars as cheap as $18,500 like the Toyota Corolla, and as an option on many cars below $30,000. Even on pricier cars you may need a higher trim level or special package to get this feature.