The 2018 Mazda 3 sedan is a fun, and still practical, sedan. The Mazda 3 looks great, delivers the fun driving experience you expect from Mazda and it's very affordable.
Available in a five door Mazda 3 Hatchback, or as a Sedan, the Mazda 3 is available in a variety of trims to match your needs. The four door Mazda 3 sedan is the perfect small sedan for many buyers if you value a fun driving experience.
Is the 2018 Mazda 3 Sedan a Good Compact Car?
The 2018 Mazda 3 is a good compact car option in an increasingly crowded space. The driving dynamics make me smile when I find a curvy road, but there's enough room for passengers and cargo to make it practical. I do miss Apple CarPlay & Android Auto support, but like the standard safety features Mazda includes.
Starting at $18,095, the Mazda 3 is still very affordable and offers a lot of value at $27,070 as tested with the Grand Touring model with the Premium Equipment Package.
[letsreview]
What's New for 2018?
New for 2018, you can opt for the more powerful engine option on additional trim levels and there is more standard safety equipment included on the Mazda 3.
The 2.5L engine that we tested on the 2018 Mazda 3 Grand Touring is also available on the Touring model.
All trims come with standard automatic emergency braking, improving the safety of the compact car.
The Sport and Touring prices jump slightly, while the Grand Touring trim stays the same. You can add blind spot monitoring and rear cross traffic alert to the Sport with an optional package. This feature is standard on the Touring and Grand Touring trims.
2018 Mazda 3 Interior & Design
The 2018 Mazda 3 sports good looks with flowing body lines and an aggressive front. It's modern and stylish without trying too hard to look like it's not an affordable compact car.
Inside, the 2018 Mazda 3 interior setup is well done, though there is a mix of nice soft touch materials and hard plastic. That's something you'll be hard pressed to avoid in a compact car at this price range. Mazda melds the two nicely in this sedan.
The front seats are both comfortable and supportive. Up front everything feels roomy and the controls are well placed so you can easily use them while driving.  The backseat offers decent legroom for a compact. Headroom isn't great for taller passengers. Getting in and out of the front and rear seats is easy.
This compact delivers a balanced ride that is composed enough for fun driving, but still comfortable on rougher roads where bumps can wear on you and your passengers. You can find quieter compact cars, but road and wind noise aren't loud enough to be distracting.
One downside is the smallish trunk that limits the cargo you can haul without folding the seats or using them for storage.
Driving the 2018 Mazda 3
The 2018 Mazda 3 is fun to drive. It's not packing massive amounts of power under the hood, but it's a small car and it's designed to handle and drive like a Mazda — which is to say spirited.
The 2.5L DOHC engine and 6 speed sport automatic transmission in the Grand Touring delivers 184 horsepower and 185 lb.-ft of torque. This is the engine that you want in your Mazda 3. It's standard on the Touring and Grand Touring.
I was particularly pleased with the performance on winding roads, and went out of my way to find them while driving. Mazda's G Vectoring Control system and great electronic steering in the Mazda 3 combine to deliver a very fun and quick driving experience. When taking corners the Mazda 3 feels confident and easy to control, which adds to the fun factor.
You can opt for a six-speed manual or automatic at any trim level and come away happy with either choice. If you go with the automatic, the paddle shifters included in the Premium Equipment Group are a smart option to add.
The Mazda 3 is efficient, with 27 mpg city, 36 mpg highway and 30 mpg mixed with the 2.5L engine and automatic transmission. This drops to 34 mpg highway with the manual.
2018 Mazda 3 Tech & Safety
The 2018 Mazda 3 includes the standard Mazda infotainment system that is capable, but that doesn't stand out. The touch screen is responsive and you can also use a joystick and dial for controls. It's better than a touchpad, but I still prefer tapping the screen.
Mazda doesn't support Apple CarPlay or Android Auto on the Mazda 3 yet. They offer this tech on the 2018 Mazda 6 and we may see an upgrade option for other Mazda models, but we're still waiting on details. The Bose 9 speaker sound system is good and a nice upgrade over most stock stereos in this segment.
Standard safety features include Automatic Emergency Braking across all trim levels. On the Touring and higher, you also get Blind Spot Monitoring and Rear Cross Traffic Alert standard. You can add this to the Sport trim with the Preferred Equipment Package.
On the Grand Touring, you can also add the Premium Equipment package to add:
Automatic High Beams
Adaptive Front Lighting – Headlights that turn slightly to illuminate where you are going
Mazda Naviagation
Lane Departure Warning
Lane Keep Assist
Mazda Radar Cruise Control
Traffic Sign Recognition
and other features
This $1,600 upgrade includes many of the features I recommend looking for on a new car at an affordable price. If you can afford it, this is a package you should look for when buying a 2018 Mazda 3. The radar cruise control works very well and makes long road trips easier to deal with by keeping you at your set speed or at speed with the traffic if someone in front of you is going slower.
You Need These 10 Must Have Car Features: Find Out Why
Smart Cruise Control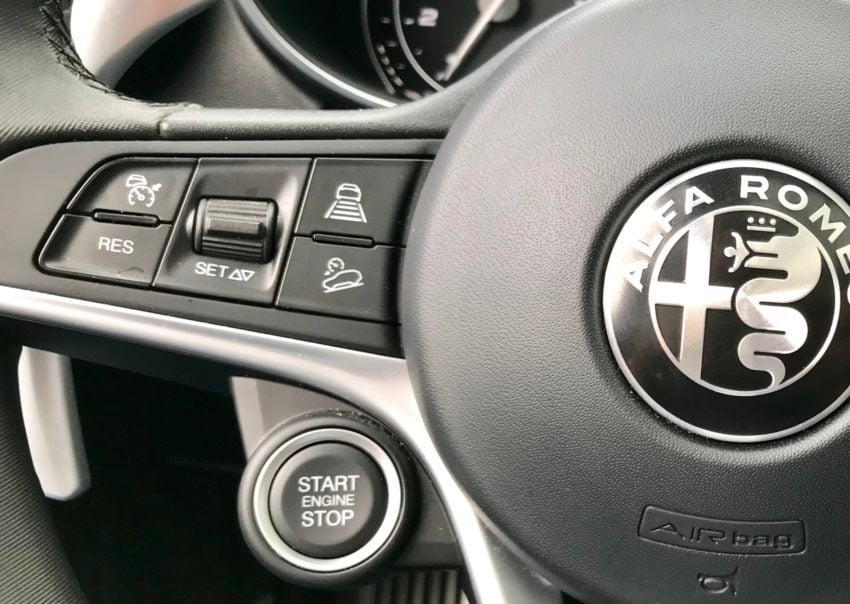 Do you hate constantly adjusting your cruise control, or giving up on cruise control because of traffic or due to a driver in front of you who keeps changing speed? You need a smart cruise control system.
Smart cruise control goes by many different names. You may see it listed as Radar Cruise, Adaptive Cruise or Intelligent Cruise control. Whatever it is called, it will allow you to set your cruise control and then stay with the flow of slower traffic.
Here's why we love it and why you need it. You get on the highway and set the cruise at 76 miles per hour. You also set the distance you want kept between you and the car in front of you. There are typically three or four settings so you can be close or keep a lot of space. Now you simply steer and your car will go 76 mile per hour when traffic allows it or there is no one in front of you. When someone is in front of you going 73 mph, the car automatically slows down to keep you the distance you choose from that car. This is indispensable in traffic and on long road trips.
Not all smart cruise control systems are the same. Some of work at all speeds, while others only work above a specific limit. Some systems can bring you to a complete stop in traffic and then restart without you needing to touch a pedal.
You can find adaptive cruise control on cars as cheap as $18,500 like the Toyota Corolla, and as an option on many cars below $30,000. Even on pricier cars you may need a higher trim level or special package to get this feature.