The 2018 Mazda CX-9 is a beautifully bold-looking three row SUV that delivers impressive handling for the size and a high-end interior that looks and feels beautiful. This is the larger sibling to the CX-5 and, with it, you get room for seven passengers, easy access to the third row as well as optional all wheel drive.
Available in four trim levels and starting at $32,130, the CX-9 offers a wide range of safety and driver convenience features. It's not as roomy as the Chevy Traverse and you won't find Apple CarPlay or Android Auto on the CX-9, but Mazda offers nicer handling. Mazda is adding Apple CarPlay to some vehicles, but it is not clear if it will come to the 2018 CX-9.
[letsreview]
What's New for 2018?
Mazda sticks with the same basic look from 2016, but now buyers get more standard safety features including; low-speed automated emergency braking, blind spot monitoring and rear cross traffic alert. The CX-9 also comes standard with G-Vectoring control which helps with the handling through corners. Mazda adds in a new Soul Red Crystal color option for 2018 as well as new packages and trim adjustments that add more seat adjustments as well as a heated second row.
What It's Like to Drive the 2018 Mazda CX-9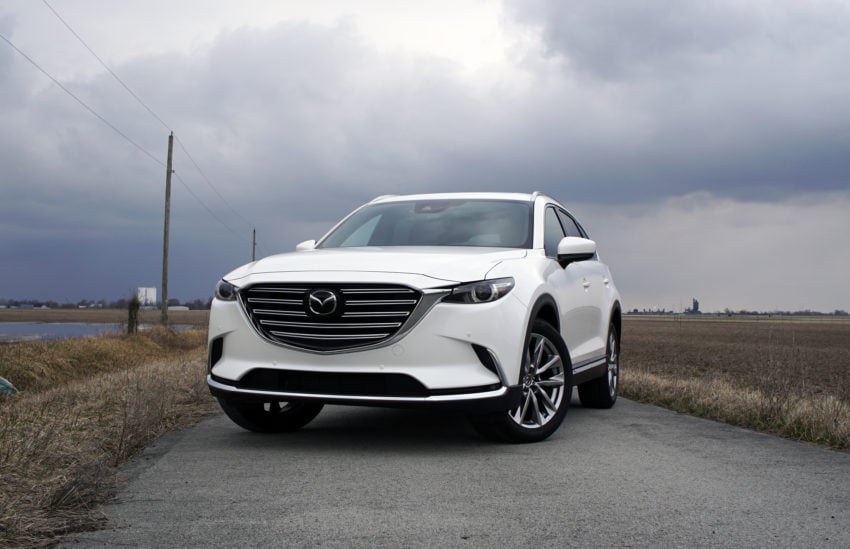 After just five minutes behind the wheel, you'll wonder if someone slipped you into a smaller CX-5. The 2018 CX-9 is a sporty three row SUV that handles and drives like a smaller SUV or crossover. That's great when you stack it up against the competition which, in most cases, feel as big or bigger than they are.
The CX-9 offers very good acceleration from a complete stop. It's in line with the competition here, but it feels quicker than expected. The braking is good and not grabby at all during standard use. The transmission is smooth and, when you toggle sport mode on, the shift points change slightly for a little more power and pep.
Mazda delivers impressive handling and steering in the 2018 CX-9. It's easy to stay in your lane without constant micro-corrections and when you do turn the response is quick and you feel in control the whole time. The handling is incredible for a three row SUV. And, while you can feel the SUV lean slightly when cornering at higher speeds due to the higher position, it never builds too much. The result is  a seven passenger SUV that drives like one you'd be hard pressed to cram five people into.
You'll get around 28 mpg on the highway and 22 mpg in the city, which isn't bad for a three row SUV. With All Wheel Drive this drops to 26/20 mpg, but it's a good trade-off in snowy regions.
2018 Mazda CX-9 Design & Interior
The bold style of the 2018 CX-9 starts with an attention demanding nose and grille. This sets the tone for moderately aggressive body lines and a stylish look. The style is essentially the same as the 2017 and 2018 models, but it looks like it could just as easily been introduced at an auto show earlier this year.
This sleek look comes at a cost though. Inside there is less headroom for second row passengers and less cargo room behind the third row that you will find in some of the competition. The middle row offers decent legroom, but older passengers missed the added legroom that came with the Traverse and made exiting easier. That said, the interior feels much larger than you would expect from the outside.
The front and middle row seats are comfortable, but wider passengers may feel cramped by the seatbelt placement on the second row. Driver seat controls offer a lot of adjustment and allow tall or shorter drivers to easily find a comfortable position. The middle row seats are heated on higher trim levels. The third row is good for young kids, but it's not going to fill out the seating for seven adults.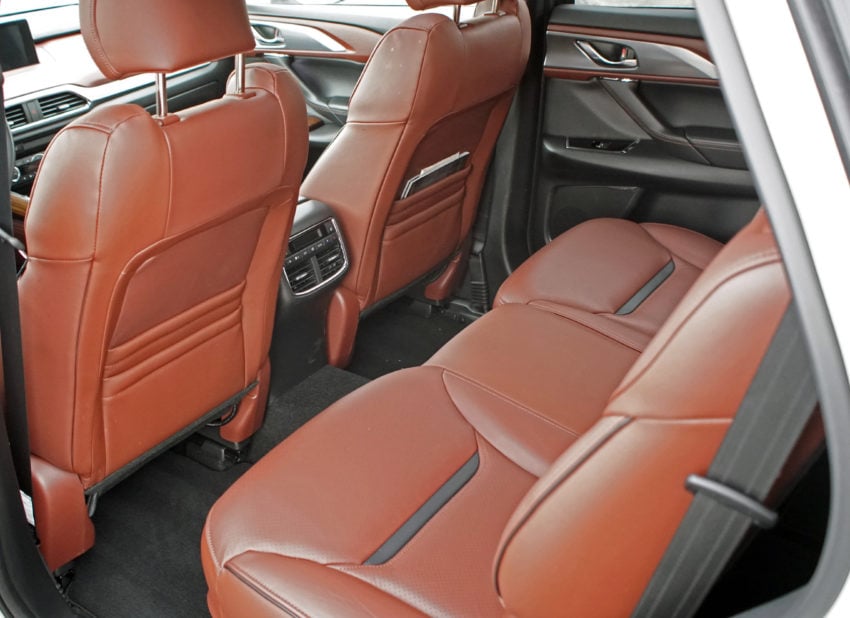 Visibility is good overall, though with the third row in use you will definitely be leaning on the blind spot monitoring and backup camera. That's common for three-row SUVs in this class.
Inside you're treated to a quiet ride on the highway and a ride that is tuned with comfort in mind, but can be a little bumpy on poorly maintained roads. I spent a week in the 2018 Mazda CX-9 Signature which includes high-end materials that I typically expect to find in a higher end luxury vehicle. The interior looks and feels amazing and everything was solid and uniform. While I am not a huge fan of white paint, the Snowflake White Pearl is beautiful.
The cargo room in the back isn't as big with the third row in use, but if you only need that when hauling your kids and their friends you'll find a decent amount of room. There are a lot of small openings and storage cubbies throughout to hold everything you and your family needs on hand. The CX-9 is only rated to tow 3,500 pounds.
























2018 Mazda CX-9 Tech and Safety
Mazda's infotainment system is easy to use with support for touch and a dial based control system just below the shifter. The screen sticks up on the center dash and looks like it should retract in James Bond style when you turn the car off, but it stays up all the time.
The system works well for bluetooth audio and making calls and allows you to plug-in your phone to use it as a source as well. The USB plugs don't put out much power, so I found my phone battery wasn't getting much juice by the end of a trip where I used the phone for directions. There is no Apple CarPlay or Android Auto support yet, though Mazda added it to the 2018 Mazda6 and previously stated that it would come to older models, so there is a chance this will come as an update.
With Bose speakers throughout the sound is good across a wide range of music and it makes the narration in my Audible audiobooks sound amazing.
With low-speed automated emergency braking, blind spot monitoring and rear cross traffic alert as standard features, the Mazda CX-9 is well on the way to offering the must have car features we recommend. The adaptive front lighting on the Touring and Signature trim levels turns the headlights slightly as you corner for better visibility. Radar cruise control with stop and go simplifies highway driving by keeping you in the flow of traffic up to a set speed and it can bring you to a full stop and then start driving again. Lane Departure Warning and Lane Keep Assist add to the driver confidence.
The heads up display is awesome. It is easy to see and read while driving and it shows relevant information. In addition to all the radar cruise information and lane keeping icons you can also see blind spot notifications on the heads up display, so you know if a car is in your blindspot without even glancing at the mirror.
You Need These 10 Must Have Car Features: Find Out Why
Smart Cruise Control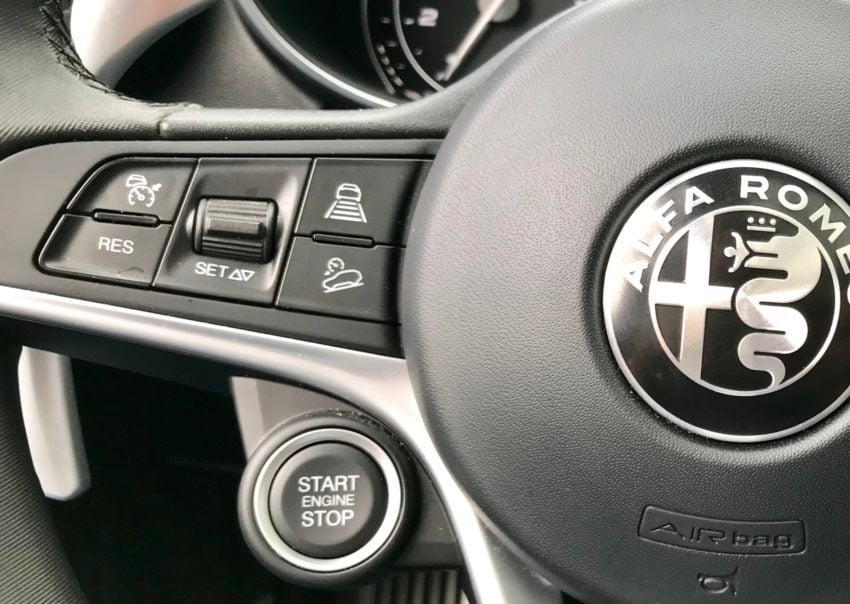 Do you hate constantly adjusting your cruise control, or giving up on cruise control because of traffic or due to a driver in front of you who keeps changing speed? You need a smart cruise control system.
Smart cruise control goes by many different names. You may see it listed as Radar Cruise, Adaptive Cruise or Intelligent Cruise control. Whatever it is called, it will allow you to set your cruise control and then stay with the flow of slower traffic.
Here's why we love it and why you need it. You get on the highway and set the cruise at 76 miles per hour. You also set the distance you want kept between you and the car in front of you. There are typically three or four settings so you can be close or keep a lot of space. Now you simply steer and your car will go 76 mile per hour when traffic allows it or there is no one in front of you. When someone is in front of you going 73 mph, the car automatically slows down to keep you the distance you choose from that car. This is indispensable in traffic and on long road trips.
Not all smart cruise control systems are the same. Some of work at all speeds, while others only work above a specific limit. Some systems can bring you to a complete stop in traffic and then restart without you needing to touch a pedal.
You can find adaptive cruise control on cars as cheap as $18,500 like the Toyota Corolla, and as an option on many cars below $30,000. Even on pricier cars you may need a higher trim level or special package to get this feature.

As an Amazon Associate I earn from qualifying purchases.