2018 Toyota C-HR XLE Review
The 2018 Toyota C-HR stands out with unique looks, a high ride that gives you a great view of the road and, despite a crossover badge, it comes with a hatchback. The all new C-HR isn't a quick car and there is no All Wheel Drive option or support for Apple CarPlay. The 2018 C-HR is, however, an interesting mashup of things I love about hatchbacks, small SUVs and Crossovers.
With two trim levels, a starting price of $22,500 and no packages, this small crossover doesn't come with many options that will increase the price. The 2018 C-HR XLE Premium is a tempting upgrade for many buyers as it includes Blind Spot Monitoring with Rear Cross Traffic Alert and other convenience upgrades that add enough value to justify the $24,350 starting price.
[letsreview]
2018 Toyota C-HR XLE Driving
The 2018 Toyota C-HR sits much higher than a car, though not as high as a truck. Despite the polarizing look and the fact that this small crossover isn't that tall, you get a very good view of the road thanks to the seating position. I like the view and the fact that it doesn't feel artificially high while driving. The car responds well to steering controls and I didn't feel like I was floating, despite the higher seating position.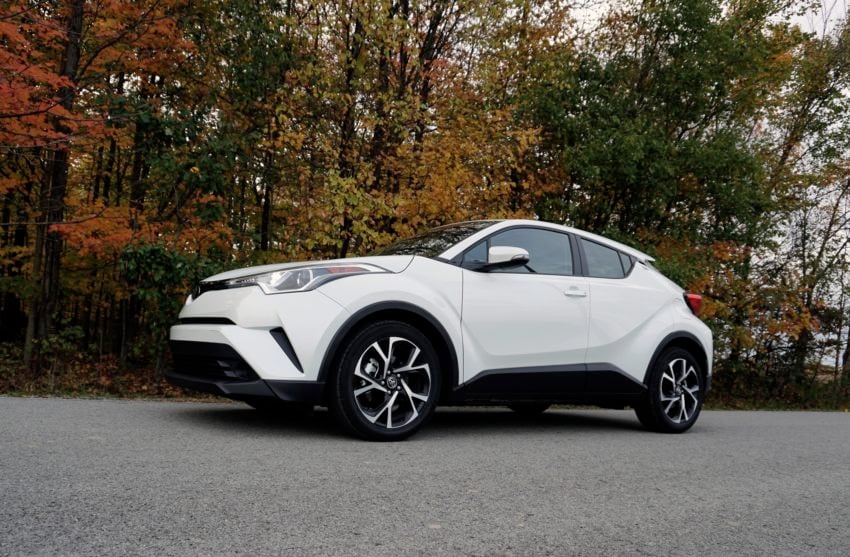 Unfortunately, the 2018 Toyota C-HR XLE is slow. I took one look at the C-HR and thought this will be a zippy little hatchback, but despite the looks it's a slow and steady kind of ride. This works out for driving around the city and you won't languish when you need to marge onto a highway, but overall the acceleration doesn't match the expectations that the exterior conjures up. Surprisingly it's still fun to take around corners because there is very little body roll. If you're looking for a similar style, but want something with more speed or more fun while driving, take a look at the 2018 Mazda CX-3.
You'll hear a decent amount of road noise and wind noise inside the C-HR, but at the price it's not that shocking. The overall fuel economy is good for a small crossover at 29 mpg combined.
2018 Toyota C-HR XLE Design & Interior
I like the 2018 Toyota C-HR design. You will either like the unique sense of style or immediately hate it. There is no in between. the closest car looks wise is the Nissan Juke, which I also find attractive.
The C-HR looks small from the outside, but delivers a surprising amount of room on the inside. Add this in with the high ride and both front and rear passengers all get a good amount of headroom. Legroom isn't as generous in the back seat, but it's decent for kids and will work for adults on shorter trips.
Inside you'll find a very plastic interior, but it offers a modern look and you can even get a diamond headliner to match the diamond accented interior. Controls are easy to reach, the steering wheel telescopes to get a better driving position and you get heated seats on the XLE Premium trim level. I like the interior of the C-HR. It's a good fit for the overall style and it looks and feels like a step up from many plastic interiors.
There is a decent amount of room for cargo, but this is a small crossover that is nearly a hatchback, so you will not find as much room as you do on other Crossovers. There's enough room for groceries and the other bundles of gear you'll always have in the back, but to haul any serious load you'll need to fold the seats down. Even then the C-HR isn't especially roomy for cargo.
Downsides to the design if you have kids are the high door handles on the back seat, which will be out of reach for many younger kids and the higher windows, which will prevent some kids from seeing out easily.






















2018 Toyota C-HR XLE Tech & Safety
For a car aimed at younger buyers, the Toyota C-HR lacks the latest technology features that we want. There is no support for Apple CarPlay or Android Auto. Toyota does not include these on any of their vehicles, but the lack is even more of an issue on a small crossover aimed at millennials. Instead you get a 7-inch touchscreen with a slightly older version of Toyota Entune.
The 7-inch touchscreen sits above the dash, but it is easy to reach from both driver and passenger seats. It's a nice looking display that is easy to read during the day and isn't too bright at night. A volume control knob and other physical buttons help with the ease of use, but the lack of the latest tech features is an issue many younger buyers will find hard to ignore. There is no Navigation option, which would be fine if you could rely on CarPlay or Android Auto, but you'll want to invest in a smartphone mount.
Despite the large screen, the backup camera is actually in the rearview mirror. After a week I adjusted to the placement, but ultimately missed the larger view you get on a traditional screen.
The 2018 C-HR comes with radar cruise control standard, which is a must have car feature on any 2018 model. This is a full speed system so you which will keep you a set distance away from the car in front of you and even bring you to a full stop in traffic. You do need to tap the gas to start back up. Pre Collision with Pedestrian Detection is also standard on the C-HR along with Lane Departure Alerts and Automatic High Beams.
On the XLE Premium trim level Blind Spot Monitoring with Rear Cross Traffic Alert adds to overall safety. The Premium trim also includes heated seats, keyless entry and push button start.
You Need These 10 Must Have Car Features: Find Out Why
Smart Cruise Control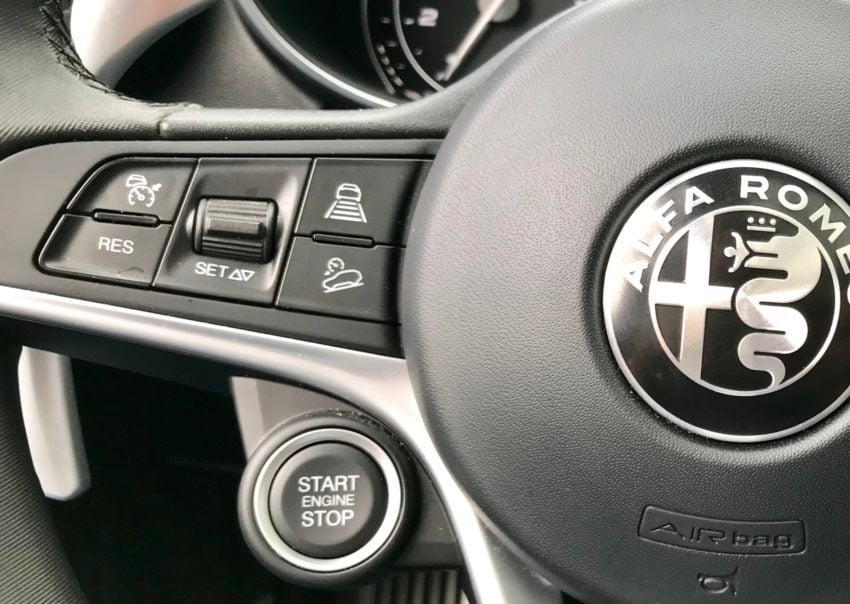 Do you hate constantly adjusting your cruise control, or giving up on cruise control because of traffic or due to a driver in front of you who keeps changing speed? You need a smart cruise control system.
Smart cruise control goes by many different names. You may see it listed as Radar Cruise, Adaptive Cruise or Intelligent Cruise control. Whatever it is called, it will allow you to set your cruise control and then stay with the flow of slower traffic.
Here's why we love it and why you need it. You get on the highway and set the cruise at 76 miles per hour. You also set the distance you want kept between you and the car in front of you. There are typically three or four settings so you can be close or keep a lot of space. Now you simply steer and your car will go 76 mile per hour when traffic allows it or there is no one in front of you. When someone is in front of you going 73 mph, the car automatically slows down to keep you the distance you choose from that car. This is indispensable in traffic and on long road trips.
Not all smart cruise control systems are the same. Some of work at all speeds, while others only work above a specific limit. Some systems can bring you to a complete stop in traffic and then restart without you needing to touch a pedal.
You can find adaptive cruise control on cars as cheap as $18,500 like the Toyota Corolla, and as an option on many cars below $30,000. Even on pricier cars you may need a higher trim level or special package to get this feature.

As an Amazon Associate I earn from qualifying purchases.