The 2018 Mazda CX-3 is a very nice subcompact crossover that gains several small upgrades for 2018. This is fun to drive, offers a good deal of flexibility, comfortable seats and a nice overall ride. New for 2018, you gain standard automatic emergency braking to help you avoid crashes at low speeds.
Overall this is a very good vehicle, but the backseat is not very spacious and the center armrest placement is not ideal. You'll also have to pass on Android Auto and Apple CarPlay for now. If you can get past these minor shortcomings the safety ratings, good fuel economy and fun driving experience make the 2018 CX-3 a winner for many buyers.
Starting at $20,110, and available in three trim levels, the 2018 Mazda CX-3 adds small upgrades this year and retains much of what made it great in 2017. We tested the 2018 CX-3 Grand Touring with All Wheel Drive that is $26,415 before options and destination fees.
We recommend upgrading to the Touring trim, which gains blind spot monitoring, the ability to lock and unlock the doors with your keys in your pocket and other upgrades.
[letsreview]
Is the 2018 Mazda CX-3 a Good Crossover
The 2018 CX-3 is a very good subcompact crossover. It's fun to drive, rides very well and it has enough room for my day-to-day needs. It's not ideal if you ned to haul four adults around on long trips due to a cramped backseat, but for kids or for shorter trips its works very well. The cargo space is limited by the size of the vehicle, but you can fold the seats down to get more room when you need to haul something for a project or luggage. You don't get Apple CarPlay or Android Auto now, but it will come as an update to the Mazda Connect system in 2018.
2018 Mazda CX-3 Performance & Driving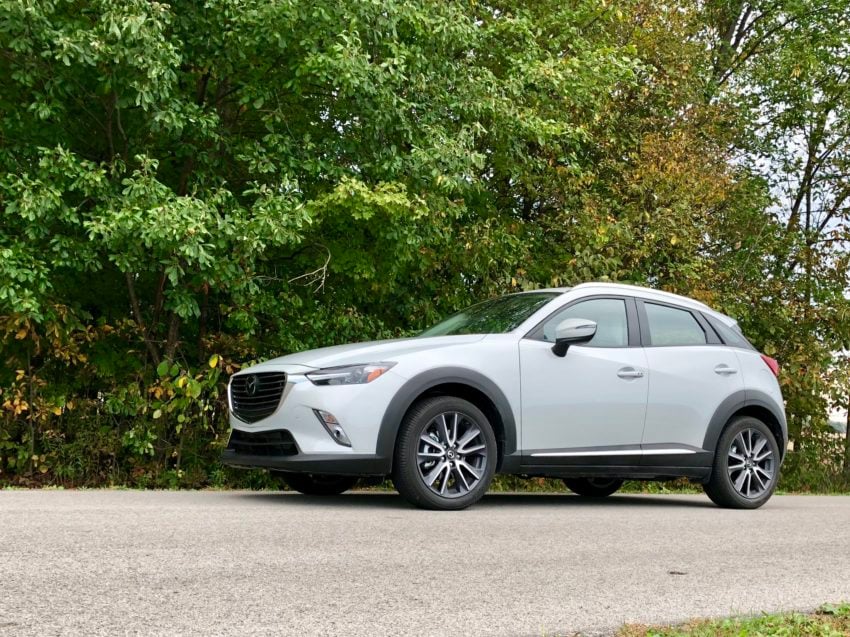 Mazda knows how to make cars that are fun to drive and the CX-3 is a chip off the old block. This crossover is spirited, zippy and fun to take through corners. Yes, it's a small crossover that is going to be taking you to work and maybe hauling kids and a little cargo around, but you don't need to settle for boring to get that done.
Overall you get a nice ride, though you will feel bumps on rough roads more than in some competing cars because the CX-3 comes with a sportier suspension that helps you have a better feel for the road and is a part of what delivers that fun driving experience that continually draws us back to Mazda.
While this isn't a super fast car, it has enough zip to get you into traffic, across an intersection or up to speed on the highway. It's also plenty of fun on backroads thanks to the overall fun driving characteristics. When you test drive this, give it some extra gas and take a few corners at speed. If you like what you feel, you'll know that this is the car for you.
Our AWD equipped 2018 CX-3 Touring comes with an EPA estimate of 27 city and 32 highway and that's pretty close to what we experienced. You'll get slightly better fuel economy with FWD. This is a good fit for the segment.
2018 Mazda CX-3 Design & Interior
The 2018 CX-3 is a stylish car with a very nice looking exterior. You definitely know it's a Mazda with one look at the grille and the lines that swoop dramatically down the side. It's a $20,000 car that looks like a more expensive model thanks to the attention Mazda pays to the exterior. The style is just bold enough without trying to do too much for a small crossover.
Inside the driver and passenger have comfortable seating with plenty of room. The back seat is a little cramped, which is a tradeoff you make for going with a smaller vehicle size. The accent trim throughout the dash and center console helps class up the interior. The Premium package on our Grand Touring added a 6 way power drive seat with lumbar support, heated steering wheel and driver seat position memory as well as safety features.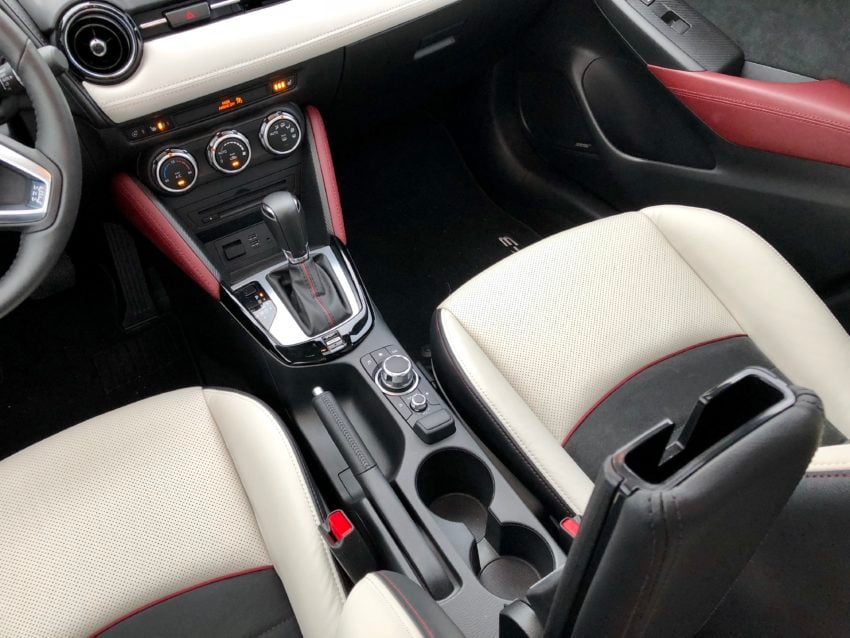 One frustrating part of the interior is the center arm rest, which is in the way no matter where you have it. When the rest is down it blocks the cupholders but if you put it up so that you have access to the cupholders, your elbow hits it as you move your arm back to grab a drink from the cupholder. We're all for limiting cupholder placement and making sacrifices in the MX-5, but this feels like an oversight on the CX-3. With the arm rest up it also blocks the view from the back seat to the front.
Cargo capacity is limited, but there's enough for groceries or a little bit of luggage. Fold the seats down and you have enough room for bigger packages or small DIY projects.

















2018 Mazda CX-3 Tech & Safety
The 2018 Mazda CX-3 does not come with Apple CarPlay or Android Auto yet, but it is going to get support for these in 2018 through an update to the Mazda Connect system. We first heard about this update with the 2017 model and Mazda re-iterated the promise just this week at the LA Auto Show. There is no exact timing, but if you buy this model you will get upgraded features in 2018 which will add these essential car features.
Mazda Connect is a nice system that is easy to use, but ultimately we are looking forward to the support for CarPlay and Android Auto. With Mazda Connect you can use the touch screen or you can use a dial control that is on the center console. We opt for touch control on the 7-inch screen. You get Bluetooth support for calls and streaming music. The 7 speaker Bose system is better than average in a car at this price range, but it left us wanting a little more depth.
From a safety standpoint you can get a good number of key features, but you won't find them all on the base Sport model. If you upgrade to the Touring or Grand Touring you get Blind Spot Monitoring standard with rear cross traffic alert. Standard on all models is autonomous emergency braking which can help you avoid low-speed crashes.
We recommend the $1,435 Premium Package that adds interior upgrades as well as must-have safety and convenience features including radar cruise control, lane departure warning, traffic sign recognition for a heads up display and high beam control. The radar cruise control keeps your car a set distance from traffic in front of you without the need to adjust your cruise control speed manually multiple times. Automatic high beams dim when traffic approaches and lane departure will alert you when you are about to leave your lane.
All in all, you get a good set of safety and convenience features with the Premium Package and it is a must-have with the Grand Touring trim level.
You Need These 10 Must Have Car Features: Find Out Why
Smart Cruise Control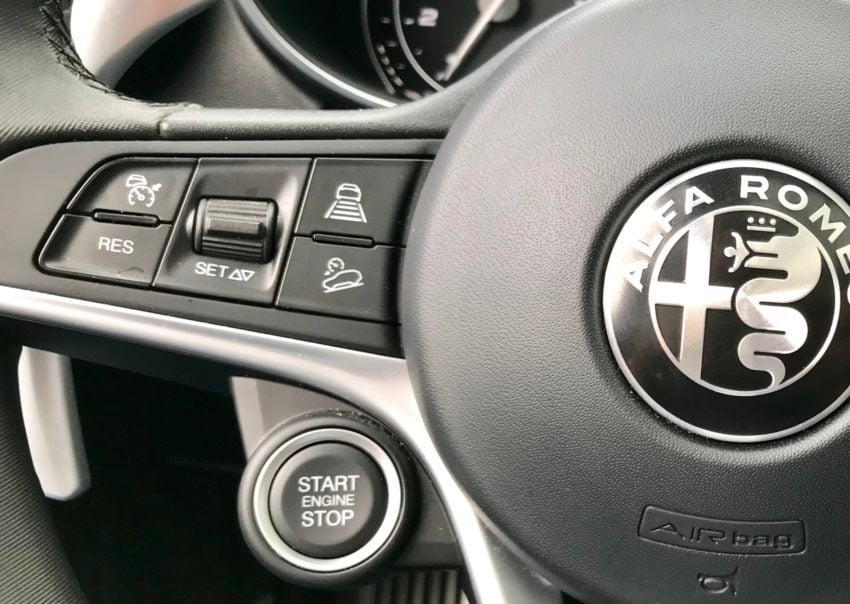 Do you hate constantly adjusting your cruise control, or giving up on cruise control because of traffic or due to a driver in front of you who keeps changing speed? You need a smart cruise control system.
Smart cruise control goes by many different names. You may see it listed as Radar Cruise, Adaptive Cruise or Intelligent Cruise control. Whatever it is called, it will allow you to set your cruise control and then stay with the flow of slower traffic.
Here's why we love it and why you need it. You get on the highway and set the cruise at 76 miles per hour. You also set the distance you want kept between you and the car in front of you. There are typically three or four settings so you can be close or keep a lot of space. Now you simply steer and your car will go 76 mile per hour when traffic allows it or there is no one in front of you. When someone is in front of you going 73 mph, the car automatically slows down to keep you the distance you choose from that car. This is indispensable in traffic and on long road trips.
Not all smart cruise control systems are the same. Some of work at all speeds, while others only work above a specific limit. Some systems can bring you to a complete stop in traffic and then restart without you needing to touch a pedal.
You can find adaptive cruise control on cars as cheap as $18,500 like the Toyota Corolla, and as an option on many cars below $30,000. Even on pricier cars you may need a higher trim level or special package to get this feature.