2019 Mazda Miata RF Review: Can You Daily Drive a Miata in the Winter?
The 2019 Mazda Miata RF is a hard top convertible that's ready and willing to be your daily driver, even in the winter. I recently had the chance to drive the 2019 Miata RF through snow and the Polar Vortex that chilled the midwest to the bone in 2019 and came away impressed by how livable the Miata RF is in cold weather and how well it handles in the snow and ice with Blizzaks installed.
While it's more expensive than the soft top Miata that's won the hearts of buyers for two decades, the RF's hard top makes it an ideal companion for the daily driving in the winter and ups the overall value of owning a Miata anywhere that a soft top convertible is impractical for more than a quarter of the year.
Driving The Miata RF in the Winter
The Mazda Miata is an impractical car with a tiny trunk and room for only two, but it is an incredibly fun car that connects with many drivers, including myself. One of the biggest challenges with the standard soft top Mazda Miata is living with it in the winter. It's a challenge with any soft top in areas where the winter temps often hover near zero for a few weeks.
With the hard top on the Miata RF, it's ideally suited for the coldest of times in the midwest. I took the 2019 Miata RF for a week of testing during the Polar Vortex when the temperatures were well below zero most of the week. How did the 2019 Miata RF handle the cold and the snow? Like a champ.
The heater was quick to warm up the cabin and defrost the windshield, partly because of the hard top and partly because it is a very small cabin to start with. I was able to drive comfortably with the top up in the coldest temps I've seen in years, and for testing purposes even stayed relatively warm with the top down for small periods.
Since it is a hard top you can raise and lower it in cold temperatures without worrying about damage. The seat was a little more cramped with my bulky winter coat on, but I am not a skinny driver and I still had enough room.
When snow fell and ice covered the local roads the Blizzaks kept me in control of the 2019 Miata RF when I was driving around, but I was still able to push it and kick out the rear end a little when I wanted to. For all the other daily driving impracticalities that come with choosing a Miata, you don't need to add owning a second car for the winter to your list.
I remain impressed with the handling on clear roads as well, where the fun can really shine when the sun melts all that snow and ice. Here's a look at my time with the Miata RF in sunnier, warmer weather.
I tested the 2019 Mazda MX-5 RF Club with a manual transmission. You can opt for an automatic, but the Miata really feels perfectly paired with the six speed manual.
Fuel economy is good with an estimated 34 MPG highway, 26 MPG city and 29 MPG combined.
Is the 2019 Mazda Miata RF a Good Car?
The 2019 Mazda Miata RF is an incredibly fun car that offers a lot in a small package. It's not for everyone, but if you feel the desire to own a Miata, you should consider the RF if you live in a colder climate.
With a little more power than the outgoing model, and a hard top that makes it a little more practical in the midwest the 2019 Miata RF is a good car. It's missing Android Auto and Apple CarPlay support and the passenger may be a little cramped, but arguably you're picking the Miata for driving more than how comfortable the passenger is. That said I'd still like to see CarPlay and Android Auto offer up easier navigation and controls on road trips.
[letsreview]
What's New on the 2019 Mazda Miata RF?
The 2019 Mazda Miata RF comes with a more powerful engine, packing 181 horsepower and 151 lb.-ft. of torque. That's up from the 155 horsepower, 148 lb.ft. of torque on the 2018 model.
There are also a few quality of life improvements including a standard backup camera and a telescoping steering column that will help some drivers get a more comfortable driving position. Mazda also offers new options including new safety features for 2019 including low speed automatic emergency braking.
2019 Mazda Miata RF Style & Interior
The 2019 Miata RF as tested is a beautiful machine with flowy curves and beautiful angles. The hard top accentuates the design, and really upgrades the look when the top is down.
The standard MX-5 Miata's look is iconic, and the RF builds on this in all the right ways. Plus, you also get a really cool power hard top that is easy to use and attention grabbing when you put the top down at a light. And not just because it was -23 with windchill when I did it. The hard top takes between 10-15 seconds to open, so you can easily put it up or down while you wait in traffic or when you need to run into a store.
I tested the 2019 Miata Club RF with the appearance package and Brembo with black roof package. The accented black roof looks amazing with the Ceramic Metallic paint. Colors are muted compared to many sports cars, but you can opt for a rich Soul Red Crystal. The Dark Alloy wheels and red Brembo brakes complete the aggressive look.
Yes, the trunk is tiny and the cabin is small, but this is a two seater roadster. In the driver seat I felt like I had enough room as a 6 foot tall 230 pound man. The passenger area feels a little more cramped and there is no real seat adjustment to speak of. Headroom is ok for everyone inside, but the passenger's feetroom may be an issue.
The new telescoping steering wheel is a nice touch and helps you find a better driving position. The Recaro seat bolsters aren't that aggressive, offering up enough support without digging into your sides. I appreciated the heated seat option while driving in cold weather.
2019 Miata RF Tech and Safety
The 2019 Mazda Miata RF includes new safety features, but it is missing one of the biggest Mazda tech features we've been hoping for.
While you will find Apple CarPlay and Android Auto on several Mazda models and available as a retrofit upgrade for some older models, neither is available on the 2019 Miata or Miata RF.
The built-in Mazda Connect system is OK, and the controls are easier to use than the Lexus Remote Touch Interface, but you still need to use a dial and joystick approach when the car is in motion. At a stop, the touch screen is available to use. There is some hope that the upgrades will come to the Miata RF, but you shouldn't count on it if you decide to buy.
Mazda's sound system isn't going to blow you away, but it is better than I expected in the small cabin and the driver headrest speakers make taking calls over Bluetooth and listening to podcasts or audiobooks easier.
A backup camera is standard with the 2019 Miata RF and you also get an optional package that adds smart city brake support, which is a a low speed automatic emergency braking feature as well as lane departure warning, blind spot monitoring and rear cross traffic alert.
The automatic braking is a nice feature, but my favorite part of this package is the blind spot monitor, which helps you know if anyone is in your blind spot while changing lanes.
You Need These 10 Must Have Car Features: Find Out Why
Smart Cruise Control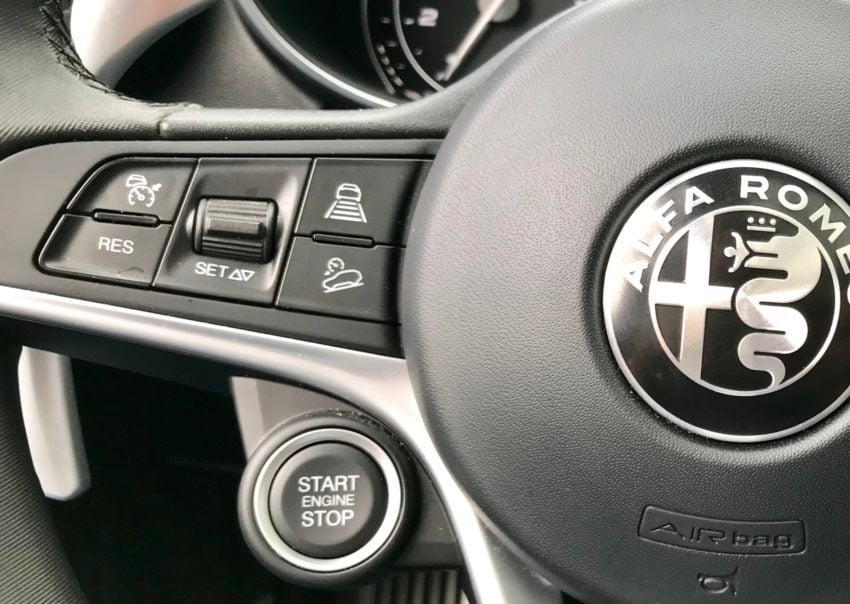 Do you hate constantly adjusting your cruise control, or giving up on cruise control because of traffic or due to a driver in front of you who keeps changing speed? You need a smart cruise control system.
Smart cruise control goes by many different names. You may see it listed as Radar Cruise, Adaptive Cruise or Intelligent Cruise control. Whatever it is called, it will allow you to set your cruise control and then stay with the flow of slower traffic.
Here's why we love it and why you need it. You get on the highway and set the cruise at 76 miles per hour. You also set the distance you want kept between you and the car in front of you. There are typically three or four settings so you can be close or keep a lot of space. Now you simply steer and your car will go 76 mile per hour when traffic allows it or there is no one in front of you. When someone is in front of you going 73 mph, the car automatically slows down to keep you the distance you choose from that car. This is indispensable in traffic and on long road trips.
Not all smart cruise control systems are the same. Some of work at all speeds, while others only work above a specific limit. Some systems can bring you to a complete stop in traffic and then restart without you needing to touch a pedal.
You can find adaptive cruise control on cars as cheap as $18,500 like the Toyota Corolla, and as an option on many cars below $30,000. Even on pricier cars you may need a higher trim level or special package to get this feature.

As an Amazon Associate I earn from qualifying purchases.