2019 Toyota Tundra Review
The 2019 Toyota Tundra is a tempting pickup with plenty of power and the return of the TRD Pro this year means shoppers need to take another look, but is it enough to get past the interior that is due for a refresh and a noisy cabin?
I spent a week in the 2019 Tundra Limited with the TRD Off-Road Package and the Limited Premium Package. I came away impressed with the capabilities of this truck including driver convenience features and safety features that don't always make the cut on full size pickups.
The 2019 Tundra Limited is the middle trim level, and is well equipped when paired with these packages for a MSRP of $46,610. The Tundra comes standard with a V8 and with Toyota Safety Sense.
Is the 2019 Toyota Tundra a Good Pickup?
[letsreview]
The 2019 Toyota Tundra is a capable pickup with plenty of power and that excels at doing "truck things" with up to 10,200 pounds of towing capacity. This year the return of the TRD Pro trim is exciting, and a model that is worth looking into if you want the newest Tundra options.
The Tundra frame and powertrain are aging as signs point towards a refresh of the Tundra, but that didn't come for the 2019 model year. The exterior is modern and aggressive enough to fit in, but the interior is aged compared to the competition. Especially the dash, where it's not just the lack of Apple CarPlay and Android Auto, but the styling and materials don't match up with the latest from Ford, RAM and Chevy. The ride is very truck-like so expect a stiff ride and noise comes into the cabin enough that calls on the Bluetooth system are strained on the highway.
Thankfully there is a lot of smart tech thanks to the standard Toyota Safety Sense which delivers blind spot monitoring, radar cruise control and other handy features to make long trips easier and every trip safer.
Driving the 2019 Toyota Tundra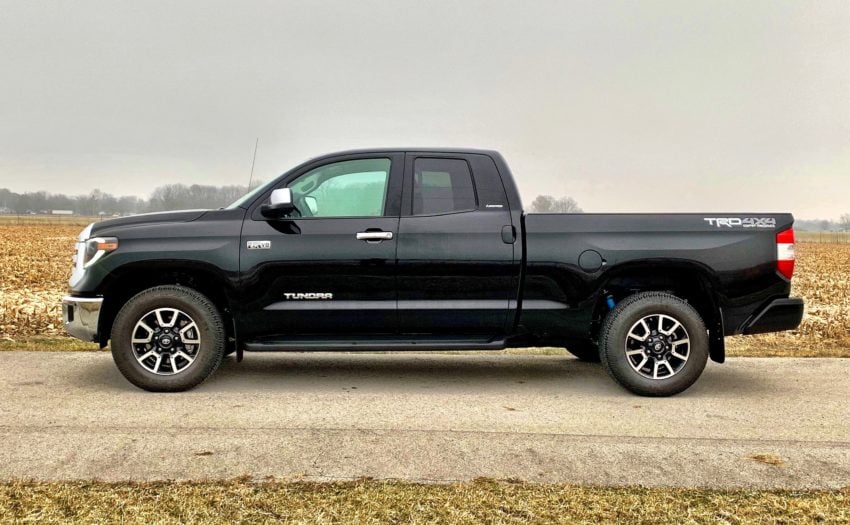 While some of the competition delivers a less truck like ride, the overall ride is stiff, so you will feel more bumps. It's not so bad that you should avoid the Tundra, but pay attention to it as you test drive.
This is a full size pickup, so it's not a small truck, but it feels bigger than it is when navigating tight areas. It took the whole week to adjust to the actual size of the pickup when parking and pulling through crowded parking lots.
With a V8 standard and the available 5.7L V8 upgrade on our Limited there was never a lack of power while driving, but this will cut into fuel economy which is 14 mpg combined. That's 13 mpg city and 17 mpg highway.  That's definitely behind the competition. Towing capacity is rate at 6,400 to 10,200 depending on the trim level and packages, which is quite capable.
Rear wheel drive is standard, but four-wheel drive is available on all the trim levels. The TRD Pro trim includes Fox shocks that should offer a better off-road experience. The Tundra is a wide truck, so it's not going to be blazing tight trails, but it has the power, clearance and chops to tackle dirt, fields and even sand.
2019 Toyota Tundra Interior & Design
The 2019 Tundra interior is spacious and comfortable. You won't feel cramped in the front or back seats, and there's handy storage under the rear seats to lock up a variety of gear out of sight.
With the Double Cab on the Limited there is a lot of room in the rear of the cab, and you can handle long rides to a hunting or fishing cabin or long haul to a work site without any issue. On the extended cab, you'll want to save the back seat for around town or for a place to put more gear. The back seats fold up to easily put bulky items and the under seat storage is a definite plus.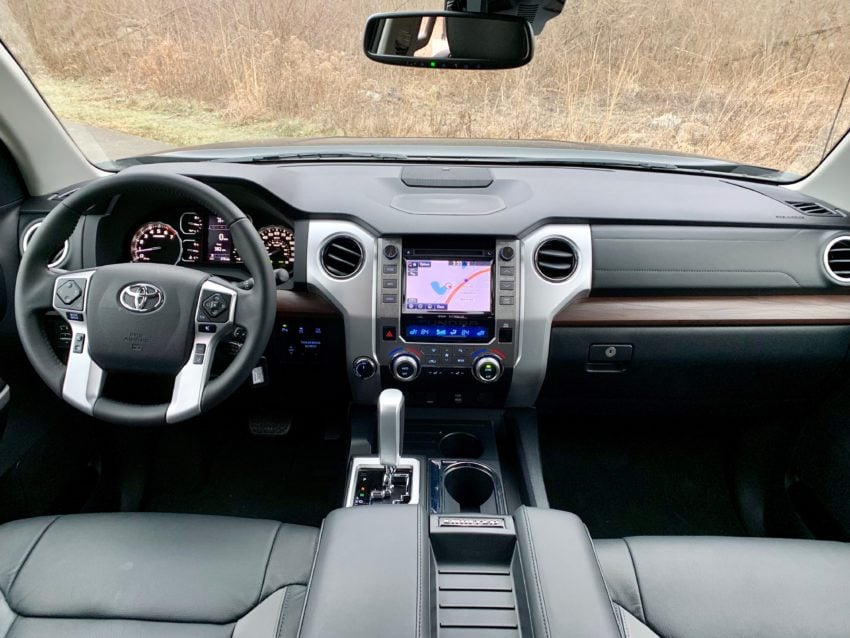 The dash and console look dated and ready for that upgrade we keep hearing about. Plastic plays a big role in the interior, while the competition is moving to soft touch materials and nicer accents. The Limited features a black leather interior option with the Premium Package that includes some leather on the dash and leather seats, but overall it's not enough at this price range.
One highlight is the vertical sliding rear window that you can use to open the entire back window for an open air experience. This is only available with select trim levels and cab options. On others a horizontal power rear window opens in the middle with the push of a button.
The Tundra exterior saw a refresh in 2014 that still looks good today. A variety of bold grille options set the stage and I especially like the look of the rims that come with the TRD package. There are short, standard and long bed options available. There are a good number of fasteners in the bed to use when securing cargo. There is no fancy tailgate option, just a standard and reliable tailgate.
2019 Toyota Tundra Tech & Safety
The Tundra infotainment system is decent, with a good touch screen that is responsive, easy to see and easy to use. It supports playing music over Bluetooth or when you plug-in a USB cable. Calls over Bluetooth work well, but with road noise it can be hard to find the right volume for callers. One big missing feature is support for Apple CarPlay or Android Auto. CarPlay is on several Toyota models, but it hasn't made the jump to the Tundra just yet. The base sound system is OK, but it's not going to rock your world like a premium option might.
LED headlights do an amazing job of lighting up the road at night and the automatic brights feature means you can take advantage of far-reaching headlights when you need them without worrying about annoying other drivers.
The 2019 Tundra includes Toyota Safety Sense P standard. This started in 2018 and it brings the following features to the Tundra;
Pre-Collision System with Pedestrian Detection
Lane Departure Alert with Sway Warning System
Automatic High Beams
Dynamic Radar Cruise Control
I love these must have features on the Tundra and I enjoyed the Blind Spot Monitoring with Rear Cross Traffic Alert that came as part of the Limited Premium Package. It's a no brainer to add the Premium Package and TRD Off-Road package at the price.
You Need These 10 Must Have Car Features: Find Out Why
Smart Cruise Control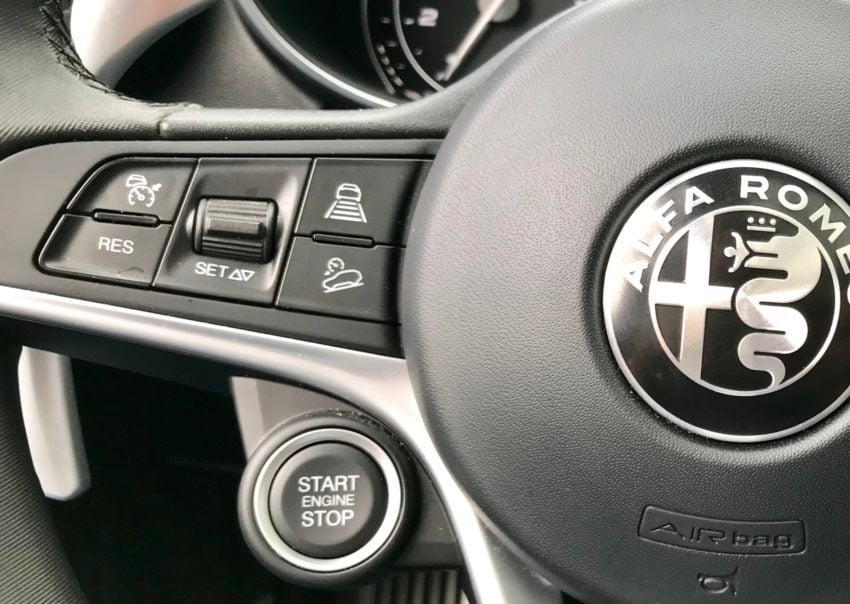 Do you hate constantly adjusting your cruise control, or giving up on cruise control because of traffic or due to a driver in front of you who keeps changing speed? You need a smart cruise control system.
Smart cruise control goes by many different names. You may see it listed as Radar Cruise, Adaptive Cruise or Intelligent Cruise control. Whatever it is called, it will allow you to set your cruise control and then stay with the flow of slower traffic.
Here's why we love it and why you need it. You get on the highway and set the cruise at 76 miles per hour. You also set the distance you want kept between you and the car in front of you. There are typically three or four settings so you can be close or keep a lot of space. Now you simply steer and your car will go 76 mile per hour when traffic allows it or there is no one in front of you. When someone is in front of you going 73 mph, the car automatically slows down to keep you the distance you choose from that car. This is indispensable in traffic and on long road trips.
Not all smart cruise control systems are the same. Some of work at all speeds, while others only work above a specific limit. Some systems can bring you to a complete stop in traffic and then restart without you needing to touch a pedal.
You can find adaptive cruise control on cars as cheap as $18,500 like the Toyota Corolla, and as an option on many cars below $30,000. Even on pricier cars you may need a higher trim level or special package to get this feature.