The all new 2019 Volvo XC40 is the perfect mix of technology, luxury and comfort in a perfectly sized package.
With semi-autonomous driving, a great infotainment system, a fun and engaging driving experience and a size that's just right got many owners there is a lot to love about the Volvo XC40.
Is the 2019 Volvo XC40 a Good SUV?
The Volvo XC40 joins the larger XC60 and XC90. While each of these fills a specific need, I'm pulled back to the XC40 after driving all of them because it delivers the features I love on the larger Volvos, in a size that's just right.
Even in a smaller package, there's a lot of room for the driver and passengers, the interior is just as luxurious. The turbo-charged engine delivers plenty of power that matches up well with the sport chassis and drive modes.
You can add on the Volvo Pilot Assist for semi-autonomous driving and it's a steal at $900 as part of the Premium Package.
With Android Auto and Apple CarPlay support as well as a good sound system when you upgrade, the XC40 rounds out the in-car experience nicely. I do wish you could get it with the same Bowers & Wilkins sound system as on the XC60 and XC90, but the Harmon Kardon system is still above average.
With a starting price of $33,200 or an optional subscription model, not only is the XC40 a great small SUV, it's an exceptional value.
[letsreview]
2019 Volvo XC40 T5 R-Design Driving
The 2019 Volvo XC40 T5 AWD R-Design comes with a 2.0L Turbo-Charged engine, all-wheel drive and a sport chassis with adjustable drive modes. What's that mouthful of specs actually mean?
It means that even though you're not sliding into a small sports car you still get a very engaging and fun driving experience, especially in the dynamic mode that adjusts the shifting for a more peppy and spirited drive.
The XC40 glides around the city when you're hauling the family or running errands, with good steering and a comfortable ride even with the sport suspension. The real fun comes when you scroll into the Dynamic driving mode and take full advantage of the power, steering and suspension to have fun on curvy roads.
No matter which XC40 trim level you buy, pay for the Premium Package. This ranges from $900 to $1,400 and includes Pilot Assist with adaptive cruise control.
When you activate this the XC40 will keep you in your lane, even as you take corners and the dynamic cruise control keeps you in the flow of traffic. This dramatically changes how you drive on the highway, and Pilot Assist is a must have.
The 2019 XC40 gets 31 mpg highway, 23 mpg city and a combined 26 mpg.
2019 Volvo XC40 Design & Interior
The Volvo XC40 interior is spacious for the small vehicle size and very comfortable with a mix of luxurious touches and on the R-design cool accents throughout the cabin.
One of the coolest XC40 interior features is the option for orange lava interior carpet, This is a beautiful orange-red interior that adds a major splash of color to the interior. It's not for everyone, but it's that little bit of character that goes a long way on a subcompact SUV like the XC40. It's also incredibly affordable at only a $100 up charge on the T5 R-Design.
I was pleased with the room for the driver and for all passengers. You can fit four adults in the XC40 comfortably. The back seat is spacious enough for adults and headroom isn't an issue. The front seats aren't as comfortable as the XC90, but they are still very nice.
This is a subcompact SUV, which means space is going to be cut somewhere and on the XC40 that's in the cargo area. That's the right call, and you still have a decent amount of room for a small SUV. With the back seats folded down there is enough room for larger items like a bike or supplies from the hardware store.
2019 Volvo XC40 Tech & Safety
This exceptional subcompact luxury SUV also packs in all the smart tech and safety features you need.
There's a beautiful screen on the center of the dash that is easy to use and includes support for Apple CarPlay and Android Auto. I like that you can use one of these systems and still access other car functions on the screen at the same time.
While it's not as outstanding as the Bowers & Wilkins sound system on the XC60 and XC90, the optional Harmon Kardon 13 speaker sound system is very good.
With the Premium Package you also get a wireless charging pad so that you can charge newer iPhones and many Android phones without the need to plug in.
The 2019 XC40 includes a lot of standard safety features like Collision Avoidance that can detect pedestrians, vehicles, cyclists and large animals. You also get Run off avoidance, Run off mitigation, Lake keeping aid and Oncoming Lane mitigation standard.
With the optional Pilot Assist feature highway driving is more relaxing. You still need to keep your hands on the wheel and pay attention, but the vehicle is handling the small corrections and speed that take up more attention than many drivers realize.
I recommend opting for the Vision Package and Advanced Package if you want to fully outfit the XC40 in safety features. With these packages you get;
Blind Spot Monitoring
Rear Cross Traffic Alert
Park Assist Pilot + Parking Sensors
Power Retracting Mirrors
Auto Dimming Mirrors
360 View Cameras
LED Headlights with Active Bending
The Blind Spot Monitoring, Automatic parking and active bending headlights are amazing features that you will use all the time, and that are well worth the package pricing.
You Need These 10 Must Have Car Features: Find Out Why
Smart Cruise Control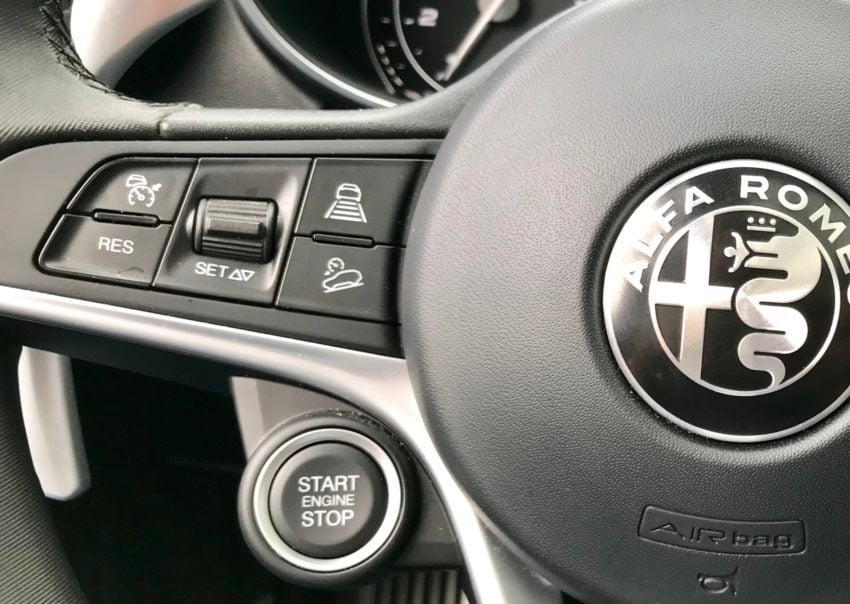 Do you hate constantly adjusting your cruise control, or giving up on cruise control because of traffic or due to a driver in front of you who keeps changing speed? You need a smart cruise control system.
Smart cruise control goes by many different names. You may see it listed as Radar Cruise, Adaptive Cruise or Intelligent Cruise control. Whatever it is called, it will allow you to set your cruise control and then stay with the flow of slower traffic.
Here's why we love it and why you need it. You get on the highway and set the cruise at 76 miles per hour. You also set the distance you want kept between you and the car in front of you. There are typically three or four settings so you can be close or keep a lot of space. Now you simply steer and your car will go 76 mile per hour when traffic allows it or there is no one in front of you. When someone is in front of you going 73 mph, the car automatically slows down to keep you the distance you choose from that car. This is indispensable in traffic and on long road trips.
Not all smart cruise control systems are the same. Some of work at all speeds, while others only work above a specific limit. Some systems can bring you to a complete stop in traffic and then restart without you needing to touch a pedal.
You can find adaptive cruise control on cars as cheap as $18,500 like the Toyota Corolla, and as an option on many cars below $30,000. Even on pricier cars you may need a higher trim level or special package to get this feature.

As an Amazon Associate I earn from qualifying purchases.