25 Best Official Moto Mods for Moto Z Phones
These are the best Moto Mods for your Moto Z smartphone. Whether that's the new Moto Z3, a Moto Z2 Play or any other phone in the Moto Z family. Your phone can do some pretty amazing things with Moto Mods. Magnetically attachable modules that transform your phone into a TV projector, portable speaker, a powerful camera, portable printer, or extends battery life.
If you own any of the Mod-compatible Moto Z phones, you're likely interested in a Mod or two. Motorola actually has over 25 different accessories available once you add them all up. Plus more are on the way. Everything from Alexa speakers, wireless charging, 360-degree 4K cameras, to pushing boundaries with 5G. It's all pretty neat, really.
Read: 10 Moto Z Tips & Tricks
There are a lot of exciting accessories for any device, but Moto Mods really transform your smartphone experience. Whether you're looking to add some excitement to your old phone or just bought a Moto Z3, these are the Mods worth consideration. Some of the latest mods include a gamepad, Alexa speakers and more.
Phones That Work With Moto Mods
Before we begin, these are the phones that work with Moto Mods in 2018. At the time of writing this post, Mods are available for the Moto Z, Moto Z Force, Moto Z Play, Moto Z2 Play, Moto Z2 Force, Moto Z3 Play, and the Moto Z3. Use any of these official Moto Mods to improve battery life or just extend functionality so you can do more with your phone.
The company just released a new Moto Z3 phone, its "flagship" for 2018. In early 2019 we'll get the new 5G Moto Mod, introducing 5G network speeds to mobile. However, there's a change that's the last Moto Mod. We have a feeling Motorola will ditch this effort in 2019, and release phones with a more traditional design and these mods won't fit. We could be wrong, but we'll have to wait and see. Either way, Moto Mods are still a good investment right now, and they work with a slew of phones. Just don't expect support forever.
In closing, here are the best Moto Mods available right now. Our slideshow below has more options and extra details for buyers, along with links to buy one today. There are technically 17 different Mods for the Moto Z family. Then, when you add in all the different style shells, battery packs, and wireless charging mods, there are over 25 mods to choose from.
Best Moto Mods
Insta Share Projector – $299
JBL SoundBoost Speaker – $79
Hasselblad True Zoom Camera Mod – $299
Incipio OffGRID Power Shell – $59
Kate Spade & TUMI Power Pack Mods – $59-79 (Multiple styles)
Incipio Vehicle Dock Mod – $64
Mophie Juice Pack -$79
JBL Soundboost 2 -$79
Moto Gamepad -$79
Moto TurboPower -$79
Wireless Charging Mod Shells -$39 (Multiple styles)
Moto 360-Degrees Camera Mod – $299
Insta Share Polaroid Printer – $199
Moto Folio Wallet – $14.99
Alexa Smart Speaker Mod – $99
Moto Stereo Speaker Mod – $59.99
Moto 5G Mod – Coming in 2019
Moto Mods attach to the back of these phones thanks to "really strong magnets" and communicate via 16 metal pogo pins on the back of each device. The connection is very tight and secure, and we had no issues while reviewing the phones and modular system. This is smartphone mods done right.
Our favorite attachment is the new Polaroid Moto Mod. Snap, shoot, print and shake. It adds a dedicated camera shutter button and prints photos right as you take them. It's basically a mini printer on the back of your phone. That or the JBL SoundBoost 2 and Gamepad.
Read: Moto Z Review: Modular Masterpiece with Compromises 
Now that we've shared a list of the best Moto Mods available, here is more information about each one. Our slideshow will tell you everything you need to know and end with a link to buy any of the Mods you find interesting. We'll update this post throughout 2018 with any and all Mods as they're released.
Instashare Projector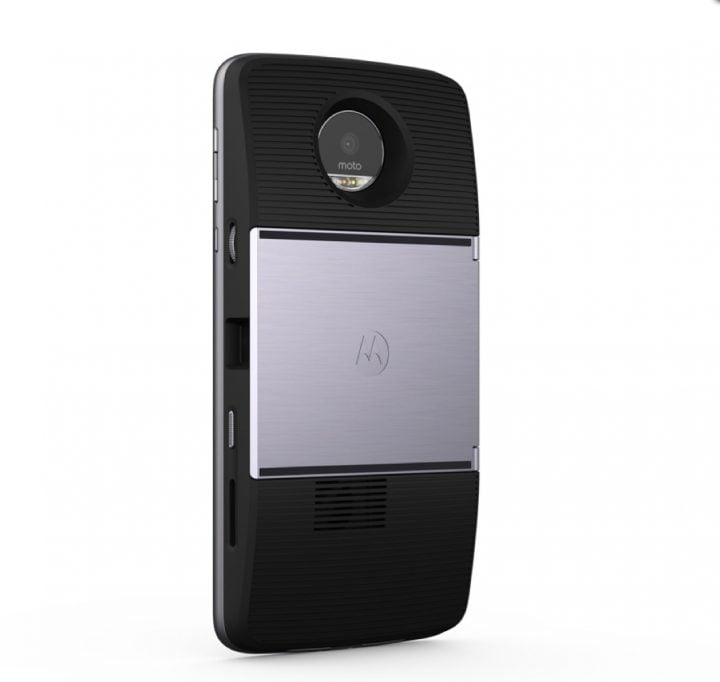 The first and most exciting Moto Mod for the Moto Z, for me, is the Instashare pico projector. This little modular simply snaps on to the back in seconds and instantly transforms the smartphone into a powerful projector capable of streaming a 70-inch HDTV on the wall or ceiling.
Users can project the phone display and popular apps like Netflix, YouTube, HBO Go, and likely games and other things as well. The Instashare projector has a built-in kickstand to allow for virtually any angle of viewing.
It has an included 1,100 mAh battery so owners can project video for an hour without using the phone battery. Sadly, after buying one, it only projects at 380p resolution. You can get the Instashare projector free when you buy the new Moto Z2 Force.

As an Amazon Associate I earn from qualifying purchases.