5 Key iPhone 6s Upgrades Rumored
Apple refuses to talk about the new iPhone 6s release, but after the iOS 9 reveal this month and several important reports we are slowly learning more about key iPhone 6s upgrades that Apple will use to convince buyers to upgrade to the new iPhone this fall.
Even though some rumors call a new device the iPhone 7, all signs still point to an iPhone 6s that delivers important, but restrained upgrades like we typically see on the second generation of the iPhone model.
One interesting change this year may include a design change that adds a thicker iPhone, but that is one upgrade that might not actually come to life based on comments from Apple's Phil Schiller right after WWDC.
For buyers who are tempted to wait for the iPhone 6s release date to upgrade to a new phone, these are the latest details that point to what Apple may deliver to stores and to your pocket this fall.
While this focus is on the iPhone 6s, which will likely come with a 4.7-inch display, many of these new iPhone rumors will likely carry over to the iPhone 6s Plus with a 5.5-inch screen this fall.
Stronger iPhone 6s
One of the early iPhone 6 Plus and iPhone 6 problems was the fact that the phone bent under pressure. Right after release we saw videos of users bending the iPhone at home, in apple stores and complaints about the iPhone bending in a pocket. Bendgate was born and while not everyone appreciated our solution to the problem, the complaints tapered off.
A new report from Ming-Chi Kuo of KGI, who accurately predicted many iPhone 6 features, claims that Apple will use a stronger aluminum in the iPhone 6s. Macotakara shares this report that specifically mentions the aluminum Apple uses on the Apple Watch Sport.
The Apple Watch Sport is made of 7000 series aluminum that is 60% stronger than traditional aluminum and less dense than stainless steel. After a month the Apple Watch Sport shows no signs of wear.
https://youtu.be/ibklpzKai-o
Apple may choose to to use this new type of aluminum to deliver a stronger case to the iPhone 6s and iPhone 6s plus that is not as easy to bend or to scratch.
Thicker iPhone 6s
In the same report Kuo claims the iPhone 6s will be 0.2 millimeters thicker than the iPhone 6 and it will be wider and tall as well. The increased height and width would be 0.15 millimeters according to the report.
Small changes like this would mark a change to the iPhone s updates that traditionally avoid changes to the design that require new cases or accessories.
Apple Vice President Phil Schiller recently spoke about the thickness of the iPhone, responding to criticism over Apple's focus on a thinner device on The Talk Show with John Gruber, which iMore provides a full transcript of. Schiller provides a very interesting reply,
"If you want a product that's thicker with a bigger battery, well, it's also heavier, it's also more costly, it also takes longer to charge. It's also… y'know, there are… all these things have ramifications [when] designing a total system.

And we look at this very, very, very carefully. The engineering team and the industrial design team work together and model every thickness and every size and every weight and we hold these things, and we work with them, to discover what the feature benefit/tradeoffs are.

And I don't think we've hit the point yet where we're trading off thinness for features and capabilities at the expense of the best optimized product. I really don't."
It isn't a confirmation about how thick the new iPhone 6s will be, but Schiller does add that thickness is a topic the team at Apple discusses, "constantly."
Force Touch on iPhone 6s
We continue to hear that Force Touch will arrive on the iPhone 6s to deliver a new type of interaction to users. Force Touch on the Apple Watch lets users press with more force to activate a second series of commands.
Ming-Chi Kuo believes the addition of Force Touch may be part of why Apple will deliver a thicker, wider, taller iPhone 6s this fall.
In May Mark Gurman of 9to5Mac leaked Apple's plans to include Force Touch support in iOS 9 for the iPhone 6s. The report includes one important detail about who may use this new iPhone 6s feature the most. Gurman writes, "One of our sources believes that Force Touch on the iPhone 6S will be more "power user-centric," as it will not be essential to using the iPhone."
If this report is accurate the iPhone 6s will feature Force Touch and Apple's iOS 9 update will allow app developers to take advantage of it in their apps.
Better Front Facing iPhone 6s Camera
The iOS 9 update is out in the hands of developers and that means we are starting to see hints at what the iPhone 6s will bring. Hamza Sood discovered lines of code in the iOS 9 beta that point to major FaceTime camera upgrades. Apple calls the front-facing camera on the iPhone a FaceTime camera.
Sood reveals that iOS 9 includes the potential for an upgrade to 1080P resolution, 240FPS slow motion, panoramic capture and flash.
https://youtu.be/uyMTAKx5BEA
Samsung currently blasts Apple's front facing camera for cutting grandma out of a selfie. The Galaxy S6 supports an option to take a wide-selfie in a mode similar to panorama. There is no flash on the front facing iPhone camera, but Apple may choose to add one or to blast the screen brightness to full for illumination.
New iPhone 6s Color Options
Apple added a gold iPhone color two years ago and we may finally see another upgrade with a new iPhone 6s color and a change to the current Space Gray iPhone 6 color option. These details also come from Kuo via Macotakara. The image below from Martin Hajek shows what a rose gold iPhone 6s might look like.
The biggest change would be the addition of a rose gold iPhone 6s color. It is not clear if this is a luxury model like the rose gold Apple Watch, or just a color like the gold iPhone 6s. The current gold iPhone 6 color option may change to look more like 18K yellow gold. The Space Gray iPhone 6s may also arrive with a blacker color.
15 Important iPhone 6s Rumors
iPhone 6s Release Date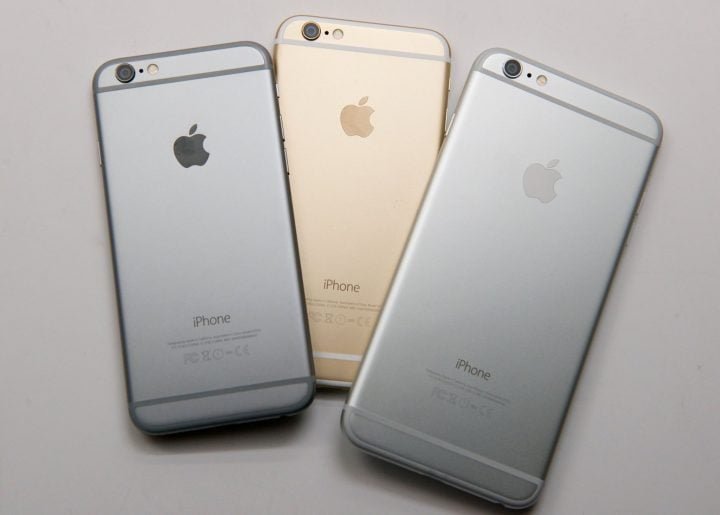 We know Apple plans an event for June 2015, but this is not where you should expect to hear about the iPhone 6s at this event. WWDC 2015 will more than likely focus on iOS 9 and a new version of OS X for Mac.
Expect an iPhone 6s announcement in fall 2015 at a special event dedicated to the iPhone, and possibly the iPod touch.
The last four iPhone release dates took place in a span of 30 days from late September to mid-October and we expect the iPhone 6s release date will arrive in a similar time. A best guess would be that the iPhone 6s release date will come on September 18th or September 25th, based on historical data only.

This article may contain affiliate links. Click here for more details.